The Lankan stickers faced off against Hong Kong China in their 3rd Group Stage encounter at the Asian Games 2018.
Also Read: Sri Lanka vs South Korea – Asian Games Hockey 2018
The Sri Lankan Hockey team, currently ranked 9th in Asia, have long awaited a win in the prestigious Asian Games festival. 40 years and 10 editions later, the Lions find a win at the Games against Hong Kong in a doozy of a match.
Sri Lanka coming off two downright defeats to Japan and Korea earlier in the week, were in desperate need of a silver lining to stay alive in the Games. They managed to record their first victory with their performance today against Hong Kong, China with a score line of 4-1 at the end of the four quarters.
First Quarter (1-0)
The first two minutes of the match was in fast pace with Lankan striker Anurada Suresh putting the Chinese goalkeeper to the test with 3 shots on goal. Right outside the five-minute mark, Sandaruwan Priyalanka scored Sri Lanka's first goal in the game.
Second Quarter (2-0)
Anurada Suresh gets cooking in the second quarter with thundering slaps on goal from the whistle. He finally got his breakthrough in the 25th minute off a penalty conversion to extend the lead by 2 goals, going in to half time.
Photos: Sri Lanka vs Hong Kong | Asian Games Hockey 2018
Third Quarter (2-0)
The third period rendered goalless at the whistle with multiple substitutions at play. Sandaruwan Priyalanka and Nalantha Karunamunige charged at goalie Hou Fung Chan in search of a goal, but Chan defended well enough to prevent it.
Fourth Quarter (4-1)
Evidently the liveliest quarter of the match, the Lankans managed two more goals for a convincing lead. Sandaruwan Priyalanka delivers his second stunner in the game as he slaps Sri Lanka's third goal in the 50th minute. Chi Him Felix saves Hong Kong from a whitewash loss as he successfully converts a penalty shot to score Hong Kong's one and only goal.
In the counter attack, Sri Lankan skipper Lahiru Weerasooriya closed out the quarter and match for Sri Lanka off a revised penalty shot.
Men's Hockey Group Standings – Pool A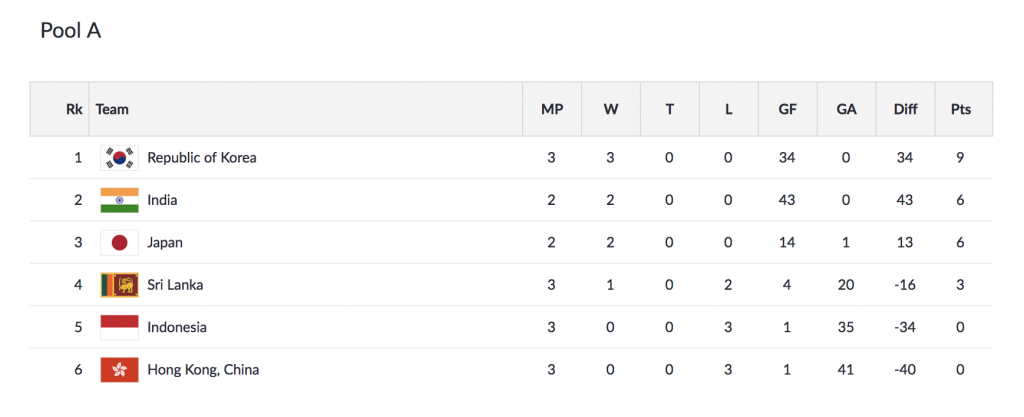 Sri Lanka will face their final group stage encounter against Indonesia on the 26th August in a do-or-die battle.
>>Click here for more Hockey News<<