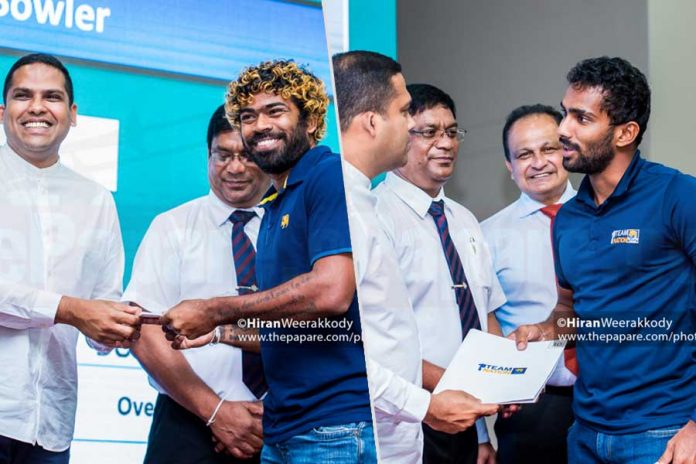 77 domestic cricketers were given Sri Lanka Cricket contracts today at a special felicitation ceremony conducted at the Sports Ministry,  chaired by Sports Minister Hon. Harin Fernando, while awards for 2017/18 domestic club tournaments were also presented to the best performing cricketers in the domestic setup.
Contracts were categorized as Emerging, Youth, Senior and so on.
Minister Harin Fernando addressed the gathering to congratulate the players who have been contracted and reminded them to use this special opportunity to good effect.
I had a meeting with a few past players this morning to further discuss about the changes we are trying to apply on the Sri Lanka Cricket setup. We are planning on major modifications and I'm confident these developments will effect in a good way" – Fernando said. "I'm not going to keep my nose in SLC's business but I will try to guide SLC to the right track as it is my job
Minister highlighted the importance of pre-planning the youth, emerging and A team tournaments to countries before the national team tours there while spilling secrets on a planned 8 team Major tournament for domestic setup.
Photo Album  : Awarding Of Contracts For Domestic Cricket Players
"Players need to consider about their country before leaving to other countries. As of now there are nearly 100 players playing abroad, we need to stop this flow, the quality in domestic setup should not be diluted" Fernando added.
Best performers in 2017/18 club tournaments were appreciated at the end of the ceremony. Following players were presented with special award.
Major One-day tournament 2017/18
Best Batsman – Lahiru Milantha

Best Bowler – Sachithra Senanayke

Player of the tournament – Shehan Jayasuriya
Major T-20 tournament 2017/18
Best Batsman – Ruvindu Gunasekara

Best Bowler – Lasith Malinga

Player of the tournament – Chathuranga de Silva
Major Tier-A tournament 2017/18
Best Batsman – Kaushal Silva

Best Bowler – Chanaka Komasaru

Player of the tournament – Sachithra Serasinghe
Major Tier-B tournament 2017/18
Best Batsman – Laskshan Rodrigo

Best Bowler – Gayan Sirisoma

Player of the tournament – Nimesh Vimukthi
Earlier today, Sri Lanka Cricket opened a 'Cricket Museum' displaying its rich history to the world. The museum housed at the SLC Headquarters has in display of some of the most significant cricketing 'Moments' and 'Turning Points' of Sri Lanka's epic Cricketing journey.
Newly sworn-in Minister of Telecommunications, Digital ….
It was declared opened by the Minister of Sports, Honorable Harin Fernando; while SLC's Competent Authority Mr. Chulananda Perera, CEO, Mr. Ashley De Silva and Chief Operations Officer Mr. Jerome Jayaratne were present at the occasion.