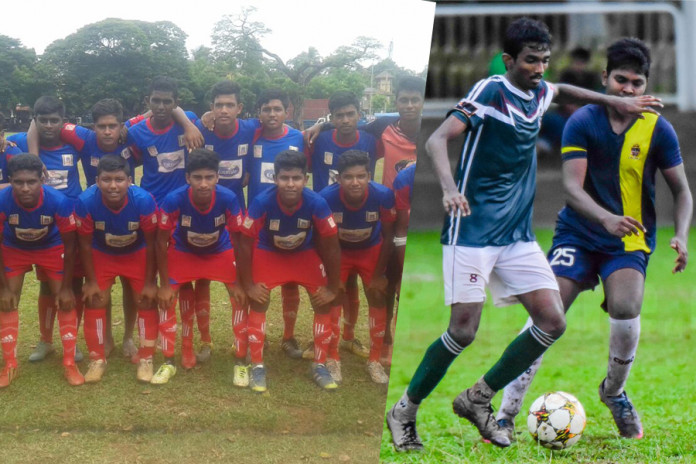 Zahira College & Maris Stella College defeated St.Peter's College and Kinniya Central College, Trincomalee 4-1 & 3-1 respectively in the 2017 U18 Division I Schools' Football Championship.
Zahira College v St.Peter's College
On a rainy and muddy evening Zahira College dominated play at their home grounds. They threatened to score early on a few occasions before Mohamed Mushfir opened the scoring in the 11th minute heading in from a corner.
Read – St.Patrick's score five; Holy Cross walk out
Zahira doubled the lead when Mohamed Aktar scored in the 26th minute. Zahira attacked with venom but poor ground conditions stalled promising attacks.
Half time – Zahira College 2 – 0 St.Peter's College  
Mushfir bagged his 2nd scrambling home from another corner in the 53rd minute. Four minutes later Hassan Raza made it 4-0 with a break-away goal scoring past an onrushing goalkeeper.
It looked as if it would be a rout but the Peterites tightened their defence and attacked on occasions. On one such instance it needed a brilliant finger-tip save from Mohamed Shakir to deny Shehan Liyanapathirana.
With just three minutes left till full time Dhananjaya Supumitha scored a wonderful consolation goal for the Bambalaptiya lads. Seeing Shakir off his line Dhananjaya scooped the ball over the goalkeeper from distance which dipped in on the goal at the last moment.
Full time – Zahira College 4 – 1 St.Peter's College
ThePapare.com Player of the Match – Mohamed Mushfir
Goal Scorers

Zahira College – Mohamed Mushfir 11' & 53', Mohamed Aktar 26', Hassan Raza 57'

St.Peter's College – Dhananjaya Supumitha 77'

Bookings

Yellow cards

Zahira College – Mohamed Mushfir 14', Ahamed Atheeq 67'

St.Peter's College – Shehan Liyanapathirana 73', Dhananjaya Supumitha 80'
---
Maris Stella College v Kinniya Central College
2015 Division I Champions Maris Stella College hosted 2016 Division II Champions Kinniya Central at Maris Stella College, Grounds.
Skipper Nisal Tharinda Silva gave the hosts the perfect start with a goal in the 4th minute. Ranishka Fernando made it 2-0 giving the visitors from Trincomalee a hard time. However, before half time Mohamed Faheem pulled one back for Kinniya Central College.
Half time – Maris Stella College 2 – 1 Kinniya Central College
The 2nd half was a tight affair with both sides searching for a goal but it was Maris Stella who found it sending the game away from Kinniya Central. Nisal Tharinda added his 2nd in the 63rd minute.
Read – Asela Madushan inspires Joes past Bens
Full time – Maris Stella College 3 – 1 Kinniya Central College
ThePapare.com Player of the Match – Nisal Tharinda
Goal Scorers

Maris Stella College – Nisal Tharinda 4' & 63', Ranesh Fernando 17'

Kinniya Central College – Mohamed Faheem 36'

Bookings

Yellow cards

Kinniya Central College – Mohamed Rizvi 78'