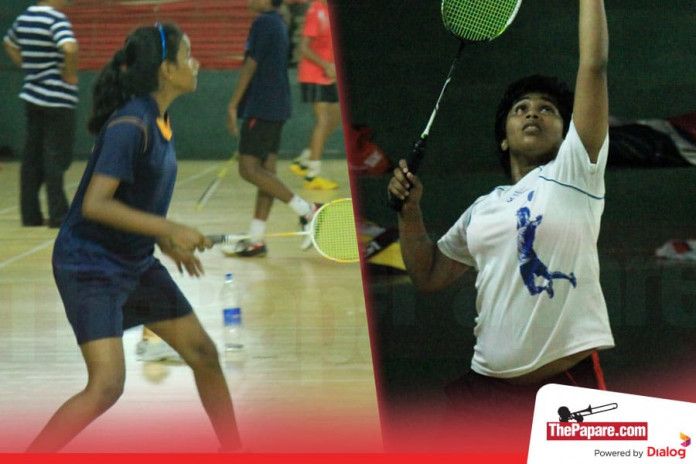 The Badminton Asia U15 and U17 Junior Championships 2016 kicked off yesterday at the Stadium Gor Djarum Jati in Kudus, Indonesia and the tournament will culminate on Sunday 9th October.
So far, 288 players from around the world have congregated in Indonesia to take part in the series. 30 budding young shuttlers representing the Under 15 and Under 17 groups have left the island to compete at the tournament, with the only seeded entry represented by Girls Under 17 player, Dilmi Dias.
The Sri Lankan group comprises of Methali Abenayake, Dumindu Abeywickrama, Jananuwani Amanda, Hasini Nusaka Ambalangodage, Nilasi Balasooriya, Lochana De Silva, Chamath Dias, Dilmi Dias, Sithumi Gurusinghe, Sewmina Gunatilleke, Rasindu Hendahewa, Chirath Illeperumachchi, Chathuli Ishara, Deegayu Kahatapitiya, Sashini Kumarapeliarachchi, Yeheni Kuruppu, Anurangi Masakorala, Lashan Mendis, Mahesha Geethmi Abeyrathne, Chaniru Mirando, Radith Mapalagama, Gavin Dulsith Moragoda, Suwani Muthumalee, Venura Palwaththa, Vinu Pathirana,  Lakindu Ranaveera, Aishwaryaa Ravichandran, Amali Samaranayake, Jameen Sheshan and Suhasni Vidanage.
Commencing yesterday (5th), the U15 shuttlers Rasindu Hendahewa, Venura Palwaththa and Chaniru Mirando were scheduled to compete in the Boys' Singles (BS). The U17 Girls' Singles (GS) commenced with Hasini Amabalangodage and Methali Abeynayake. Beginning the Mixed Doubles (XD) U17 were Radith Mapalagama and Amali Samaranayake who competed against Indonesian shuttlers Leo Rolly Carnando and Metya Inayah Cindiani but the hosts scored well against the Sri Lankans and ended with a 21-9 and 21-8 scoreline.
Sri Lanka's only seeded shuttler Dilmi Dias came forward in the Girls' Doubles (GD) alongside Anurangi Masakorala and fought hard against Malaysian shuttlers Qi Xuan Eoon and Mei Chen Lim and managed to win with a score of 21-18 and 21-18. The Boys' Doubles (BD) team Sewmina Gunatilleke and Gavin Moragoda produced a good performance against Ansari Mehdi and Ali Hosseinkhani of Iran with scores of 21-19, 17-21 and 21-13.
Today (6th), the tournament began fervently and the Boys' Singles, Mixed Doubles, Boys' Doubles and Girls' Doubles matches are being played by a number of our Sri Lankan shuttlers. The BS U17 player, Chirath Illeperumarachchi competed against Su Li Yang of Chinese Taipei but was overthrown with a score of 21-6, 21-9.
Deegayu Kahatapitiya and Sashini Kumarapeliarachchi played the XD U15 match against Asghar Herfanda and Jovika Vandaria Ester Matiho of Indonesia but were also defeated by their opponents. The games are continuing and shuttlers Yeheni Kuruppu,  Aishwaryaa Ravichandran,  Hasini Nusaka Ambalangodage, Mahesha Geethmi Abeyrathne, Gavin Moragoda and Sewmina Gunatilleke have been scheduled to compete today.