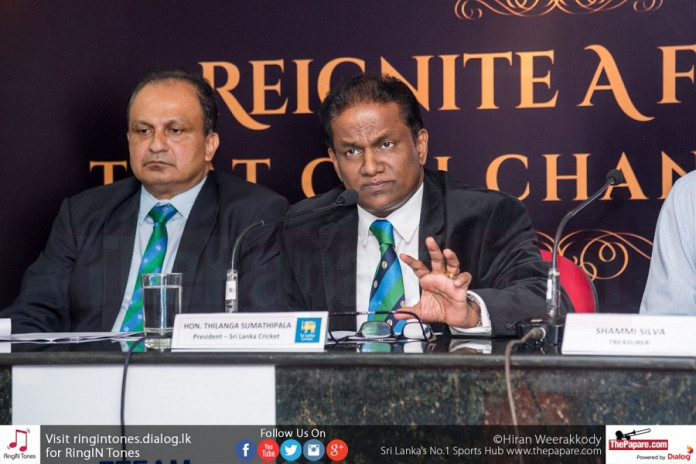 The Sri Lanka Cricket Board has once again decided to have its T20 league, to be called Lanka Premier League in August. However, one key point will be whether BCCI will allow its players to participate in the league. The SLC president Thilanga Sumathipala talks about why BCCI should allow Indian players in their league and also why India should play with Pakistan.
Sri Lanka has decided to have its T20 league. Did you consult with ICC whether to have your league at a time when player's burnout is an issue?
This is a domestic matter for the board, and ICC is not involved. Of course, they will be monitoring. We need to uplift the standard when it comes to participation and competitiveness of the tournament. The challenge is to keep the crowd interest because we have 21 million people compared to say 116 million Bangladeshis and a billion Indians. We have a very small domestic market. Sustainability will be a big challenge. If we don't do that, then the gap between international cricket and domestic cricket will get wider.
Have you spoken to BCCI whether they will allow their players in the league?
We would like BCCI to allow players who are outside the 30 contracted players list to play. I'm making my appeal to the BCCI. I can understand the contracted top players playing for the country should be protected and there are 100 of talented players in India. They have time after IPL. We are 20 million but we allow our players to play outside. I think Indian players should allow player outside their top 30.
Read : Sri Lanka Cricket to launch Lankan Premier League
Isn't it unfair from the BCCI part, as when it comes to them, they say we have to protect our best players but when it comes to other board like Sri Lanka, they allow their players to play in IPL?
In fairness to the BCCI, India's top players will have to play all formats. It's a fairly big load. So you can't allow them to play elsewhere. My position is if they say "these are my top 30-40 players", it's fine, but there will be players who would have played 5-6 ODIs and not playing now, you are depriving them of opportunities, especially when there is no cricket in India. And there are players who have retired. Look at a player like Shahid Afridi. Even at 50, people will like to see him play because he is an icon in Pakistan. People like to see heroes. Tomorrow if Sunil Gavaskar comes to bat, there will be people to see him. Same is the case with Kumar Sangakkara. You have to allow players to keep the interest of the game alive!
How much has India-Pakistan relationship impacted smaller Asian boards because Pakistan was supposed to host Emerging Cup for under 23 but didn't as India couldn't travel there?
I think India and Pakistan must play in everyone's interest. I can understand the sensitivity of both the countries. It's nothing new, such things have happened time again and again at various sports; not only India and Pakistan. There will be visa issues. But stopping them from playing is the problem. In the spirit of the game you have to go and play. If you can't play in Pakistan go to Dubai, if you can't play in India, go to Bangladesh or Colombo. It is important to continue the fixtures because politically and culturally if you keep playing then society wants them to play at home. So there will be pressure on terrorists and people who are making life difficult to stop the activities because people are not with them. If you don't play with each other for years then people will forget and pressure will be covered up.
There is a debate of club vs country and we have seen how players in recent times have chosen club because of financial reasons. Don't you think the boards should also be blamed because they are the ones who have their own T20 leagues?
At the end of the day we are in the business of entertainment. It's a sport which has got the acceptance of the public and they are entertained. You have to cater to the demand; you can't deprive the public. If people are asking more content on the television, they want to follow it more. There is an already a structure in place at the ICC, its Tests, ODIs and T20s. As a board, we have to be smart and ensure that all formats complement each other. There should be some gaps. But no national boy will become international star if there are no premier tournaments. You are looking at pink ball day-night test cricket because you have more time in the evening. People never said they never like Tests; it was just they only have a time after 6 in the evening. Let us be more accommodative.
Read : Thilanga Sumathipala denies any connection to betting industry