The Sri Lanka Tuskers' historic 2nd place finish at the Asia 7s capped off a brilliant year of rugby sevens for the island nation.
The future of sevens looks bright when you look at the recent results in the Asian arena where the Sri Lanka U18 and U 20 sides have also managed to win titles recently. The world-wide participation in rugby has significantly increased since it became an Olympic sport and that bodes well for Sri Lankan rugby as well.
Sri Lanka finished as runners-up in the first and the second legs of the Asia series whilst disappointedly finishing 4th in the final leg on home soil this weekend. However, having performed adequately in the previous legs, they surmounted an overall tally of 27 points which was a point more than South Korea (26pts) and nine points less than overall champs Hong Kong's (36pts).
As a result Sri Lanka will now get an opportunity to play in the World Rugby Sevens Series Qualifiers from the 7th – 9th April 2017 at Hong Kong Stadium.  The countries which have qualified so far are Sri Lanka, Hong Kong, Namibia, Uganda, Spain, and Germany. Another six (6) countries will join those teams, including teams from the Pacific islands and America. This event will be played in a carnival atmosphere alongside the all-famous Hong Kong 7s in which the 15 core teams and an invitational team will compete. (Core teams – Fiji, New Zealand, Australia, England etc.)
Group results at the last World Series qualifier below

It was Japan who won the qualifiers in April and as a result they will join the core teams in the World 7s series which will be played in ten (10) countries from December 2016 – May 2017. Portugal finished bottom of the concluded World Series and as a result they too will be a part of the qualifiers next April.
Below are the top 8 teams in the qualifiers that played in the knock out stage in April 2016.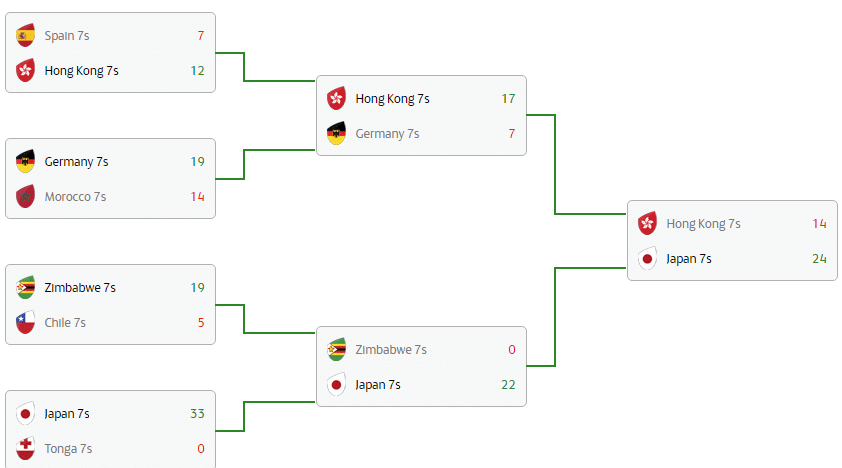 This however, is a tremendous opportunity for Sri Lanka to challenge somewhat similar or better oppositions. It is a chance that will not come by often and reflecting on the recent performances, Sri Lanka dearly needs more exposure at such big events.
Sadly Sri Lanka did not fare very well in a similar event played this June, which were the Olympic qualifiers in Monaco where the Tuskers lost to Germany 42 – 05, Canada 57 – 00, Uruguay 40 – 14, Morocco 33 -14, South Korea 31 – 24 but beat Mexico 22 -19.
When you look at the results for the 7s series qualifiers, Sri Lanka's eternal stumbling block Hong Kong lost to Germany and Zimbabwe but managed to win over Spain and Germany in the knockouts. (See above chart) Although this happened in April, two months later we saw Spain winning in Monaco and qualifying to play at the Olympics. As is evident, the game of sevens is a funny one and one bad result does not mean anything.
Hong Kong's veteran winger Rowan Varty gave his views to ThePapare.com after the final of the Asia 7s Series in Colombo "I think any of the top 5/6 teams can beat us easily, we saw that yesterday with Malaysia beating us and obviously Sri Lanka winning close with us, so it helps us to develop and hopefully we can qualify for world series."
He also shared his views when asked why Sri Lanka always loses to Hong Kong. "I mean it's always hard when you come up against a team you normally lose to, you have to do something different to beat them, so the pressure is always on them (Sri Lanka) but at the same time the pressure is on us to keep that winning record. Sri Lanka is one of the strongest or definitely the strongest opposition we face in Asian rugby and every time we face them we have to work bloody hard to be able to beat them."
There could be an argument that physicality plays a major role in the games. Against opposition like Singapore and Chinese Taipei, Sri Lanka is able to dominate. However, when playing teams like Hong Kong, South Korea and China who have superior physical strength, Sri Lanka has to play according to their strength, which is a running game. For instance in the 2nd leg Sri Lanka beat South Korea convincingly when they played to their strength without going into too much contact.  Malaysia employed the same tactic against the much superior Hong Kong team in the Colombo leg and were able to beat them.
We witnessed in the concluded Asia series that some of the decision making and thinking strategies were not good enough by the Tuskers.  Players need to be individually monitored and infused with game sense. Hong Kong coach Gareth Barber once stated that Sri Lanka did not have enough common sense, as they could have beaten the Hong Kong team in the first leg of Asia sevens in Hong Kong after having enough possession throughout the game.
Going forward, full-time sevens player contracts for Sri Lanka rugby is imperative. All players in the Hong Kong team are given full time contracts to play sevens, and they play fifteens where necessary. The Sri Lanka Rugby Football Union (SLRFU) has to brainstorm their plans and look to working on a solid sevens structure.
The Dialog Club Rugby League will commence very soon (4th November) and will conclude on the 19th of February whilst the Clifford Cup finals have been scheduled for 11th March 2017. It will be interesting to see whether the SLRFU will contract players or wait till the end of the domestic league and train two weeks before sevens qualifiers as usual.
Players like Richard Dharmapala, Jason Dissanayaka, Kanchana Ramanayaka, Danush Dayan, Danushka Ranjan, Srinath Sooriyabandara are all from Kandy SC and as are the injured players Shehan Pathirana, Anurudda Wilwara, Nigel Ratwatte, Suhiru Anthony, Gayan Weerarathne and Fazil Marija. Considering the fact that Kandy will most probably go into the knock-out finals, where is time to transfer to their skills from XV's to the shorter version?
We have seen great XV's players like Bryan Habana, Quade Cooper etc fail to get into the Olympic sevens squad due to not meeting the required fitness and skill levels for the faster format.
Giving full time contracts will allow players to adapt to the sevens style and devote time to professionalize themselves. Full time contracts are all about enough funds and without a doubt  the SLRFU will discuss this  at their annual general meeting in a few weeks' time, and share their plans with the rugby fraternity.
If Sri Lanka sevens can play in a few invitational tournaments before the qualifiers, that will give them a lot of confidence as the Sri Lanka Super Sevens will not be played until mid-year.