Vinod Weerasinghe of the British School, who is currently in sparkling form, took the Nuwara Eliya Regional Junior Open title easily to add to his Kandy Regional Junior Open Title which he won last month.
Armand Flamer Caldera once again promised much early but fell away at crucial moments and had to be satisfied yet again with being runner up. They were closely followed by S.D.S Dilshan and Januka Dilshan.
In the girls' division, young Taniya Balasuriya virtually ran away with the title, showcasing some remarkable strokeplay to win the title by 15 shots over Kayla Perera of Ladies College. Encouragingly however two new young female golfers H. M Daliya of Kandy and Madumitha of Nuwara Eliya were placed 3rd and 4th in the girls' division.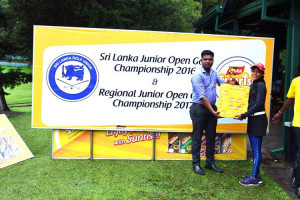 In the Silver Division (age group category 12 – 14 years), experienced S. Dhuwarshan of Nuwara Eliya Golf Club had a comfortable win, playing consistent golf over the two days with an aggregate score of 146. Haroon Aslam from Ecole International School, showing great maturity, came in as runner up with Dilshan Malinda close on his heels. Levon Nireyapola, who hits a long ball, came in 4th just edging out K. Danushan on r a better second round score.
Nirekh Tejwani of Colombo International School stole the limelight at the Nuwara Eliya Regional Open, winning the Bronze Division (age group category 10 – 11 years) by 8 shots, with a very creditable gross score of 100 over the two days. The youngster showed great potential to be a future prospect for the country displaying a composed temperament in addition to having a long ball striking ability. Moreover he has shown consistency as well having won the Kandy Regional Junior Open just recently. Others in the division coming in second, third and fourth places were Yannik Kumara, Shanal Binuksha and Sherin Mithara respectively.
In the Copper Division (Age Group 09 & under) played over 9 holes, there was an exciting finish with C. Dharaniyan and Reshan Algama tied after the second round. This led to a sudden-death play off in keeping with the tournament rules. Amidst much tension C. Dharaniyan of Nuwara Eliya edged out little Reshan Algama who was unfortunate to double bogey the 1st playoff hole. In this, the most junior division, gritty Jacob Norton came in with the third best score and was followed closely by Kvahn Tejwani.
The event was Sponsored by Prima Sunrise Bread and conducted by the Sri Lanka Golf Union.
Results
Gold Division (Age Group 15 – 17yrs)
Vinod Weerasinghe 140
Armand Flamer Caldera 152
S. D.S Dilshan 154
Januka Dilshan 155
Gold/Silver Girls Division (Age Group 15 – 17yrs) & (Age Group 12 – 14yrs)
Taniya Balasuriya 140
Kayla Perera 155
H. M Daliya 181
Madumitha 269
Silver Division (Age Group 12 – 14yrs)
S. Dhuwarshan 146
Haroon Aslam 161
Dilshan Malinda 165
Levon Nireyapola 173
Bronze Division (Age Group 10 – 11yrs)
Nirekh Tejwani 100
Yannik Kumara 108
Shanal Binuksha 116
Sherin Mithara 117
Copper Division (Age Group 09 & under)
C. Dharaniyan 85 won on a play off
Reshan Algama 85
Jacob Norton 88
Kvahn Tejwani 89
*Source – Sri Lanka Golf Union