The inaugural open ranking and novice table tennis tournament conducted by the Anuradhapura District TT Association in collaboration with the North Central Province TT Association & Ping Pong academy was worked off in grand form earlier this month.
The tournament was held on 29th,30th September with the finale on the 1st of October at the Anuradhapura Indoor Stadium. The chief guest for this maiden journey was Hon. Shehan Semasinghe, member of parliament and President of the North Central Province Table Tennis Association.
The official results of the tournament are as follows:
Men's & Women's Singles Champions:  Udaya Ranasinghe of  Vidyartha College, Kandy  and Ishara Madurangi  of Sri Lanka Ports Authority won the Shehan Semasinghe Challenge Trophies respectively.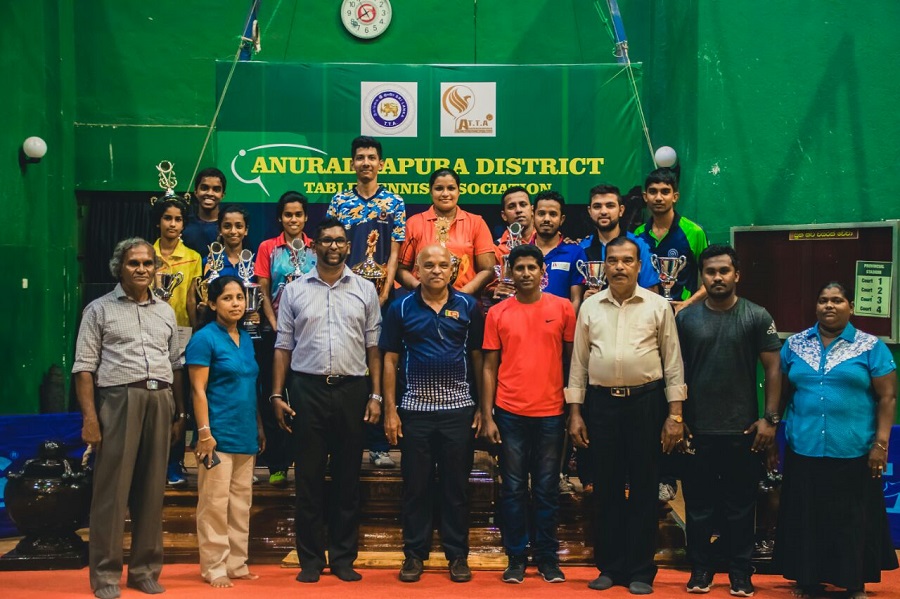 Open Ranking Winners and Runners up
Special mention should be made of the Women's Champion Ishara Madurangi of Sri Lanka Ports Authority as well as Udaya Ranasinghe of  Vidyartha College, Kandy who each bagged three titles to their names.
Udaya Ranasinghe of reserved the all-important men's title by defeating Royalist Nimesh Ranchagoda in a tightly contested 7 round final. Udaya came out stronger with a 4-3 set win with scores reading 10/12, 09/11, 11/07, 10/12, 08/11, 13/11, 11/08
In the women's category Ishara Madurangi defeated Chamathsara Fernando of Visakha Vidyalaya with scores reading 11/09, 07/11, 11/07, 10/12, 08/11, 13/11, 11/08
Open Ranking Men's Doubles – Udaya Ranasinghe of  Vidyartha College, Kandy & B N B Jayasinghe of MAS Intimates beat Chameera Ginige of University of Sri Jayawardhanapura & Rohan Sirisena of Stag TT Academy – 12/10, 05/11, 12/10, 11/05
Open Ranking Women's Doubles – Ishara Madurangi of Sri Lanka Ports Authority & Nuwani Navodya of Sri Lanka Army beat Kasuni Pitigala of Sri Lanka Army  & Naduni Surasinghe Institute of Engineering Technology – 11/06, 13/11, 11/07
Open Ranking Mixed  Doubles – Ishara Madurangi of Sri Lanka Ports Authority & Rohan Sirisena of Stag TT Academy beat Bimandee Bandara of Hillwood College, Kandy & Udaya Ranasinghe of  Vidyartha College, Kandy – 11/02, 16/14, 11/03
Open Ranking 21 Boy's Singles : Udaya Ranasinghe of  Vidyartha College, Kandy beat Prasad J De Silva of  MAS Intimates – 11/07, 11/05, 11/08
Open Ranking 21 Girl's Singles : Chamathsara Fernando of Visakha Vidyalaya Colombo  beat Imasha De Silva of Dharmasoka College, Ambalangoda 15/13, 11/06, 08/11, 11/03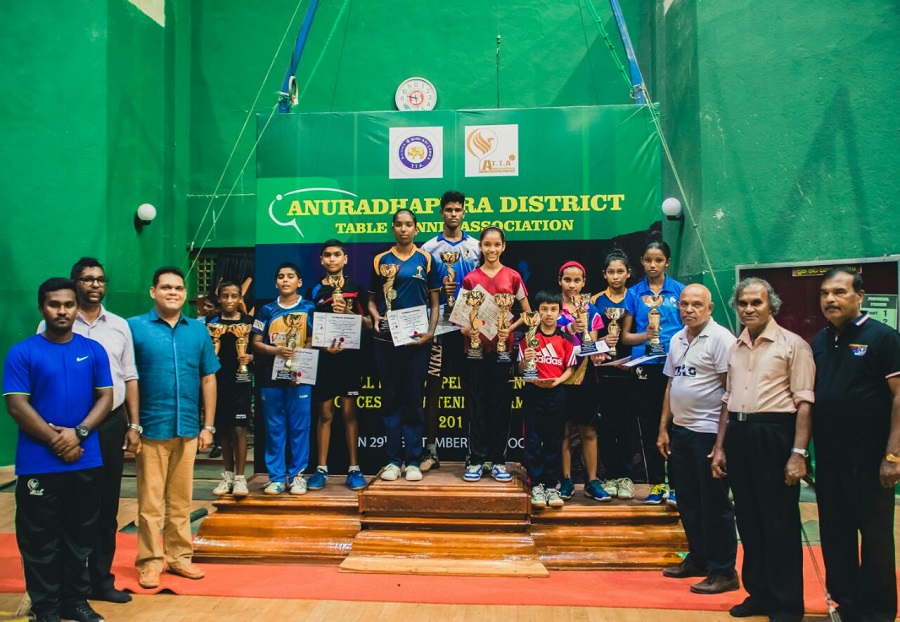 Other Novice Winners and Runners-up