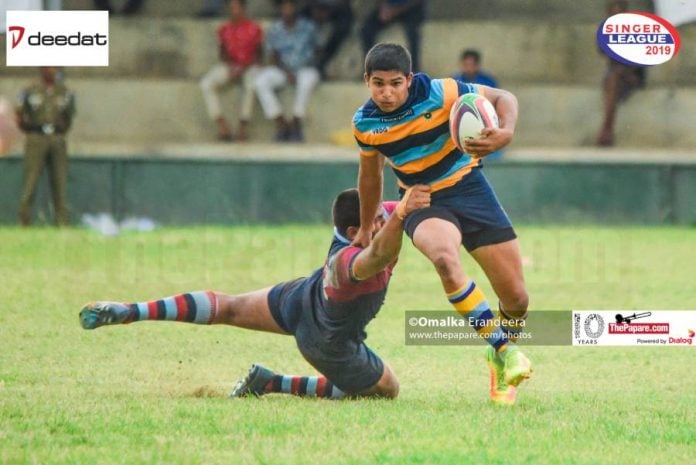 The Tigers held on strong to complete a nail-biting 22 – 19 victory over a valiant Antonian outfit in Nittawela earlier this evening.

Both teams scored 3 tries in what turned out to be a very entertaining clash, but a penalty kick made the difference in the end as the home side hung on for the win.
Antonians started the game with a bang, scoring the opening try thanks to some impressive play from the backline, with a clean line-out ball given to the backs fly-half Theeksha Gunasinghe. He started the move with a cut inside and sent it out wide to the open hooker Shashika Wijewardana applying the finishing touches from the wing.
Thirusha Ekanayake added the extras to make it 7-0. 
But Vidyartha soon cut back the deficit through a penalty for holding on which at the end proved to be the difference between the two sides. After finding themselves with an attacking line-out five meters out following an earlier interception from Sathsara Kalugampitiya, the Antonians were guilty of infringing right in front of the posts. Chirantha Kaluarachchi bisected the posts to make it 7-3.
Antonians soon found their lost mojo after the early exchanges as a couple of quick passes went stray, and the ball dropped lose for Dilan Kodagoda who collected and sprinted 80m for an end to end try. Chirantha Kaluarachchi was yet again on target with his kick giving themselves the lead. (VCK 10-7 SACK)
It took the Antonians six minutes to respond, courtesy of a simple backline move.
From a lineout around the 22, the ball was moved to the center before flyhalf Theeksha Gunasinghe threw a short inside pass where Kavishka Jayasooriya collected it and jogged over the whitewash. Thirusha Ekanayake missed an easy conversion which came back to cost them the game in the end. (VCK 10-12 SACK)
Half Time: Vidyartha 10(1T 1C 1P) – 12 (2T 1C) St.Anthony's 
Some strong defense was required to keep the Tigers at bay early in the second half. However they were soon rewarded for their grit by another seven-pointer in the 45th minute.
After Anthony's was forced to kick the ball into touch close to their own try line under pressure, Vidyartha won the lineout, setting up a good rolling maul, and after a long drive Hooker Ravindu Weerasinghe slid under a gap to score. Kaluarachchi missed his first conversion to hold scores at 15-12 in their favor. 
True to form, the next five minutes saw two players from each team being sent to the naughty chair for the same infringement of handling the ball off their feet.
The visitors were struggling to find a way back into the match, as frequent errors prevented them from putting any solid phases together, but the response finally came in the 63rd minute.
From the lineout, Theeksha Gunasinghe received the ball and threw a clever inside pass to Shashika Wijewardana who beat the covering defender to score under the posts, as Thirusha Ekanayake added the extras. (VCK 15-19 SACK)
With time running out, the next score was going to be crucial, and it was Vidyartha who found a bit of magic minute from full time. From an attacking lineout, they held onto possession, and with as many as four players vying for the ball it was Raveen Rathnayake who managed to pick it and fall over the tryline after being camping inside picking and dropping for a at least 3 minutes to all but sink the Antonian hopes of making a comeback, the conversion was put over but it mattered little in the end, as Vidyartha went on for the deserved victory. (VCK 22-19 SACK)
Full Time: St.Anthony's 19(3T 2C) – 22( 3T 2C 1P) Vidyartha 
ThePapare.com Player of the match: Theeksha Gunasinghe (SACK)
Score Breakdown:
Vidyartha
Chirantha Kaluarachchi (2C 1P)
Raveen Rathnayake (1T)
Dilan Kodagoda (1T)
Ravindu Weerasinghe (1T)

St.Anthony's
Shashika Wijewardana (2T)
Kavishka Jayasooriya (1T)
Thirusha Ekanayake (2C)