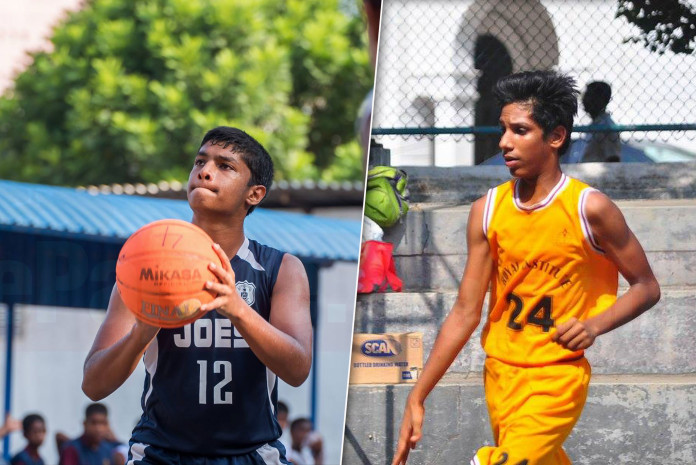 2 games of the under 15 All Island Basketball Championship was played at the St. Joseph's basketball court earlier today. St. Joseph's College took on S. Thomas' College and Royal Institute locked horns against Asian International School.
St. Joseph's College v S. Thomas' College
At the beginning of the game it was evident on paper that St. Joseph's were the stronger team after winning their respective Zonal and being unbeaten in the group stages. On the other hand the Thomians were placed 4th in their respective Zonal and lost one game in the group stages to Royal Institute. The first half of the game decided the result as SJC lead 37 points to 9 points.
First Half – SJC 37 – 09 STC
With a solid lead from the first half the Josephians never looked back as they continued to dominate the open play and taking advantage of the height that they possessed, the offensive and defensive rebounds were theirs for the taking.
Full Time – SJC 63 – 29 STC
Top Scorers
SJC – Shehan Fernando 25 points
STC – Dunal Fernando 12 points
---
Royal Institute v Asian International School
The second encounter of the day was an inter- International affair as RI locked horns against AIS. Royal Institute came into the tournament after been placed 2nd in their respective Zonal and unbeaten in the group stage. Meanwhile, Asian International was placed 4th in their respective Zonal and runners up of their group. Royal Institute played a very fast paced game from the word go and didn't look like stopping any time soon. At the end of the first quarter the scores read 18 points to 8 points in favour of Royal Institute.  The boys from Asian International looked to come back strong, however they were cut short when RI gathered back their focus to control the game and the lead at the first half.
First Half – RI 36 – 15 AIS
With the second half underway AIS had lost all steam and were in no contention to win the game. Royal Institute slowed the game down and controlled the pace to waste the clock away after gaining a huge lead in the first half. The AIS players were wishing the final whistle would blow and nobody could blame them as the sweltering heat was getting to them and they looked dehydrated.
Full Time – RI 46 – 26 AIS
Top Scorers
Royal Institute – Malindu Wickramasinghe 18 points
Asian International – Daniel 7 points
Semi Final Fixtures

Venue – St. Peter's Court

2.30 PM – St. Joseph's College v Gateway College Colombo

4.00 PM – Royal Institute v St. Peter's College