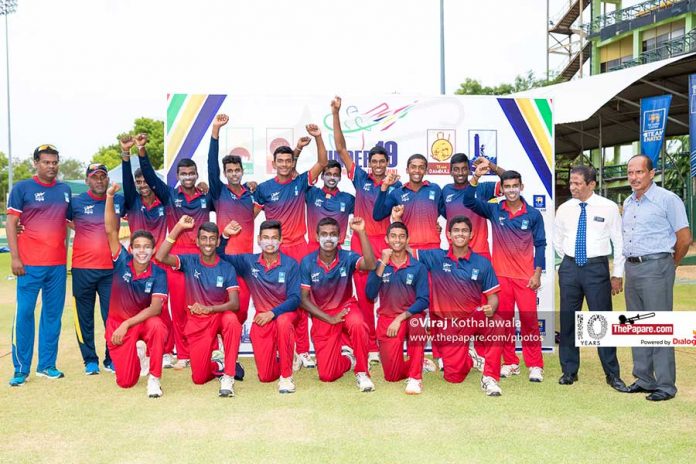 Galle defeated Kandy in a thrilling encounter in the third place play-off of the U19 Super Provincial Tournament 2019 on Monday, 22nd July, at Rangiri Dambulla International Stadium.
The team from the south won the toss and elected to put runs on board first. Two youth international colours-men opened the innings for Galle. Navod Paranavithana of Mahinda College, elevated team Galle with a blistering start. The youngster took his opposition bowlers by their collars with a busy 58-ball 91 runs. He was very well complimented by his partner Chihan Kalindu who also played a fabulous knock of 76 runs off just 64 deliveries. Both of them used the fielding restrictions exceptionally well. The 147-run opening stand in just 16.4 overs put Galle miles ahead in the game. 
Photos: Kandy vs Galle | 3rd Place Play-off | SLC U19 Super Provincial Tournament 2019
Skipper Thaveesha Abishek added the third half century of the innings coming in at no.3. The stage was set perfectly for team Galle to post a huge total and put pressure on the hill country team. 
Lohan Arosha did not make that task so easy for the Galle boys as he chipped into the scene in an exciting manner. Arosha who first got rid of the dangerous Galle skipper Abishek, produced a blinder in his very next over picking up three in three to dismiss a couple of key cogs in the Galle line-up, Dunith Wellalage and Sandun Mendis along with Thevin Amarasinghe. He brought up his fifer in his very next over by beating the stylish Pavan Rathnayake's bat to find him lingering out of the crease. 
There weren't a lot of batting thereafter from team Galle as they probably fell a good 50 to 60 runs short of what should have been their total. They were bowled out for 302 runs in the 47th over. 
Team Kandy too got an equally good start from their openers, Chamindu Wickramasinghe and Avishka Perera. Both of them brought up half centuries as Kandy saw 115 runs for the first wicket. As the openers fell in a fairly short span, Lohan Arosha and Abishek Anandakumar looked to keep things under control for Kandy. 
Dambulla U19s qualify for final after another thriller
Anandakumar fell after a good-looking 36 runs while Arosha fell 6 runs short of a half century. Following his hat-trick, Arosha was having an extraordinary outing as he kept attacking the bowlers with his quick footwork and powerful wrists. He perished off a Navod Paranvithana delivery which crept through his gate on to the stumps as he looked to run to his back foot. 
When Galle needed a wicket desperately, Sandun Mendis, who was having a rough day kicked in. He did not allow the new men to settle in as he delivered a peach of a delivery, flighted outside the off-stump of the left-handed Ravindu Rathnayake which pulled him forward at it and turned sharply away from him. Rathnayake was stumped. 
The game was like a see-saw from that point onwards. Thrilling, as it was heading down to the wire. 
Mendis then managed to send back the in-form Avishka Tharindu who was just starting to look solid. 
The equations got interesting as Dunith Jayathunga and Kavindu Nadeeshan started accelerating. They required 50 off the last 5 overs. And, both of them fell in the next couple of overs. 
Colombo remain unbeaten as Galle lose their third
Dunith Jayathunga was pulling the game away from Galle with 21 runs in just 13 balls when he hoicked one to the mid-wicket boundary. It almost sailed over the ropes when Sandun Mendis caught it in mid air and threw it back into the hands of Ashen Dilhara just in time as his momentum was taking him over the ropes. That acrobatic bit of fielding simply sealed the game for team Galle.
But again, Umayanga Suwaris gave hope to the Kandy camp with a 21-run 48th over making the equation 17 from 12. But, it turned out to be a little bit of over aggressiveness as he was bowled for 19 runs in 9 deliveries trying the go across the line off Amshi de Silva.
It was 11 off the last over and it only took 1 more ball to end the game as Rohan Sanjaya ran himself out trying to pick up a suicidal second run.
Team Galle emerged winners of a well-fought battle and settled to the third place in the tournament. 
Lohan Arosha was adjudged the man of the match even at a lost cause.
>>>Click here for more cricket news<<<


Batsmen
R
B
4s
6s
SR
Navod Paranavithana
b Kavindu Nadeeshan
91
58
15
1
156.90
Chihan Kalindu
c Ravindu Rathnayakke b Rohan Sanjaya
76
64
6
2
118.75
Thaveesha Abhishek
c Dunith Jayathunga b Lohan Arosha
57
51
3
3
111.76
Thevin Amarasinghe
st Avishka Perera b Lohan Arosha
15
27
2
0
55.56
Pawan Rathnayake
st Avishka Perera b Lohan Arosha
2
7
0
0
28.57
Dunith Wellalage
c Avishka Perera b Lohan Arosha
0
1
0
0
0.00
Sandun Mendis
c Umayanga Suwaris b Lohan Arosha
0
1
0
0
0.00
Ashen Dilhara
c Kavindu Nadeeshan b Chamindu Wickramasinghe
21
30
2
1
70.00
Raveen De Silva
run out (Avishka Tharindu)
5
16
0
0
31.25
Amshi De Silva
c Avishka Tharindu b Rohan Sanjaya
10
14
0
0
71.43
Jethesh Wasala
not out
8
11
0
0
72.73
| | |
| --- | --- |
| Extras | 17 (b 4 , lb 4 , nb 0, w 9, pen 0) |
| Total | 302/10 (46.4 Overs, RR: 6.47) |
| Fall of Wickets | 1-147 (16.4) Navod Paranavithana, 2-214 (25.6) Chihan Kalindu, 3-247 (32.2) Thaveesha Abhishek, 4-249 (34.1) Thevin Amarasinghe, 5-249 (34.2) Dunith Wellalage, 6-249 (34.3) Sandun Mendis, 7-260 (36.4) Pawan Rathnayake, 8-278 (41.4) Ashen Dilhara, 9-285 (43.3) Raveen De Silva, 10-302 (46.4) Amshi De Silva, |
| Bowling | O | M | R | W | Econ |
| --- | --- | --- | --- | --- | --- |
| Chamindu Wickramasinghe | 5 | 0 | 33 | 1 | 6.60 |
| Ravindu Rathnayakke | 2 | 0 | 16 | 0 | 8.00 |
| Ruvin Peiris | 3 | 0 | 35 | 0 | 11.67 |
| Lohan Arosha | 10 | 2 | 48 | 5 | 4.80 |
| Abishek Anadhakumar | 4 | 0 | 30 | 0 | 7.50 |
| Umayanga Suwaris | 4 | 0 | 36 | 0 | 9.00 |
| Rohan Sanjaya | 8.4 | 0 | 55 | 2 | 6.55 |
| Kavindu Nadeeshan | 10 | 1 | 41 | 1 | 4.10 |


Batsmen
R
B
4s
6s
SR
Chamindu Wickramasinghe
c Chihan Kalindu b Sandun Mendis
59
69
8
1
85.51
Avishka Perera
c Dunith Wellalage b Raveen De Silva
55
62
5
1
88.71
Abishek Anadhakumar
c Dunith Wellalage b Sandun Mendis
36
38
3
0
94.74
Lohan Arosha
b Navod Paranavithana
44
51
6
0
86.27
Avishka Tharindu
c Amshi De Silva b Sandun Mendis
19
26
1
0
73.08
Ravindu Rathnayakke
st Chihan Kalindu b Sandun Mendis
0
3
0
0
0.00
Dunith Jayathunga
c Sandun Mendis b Dunith Wellalage
21
14
3
0
150.00
Kavindu Nadeeshan
c Dunith Wellalage b Amshi De Silva
17
14
1
1
121.43
Umayanga Suwaris
b Amshi De Silva
19
9
1
1
211.11
Rohan Sanjaya
run out (Sandun Mendis)
13
6
0
1
216.67
Ruvin Peiris
not out
1
3
0
0
33.33
| | |
| --- | --- |
| Extras | 9 (b 1 , lb 1 , nb 1, w 6, pen 0) |
| Total | 293/10 (49.1 Overs, RR: 5.96) |
| Fall of Wickets | 1-115 (20.4) Chamindu Wickramasinghe, 2-141 (24.6) Avishka Perera, 3-185 (33.1) Abishek Anadhakumar, 4-214 (39.4) Lohan Arosha, 5-215 (40.1) Ravindu Rathnayakke, 6-224 (42.2) Avishka Tharindu, 7-259 (45.4) Dunith Jayathunga, 8-260 (46.1) Kavindu Nadeeshan, 9-288 (48.2) Umayanga Suwaris, 10-293 (49.1) Rohan Sanjaya, |
| Bowling | O | M | R | W | Econ |
| --- | --- | --- | --- | --- | --- |
| Amshi De Silva | 9 | 0 | 43 | 1 | 4.78 |
| Jethesh Wasala | 1 | 0 | 20 | 0 | 20.00 |
| Ashen Dilhara | 7 | 1 | 35 | 0 | 5.00 |
| Sandun Mendis | 10 | 0 | 47 | 3 | 4.70 |
| Navod Paranavithana | 7 | 0 | 51 | 1 | 7.29 |
| Dunith Wellalage | 9.1 | 0 | 63 | 2 | 6.92 |
| Raveen De Silva | 6 | 0 | 32 | 1 | 5.33 |