The 'school by the sea' will host the 'school by river, lake, and mountain' for the 40th Canon R. S. De Saram trophy as the top two teams of the Group IB of the Singer Schools Rugby League will meet at CR & FC on the 20th of March to decide who tops the group in the first round.
The two institutions; Trinity College and S. Thomas' College have been frontrunners in the oval ball sport in the country but the they officially met for a fixture for the first time in the year 1955. Trinity won the first encounter decisively and in 1959, S. Thomas' recorded their first win in the competition.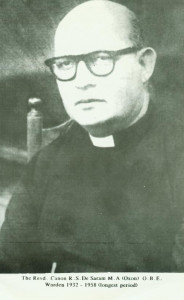 The coveted shield was first awarded in the year 1978 in memory of the former warden of S. Thomas' Reginald Stewart de Saram whose tenure saw the initiation of the fixture.
There have been 64 encounters played in total between the two teams since 1955. Out of which 36 have been won by Trinity while the Thomians have been victorious on 26 occasions. Two matches were tied and in 1971 the match was not played.
Coming to the Canon de Saram; out of the 39 matches played Trinity College leads the tally with 22 wins and S. Thomas have with themselves 17 wins. This will be the 40th edition of the shield.
A bit of history:
YEAR
SCORES
CAPTAINS
2004
STC 15 (3T)

TCK 21 (3T 2P)

STC – Dillon Fox

TCK – Ayaz Ainaff

2005
STC 5 (1T)

TCK 17 (3T 1C)

STC – Namal Rajapaksa,

TCK – B.N.R.Fernando

2006
STC 00

TCK 12

STC – Yoshitha Rajapaksa

TCK – Imalka Maddumapatabendi

2007

STC 19 (1T 1C 1DG 2P)

TCK 15 (3T)

STC – Johan Fernando

TCK – Sean Wanigasekara

2008
STC 10 (1T 1C 1P)

TCK 15

STC – Rohitha Rajapaksa

TCK – Milinda Gunawardena

2009

STC 26 (4T 3C)

TCK 17 (3T 1C)

STC – Shaveen Kapuwatte

TCK – Vishwajith Wijesinghe

2010

STC 40 –

TCK 30 (4T 2C 2P)

STC – Rajinda Guunasekara

TCK – Damith Dissanayake

2011
STC 06 (2P)

TCK 76  (11T 9C 1P)

STC – Dinuk Amarasinghe

TCK- Murad Ramzeen TCK)

2012
STC 21 (3T 1C 2P)

TCK 50

STC – Randhika Peiris,

TCK – Kaneel Snevirathne

2013

STC 29 (2T 2C 1DG 4P)

TCK 15 (3T)

STC – Devin Jayasinghe

TCK – Halique Wadood

2014
STC 10 (1T 1C 1P)

TCK 38 (6T 4C)

STC – Hashaka Senanayake

TCK – Tarinda Ratwatte

2015
STC 15 (2T 1C 1P)

TCK 40 (5T 3C 3P)

STC – Hashitha Senanayake

TCK – Isuru Rangala)

2016

STC 23 (3T 1C 1P 1DG)

TCK  20 (3T 1C 1P)

STC – Pandula De Silva,

TCK – Rahul Karunathilake
From last year
The Henakankanamage blitz in the second half won it for the Thomians at Pallekelle last year as the full-time score read 23-20 as S. Thomas' led by Pandula de Silva regained the shield after a lapse of three years and won in Pallekelle for the first time in six years.
Read: Second half rally gives S. Thomas' the Cannon R S De Saram
Trinity's unbeaten tag under threat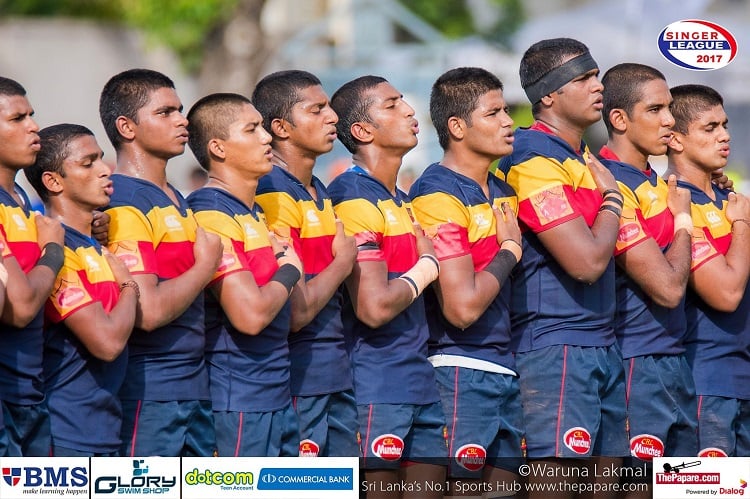 Winning the first three games, Trinity College remains unbeaten in the competition going into the decisive encounter. The Lions started their campaign with a 10 try win against Wesley and later annihilated Science to win it 54-7 at Havelock park.
The Lions were put on test at Maradana by the Zahirians in a rain-hit encounter, but were able to survive to win in a closely contested game with full-time scores reading 34-26.
However, the Lions are yet to be tested to their potential and this week's encounter will prove to be an enthralling affair. Trinity's backline has been impressive with the top try scorer Diluksha Dange in the best of form along with Anuka Boyagoda at scrum half.
Trinity's skipper Nathan Yee will be required to play a pivotal role in the capacity of #8 especially when it comes to the breakdowns and in the scrums.
Thomas' confident of retention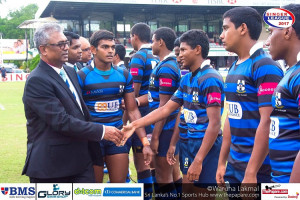 The Thomians suffered an unfortunate loss last week against Wesley College that forced them to give away the Sir Oliver Gunathilake shield but a single loss should not worry the Thomians as their title hopes still remain intact.
Starting their campaign at CR & FC against Prince of Wales, S. Thomas' recorded a landslide 54-0 win but just like Trinity, they were put in hot water against Zahira College. The lads from Mount Lavinia overcame Zahira despite their second-half fight back.
>> Read More: Thomians prevail over gallant Zahira
Naveen Henakankanamage will be meeting his national under 18 sevens team counterpart Diluksha Dange who has graduated from Wing-three to center but this time they will play on opposite sides of the playing field. Along with Naveen, last year's hero Sharith Nanayakkara is expected to anchor the back-threes for the Thomians.
Dion Dias will be a key for a Thomian victory with him now being entrusted with the kicking duties along with the scrumhalf responsibilities.
Final words
Trinity's 3-match streak should worry the Thomians but that would not deviate them from their usual playing style.  They will surely look to come back with a vengeance to rectify their mishap of last week.
The Lions on the other hand with a mountain of confidence behind them will go in for the kill and look to grab back the silverware that they gave away last year.
ThePapare will be bringing you live action from the 40th Canon R. de Saram shield on the 20th of March 2017 on Dialog Tv Channel 1, www.thepapare.com and MyTv.