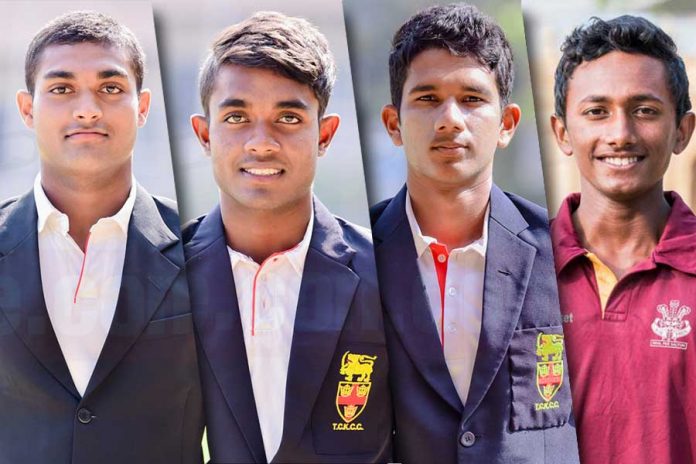 Trinity College defeat Prince of Wales on a higher run-rate in the semi-finals and book a place in the Singer U19 two-day finals which is scheduled to be played early next month.
Prince of Wales skipper Savindu Peiris won the toss once again in a crucial encounter in the U19 league tournament. Match started at 12.45 pm due to wet ground conditions at St. Anne's College grounds in Kurunegala.
Read: St. Anne's College, Kurunegala secure Division 1 promotion
However, rain kept interrupting the game as umpires called it a day, when it was 56 for 2, on the opening day of the semi-finals.
The play resumed on day two and it was a sunny day in Kurunegala. The Cambrians were clever and kept wickets intact with 200 for 4 on the board around 2.00 pm on the second day afternoon.
Suwath Mendis and Sanoj Darshika stroked timely half-tons taking a lot of time out of the game with low strike rates. Both went back to the pavilion as the job was only half done. Trinity Lions came into the game with a slight chance of entering the finals. The lads from Moratuwa declared their innings after batting 120 overs and giving Trinity under 30 overs to bat in the encounter.
In reply, Trinity started off well with skipper Hasitha Boyagoda and Pubudu Bandara taking them to 50 for 1 after 10 overs when the clock showed 4.20 pm on the second day. The match stopped for rain as Trinity was ahead by 0.03 points and they will qualify to the finals on a higher run-rate.
Brief scores
Prince of Wales College, Moratuwa – 248/9d (118) Suwath Mendis 64, Sanoj Darshika 57, Avindu Fernando 26, Sandun Fernando 24, Savindu Peiris 20, Thisaru Dilshan 2/27, Kavishka Senadeera 2/41, Vimukthi Nethumal 2/80.

Trinity College, Kandy – 51/1 (12) Pubudu Bandara 27*.
Result – Trinity enter finals with a higher run-rate (Trinity 2.76 – POW 2.73)