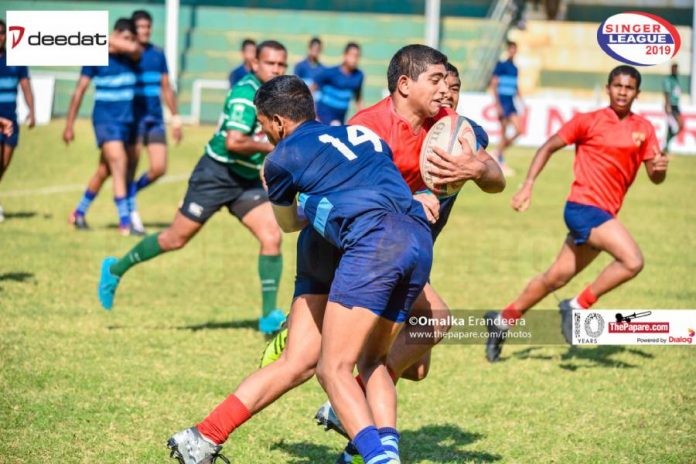 Trinity College Kandy secured a dominant victory over St. Anthony's College Kandy, winning the Under-16 Kandy derby 29-00 at the Nittawela Stadium, Kandy.
The Trinity youngsters had a mixed set of results in their opening two games, claiming a big win against Zahira College before falling to Isipathana College in week 02. The Antonian juniors were coming off a big win as well having edged past St. Joseph's College in their previous game.
It was the Trinity youngsters however who started the Kandy derby in dominant fashion, and it quickly paid off when they broke through for their first try of the game early on. The Antonians' struggled in the first half, with majority of their attacks being quickly cut short by the strong Trinity defence.
Photo Album – Trinity College vs St. Anthony's College – Junior Matches
Trinity continued to put pressure on the Antonian defence and eventually broke through once again for their second try. Moments before the referee blew for half time, Trinity, with some good passing play, dove over the line for their third try.
Half Time: Trinity College 15 (3T) – 00 St. Anthony's College
The Antonian youngsters attempted to mount a comeback early in the second half when they displayed good attacking play. The Trinity youngsters held on defensively however, and eventually reasserted their dominance when they broke through for their first converted try of the game.
Both teams had good backing from the crowd under the hot sun, but it was the Trinity cubs who seemingly kept their cool throughout the game. Trinity College continued to dominate play and possession and looked hungry for more points despite their lead.
They eventually broke through one final time for another try before it was successfully converted. Moments later, the referee blew for full time to give Trinity College the bragging rights over their city rivals.
Full Time: Trinity College 29 (5T 2C) – 00 St. Anthony's College