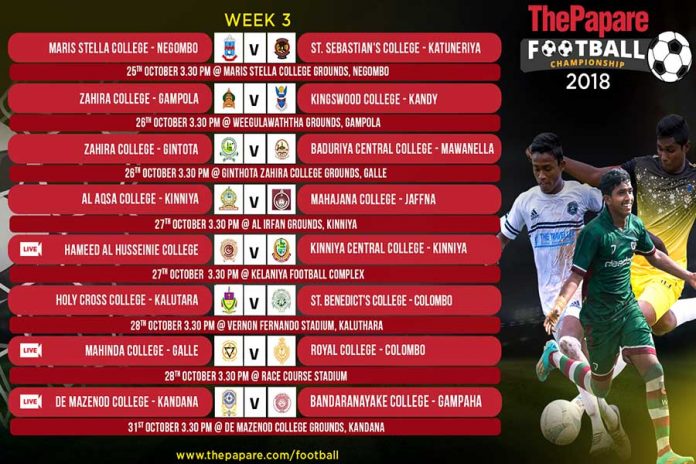 ThePapare football championship 2018 will move to its third week with exciting match-ups island wide. Matches will be worked off from the 25th Oct to 31st Oct.

The 88th Ritzbury Sir John Tarbet (Senior) Athletic Championship which was held over…
Recap Week 2
Week 2 of the tournament was filled with goals as top schools managed to win with big margins. Disappointingly two schools, Holy Cross Kalutara and Kinniya Central College failed to field a team, giving away walk overs.  
In the first game of the week Zahira Gampola hosted St. Joseph's College Colombo. It ended in an exciting 2-2 draw. Both teams currently sit atop the table with 4 points each.
After the first week's loss, St. Peter's College bounced back in style with a thumping 7-1 win over Baduriya Central College. This put the Peterites right among the mix in the top.
At the picturesque Digana stadium, Kingswood came from 2 goals down to draw level against Royal College Colombo. Both teams are on level terms in the table with Royal having played an extra game.
Zahira College Colombo got their 3 points courtesy of a 3-1 win over Al Aqsa College Kinniya. With this win Zahira are level on points with Mahajana College.
Another high scoring game saw Maris Stella thrash Bandaranayke College Gampaha by 8 goals to nil. This is the second big loss for the boys from Gampaha.
St. Patrick's are yet to take on De Mazenod Kandana in the last game of week 2.
Match Replay – St. Peter's College v Baduriya Central College – Group D – ThePapare Football Championship 2018
(Preview week-3)
Maris Stella College – Negombo vs St. Sebastian's College – Katuneriya (Group B)
Both teams look evenly matched on paper. Despite the first week's loss St. Sebastian's are a formidable outfit. Maris Stella on the other hand will be buoyed by the win last week, however their opponents there were poor and this time round the task will be tougher.
Zahira College – Gampola vs Kingswood College – Kandy (Group A)
Hill Capital clash will be a mouthwatering spectacle as both teams have history in their home town tournaments. Zahira Gampola will be going in as favorites however one cannot underestimate Kingswood who came from behind to secure points last week.
Zahira College – Gintota vs Baduriya Central – Mawanella (Group D)
Both teams will be confident of taking points away from each other. Zahira Gintota has the advantage of playing at home as well as Baduriya are coming off 2 losses in week 1 and 2.
Al Aqsa College – Kinniya vs Mahajana College – Jaffna (Group C)
A tough battle awaits up in the North East as two teams with a near identical style of play and hard tackling will go head to head. It will be a game for the neutral to enjoy. Both teams can top the group with a win.
Hameed Al Husseinie – Colombo vs Kinniya Central – Kinniya (Group D)
It's yet to be seen if Kinniya Central will turn up for this encounter. Both have played each other recently in other tournaments and if this does go on it will be a cracker of a match. Hameedia can take control of the group with a win.
Holy Cross – Kalutara vs St. Benedict's College – Colombo (Group C)
Kalutara boys failed to turn up last week. St. Benedict's played off a high scoring loss in week 1. Both schools will look to open their account if this does go on.
Mahinda College – Galle – Royal College – Colombo (Group A)
A Trophy game played for the Albert Edirisinghe Challenge Trophy will be played at the Racecourse ground despite the gall team being host. Royal Coming in with a loss and a draw, whereas Mahinda lost in week 1. An even contest waits.
De Mazenod -Kandana vs Bandaranayake College – Gampaha (Group B)
Bandaranayake Gampaha will be a worried bunch who has conceded 16 goals in 2 games. This will be a good opportunity for the boys from Kandana to increase their goal count.
>>For more Football News Click Here<<