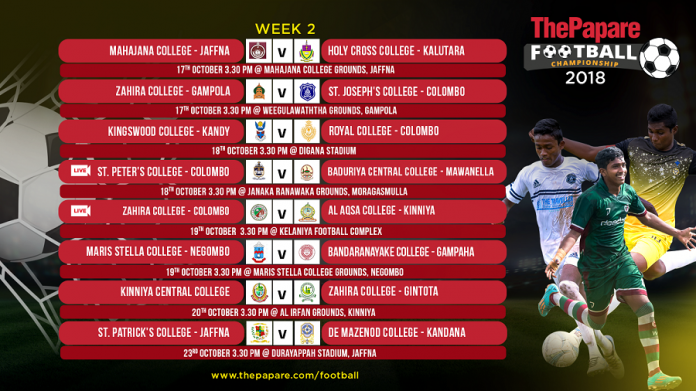 ThePapare Football Championship 2018 will move to its second week of action with exciting match-ups being played Island wide.
Matches will be worked off from the 17th to the 23rd of October.
Zahira College, Colombo and Mahajana College, Jaffna..
Recap (Week 1)
The first week of the tournament was filled with upsets, high scores and missed penalties, where a total of 42 goals were scored in 8 matches.
In the curtain raiser at the Race Course International Stadium St Joseph's Colombo beat Mahinda College Galle 5-1.
The biggest upset came from Gintota Zahira College as they beat St. Peter's College, Colombo by 2 goals to 0 at Bambalapitiya. Zahira Colombo was held to a 1-1 draw by lesser known Mahajana College, Jaffna.
Read: Ginthota Zahira pull off stunning upset over St. Peter's
St. Patrick's College managed to secure the biggest win, beating Bandaranayake College, Gampaha by 8 goals to 0. Gampola Zahira College beat Royal College 4-2.
Up in Kandy, Baduriya Central College, Mawanella were beaten in their home turf by Hameed Al Husseinie College, Colombo 2-1.
Another high scoring game saw Al Aqsa College, Kinniya beat St. Benedict's College 6-4 at Navy Grounds, Welisara, while De Mazenod College, Kandana overcame St. Sebastian's College, Katuneriya by 4 goals to 1.
Preview (Week 2)
Mahajana College – Jaffna vs Holy Cross College – Kalutara
Coming out with a draw in the first game against Zahira Colombo in Colombo the boys from Jaffna are much fancied to come out with all 3 points against Holy Cross Kalutara. This is the first outing for the Kalutara boys.
Zahira College – Gampola vs St. Joseph's College – Colombo
Both teams are coming into this match up with wins from their first outing. On Paper Joes looks favorites, however playing in their home ground Zahira Gampola may cause an upset.
Kingswood College – Kandy vs Royal College – Colombo
Kingswood will be out for the first time this season whereas Royal lost their opener in week 1. This could turn out to be a classic as both teams go long way in history and traditions.
St. Peter's College – Colombo vs Baduriya CC – Mawanella
Peterites suffered a shock loss in week 1 and will look to bounce back against Mawanella team who also has lost their opener. Having their talisman Shabeer Razooniya from National Duties will be an advantage for the Bamba boys.
Zahira College – Colombo vs Al Aqsa College – Kinniya
This is dubbed as the match of the week. Zahira Colombo played excellent football despite the draw in week 1. Al Aqsa managed to score 6 goals in their opener against the Bens. Zahira go in as favorites with home advantage.
Maris Stella College – Negombo vs Bandaranayake College – Gampaha
Bandaranayake College will look for redemption after a heavy loss to St. Patrick's in week 1. Maris Stella is kicking off their campaign this week with home advantage.
Kinniya Central College – Kinniya vs Zahira College – Gintota
Week 1 surprise package Gintota Zahira will travel to Kinniya to take on much fancied Kinniya Central College. The boys from Galle will look to create another upset.
St. Patrick's College – Jaffna vs De Mazenod College – Kandana
Big winners in week 1 St. Patrick's will look to maintain their dominance in the group when they have visitors from Kandana. De Mazenod has done well in their first game to beat St. Sebastian's Katuneriya.
>>For more Football News Click Here<<