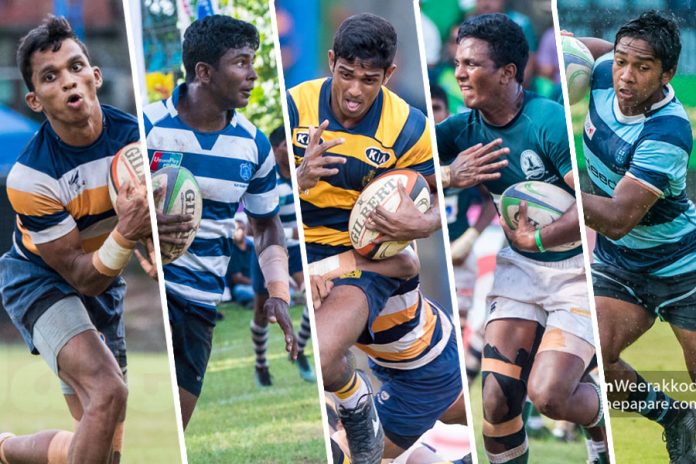 Season twenty eighteen is now over. It ended with what was a style bending explosion. A season proper decided on its last Saturday by a champion with some authority, followed up by what was the greatest come from behind knockout victory in the tournament's history.
It's fair to say we all witnessed an end to end, a breathtaking segment of Sri Lanka's most anticipated and sought-after sporting competition.
>> Read More from Boa Athu on Boa Straight UP!
Royal, dominated from the front as St Joseph's and St Peter's kept things interesting, before being blown away. Being both clinical and ruthless when they had St Peter's at their mercy. Finishing them off in style.
The Saints then made it to the finals with the league kingpin opting out, which was a real shame but one of them now had an opportunity at winning a trophy.  
Read more: Seven things we know after the sevens
They then both toiled and tussled for a fascinating finish. It was quite literally, tribal warfare with fans from either side showing what any game, be it rugby or playing fifteen aside marbles, meant to them. Perhaps it was meant to be.
The rest of the pack made life difficult and played the part to some suspense-filled games during the season proper. Wesley almost tipped Royal. DSS stole defeat from the jaws of victory against Isipathana. Science played out a turbo outrun clash with Maliyadeva and Zahira made life interesting but fell away eventually. Kingswood showed flashes of sparks with Trinity but never raged into a wildfire, let alone a campfire.
In amongst all these topsy-turvy faceoffs, emerged some true game breakers with outstanding individual brilliance. Creating plays, at times, all by themselves, from virtually nothing and standing out like a shining star. Shoring their respective teams on their own, just like how Manneken Pis summoned all his courage to relieve himself so he could put out a burning fuse, saving the city of Brussels from a pile of explosives.
You might also like:
Such are the heroics of this list who will write their own legend at their schools, rugby- folklore. They can create gold dust from literally rain-soaked mud.
We look at the top five, best of the best, flair-tastic, individual – game breakers from this season as ranked by our expert.
1. Gamunu Chethiya (St Joseph's College)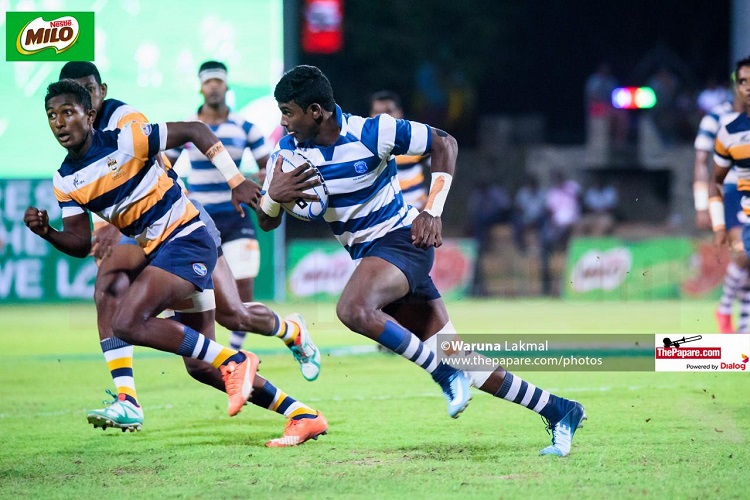 #GC and the one true style bender of the league. An incredible talent who can step, jinx, stop-start and accelerate, leaving the defense gassed as if they were ghosts. They don't exist in his world or so it seems.
This kid has some skill and knows when and how to use it. At times, he was too fast for everyone including his own shadow. Athletic and agile, he has an uncanny ability to "gas" and swerve when required. Similar to the attributes former Fiji and Auckland Blues winger, Rupeni Caucau possessed. If you're looking for a metaphor, he's your McLaren F1 supercar. Throttle on demand to step and corner like Honda CBR motorbike.
Playing at fullback and having the ability to play almost anywhere in a back division, he was the highest individual try scorer for the season proper. That is hardly surprising given his number one game breaker status and sheer skill-ability. Scored twelve tries, that is nearly double that of the next highest on the list- Thulaib Hassan at seven. A staggering total of almost 24% of his team's total, season points for. Should have easily have more, had he been more selfish, but he wasn't — proving that he is a team man.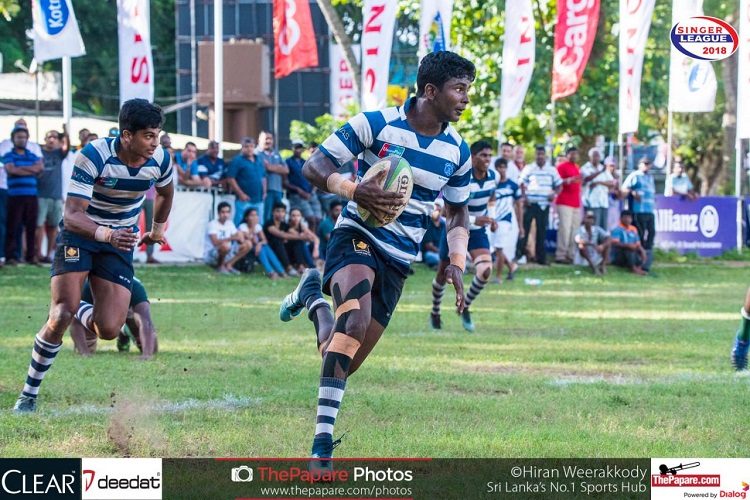 A mesmerizing few moments and flirting frequently with the touchline where most others would stay away. Why? — because he knows he can and backs his ability. Probably has more skill than most "professional" club players in the country.
I would dare say that his skill set and ability to step will even see him make the playing squad of a top secondary schools' side at a worldwide, regional level. Wrapping equally good game breakers around him would be one mesmerizing thought. After all, he is of export quality stock at St Joseph's.
A very bright, hopefully, long career in the pro ranks beckon. Hopefully, he stays injury free and repeats the dose season after season. If any of the recruitment agents are reading this, quick, snap up this true "game breaker" and sign him up. Still far from the finished product and a clear-cut, No.1 for mine.
Most potent moment:
His hat-trick against St Anthony's on a hot and humid day. He was hot and on song. So hot, and any more pace, he would have set Havelock park on fire. Especially, his chip and chase to score– from a nothing situation in back play, fielding a defensive kick. In a riveting moment of brilliance, he sprang into action. Arguably, saved his side their blushes and sealed the deal. Defines the term "game breaker" and has the most ability in this league to single-handedly, turn the tide and win a game for his team. #Straight up rugby no.1.
2. Manilka Ruberu (Isipathana College)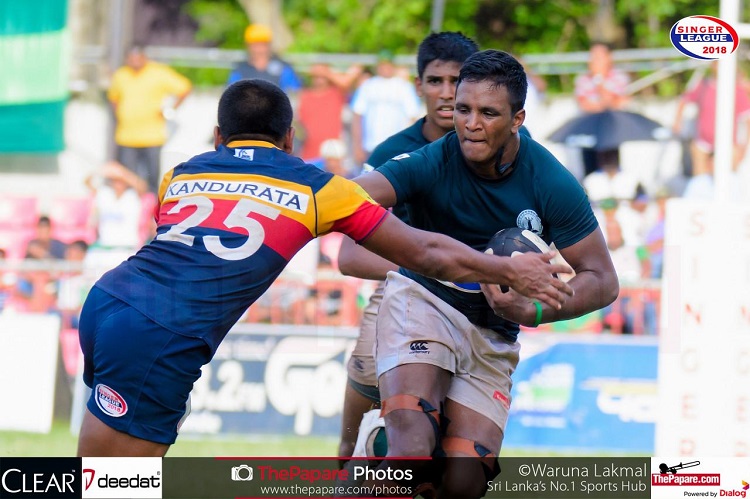 The lone wolf for what was essentially an under eighteen Pathana side playing in the big boys' league. Two more years in waiting at first fifteen level, Rubeyru quite literally waged a lone battle, playing an invaluable hand. Skipper and second five-eighth (No.13: center) who has the ability to influence the outcome of almost any game.  
Isipathana didn't have the most flattering season. In fact, it was way below par and substandard. However, skipper Manilka had a brilliant one. He ran, he stepped, scored tries with hat tricks, kicked goals and scored all of his team points to salvage face-saving results.  
Like the number one of this list, he too has a vicious step off his left and at times right. It's a delight to watch. Any man in a green shirt with rocket shoes is a treat to watch and he brings a sense of anticipation with the ball in hand, given the fortunes of his team.
A great carrier of the Gilbert with both hands on it, putting his pass ahead for the receiver running on to it at pace. Furthermore, he is the goal kicker and sharpshooter of the side. Kicked four penalty goals and all his sides points, versus Trinity for an honorable draw. It should have read, Trinity 12- Rubeyru 12. Draw.
His hat trick against Dharmarajah was a stunner and all highlight-reel action, straight out of a Roadrunner cartoon episode.
Most potent moment: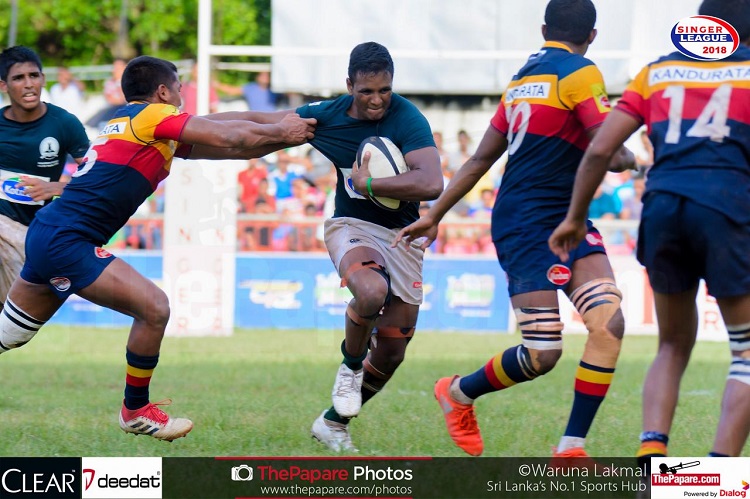 Split between the above two. A hat-trick of tries against Dharmarajah or the all points from his boot against Trinity at Havelock Park. A feat which will be remembered for some time to come. Brilliant player with a great future, who can and will be a professional journeyman should he chose to.
Moreover, there is every possibility he will lead Isipathana again in the near future to a possible title. Only time will tell.
Read also: Saints and Mavericks march on to semis
3. Janidu Dilshan (Royal College)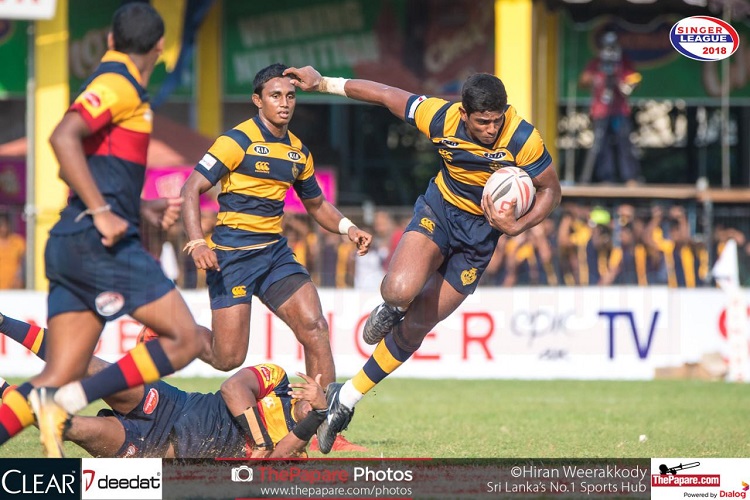 The strongest ball carrier of the competition and a leg drive that will rival the power of a big Mac truck.  A superb physical specimen and athlete.
Given that his side were the undisputed league champions and dealt with everyone with panache, it's probably difficult to rank him at number three but, that's a clear indication of how good a team Royal was. Superstars made little impact as opposed to the team element. He was one of many– the best of the lot, of what was essentially a professional unit who played to excellent patterns on the back of the best coach in the league, Dushanth Lewke.
The best schools' midfielder– if not, one of the best in the country so as far as his work rate goes. Swats defenders at will and has the speed and presence to put away sides, running on the wing as demonstrated in the Bradby first leg.
The go-to player for tackle busts and knowing he can break through and loves the contact for what it is.  He has the fear factor and puts fear into his opposite number with his fend off.
Not only is he a strong ball carrier and line runner but an outstanding kicker. Tactically, his brilliance which St Peter's had no answer to, was a masterclass. Uses his strength and technical accuracy, quietly getting about his business. A perfect running stance and carry, ball tucked securely in his arm, looking for contact and bouncing out of tackles.
Six tries in the league and well over half a dozen, try assists. Royal's most potent game breaker and ably supported by the other playing fourteen. Notably Himantha "Black Panther" Hirushan.
Most times, that same playing fourteen made him, the fifteenth man, look invincible.
Most potent moment:
Bradby first leg with his pile driving hits and stunning solo try on the left wing, leaving Trinity and their defense for dead. It was a pleasure to call it on commentary.  A forthright salute to the stands prior to dotting down, somewhat reminiscent of Franki DeTorri winning the Kentucky Derby. He will be in hot demand for future club commitments as a full time rostered professional.
4. Mursheed Zubair (Wesley College)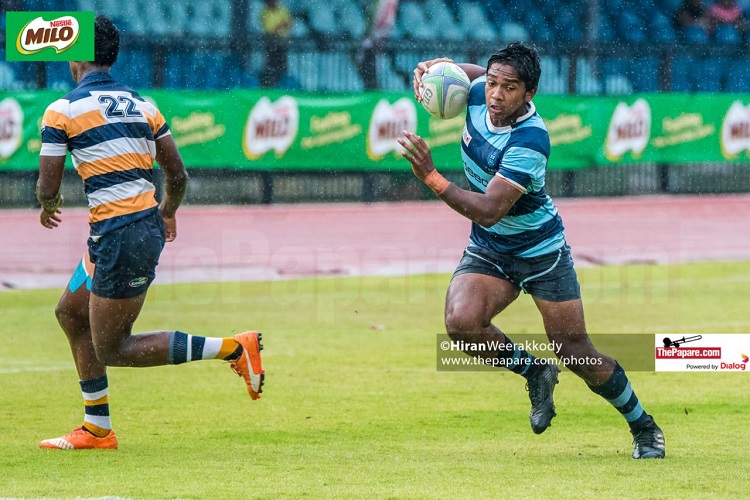 The second placekicker and team captain to make the cut.
He is, without a doubt, the league's most elegant and smartest tactical kicker. Finds space like a bear does honey.  Demonstrating what I call, class in a time capsule. No matter who or what is around on hand to defend, he will and can find a way to get his kick away. It works and goes to the intended space. As if he has an automatic GPS based space finder in his head.
Excellent goal kicker and running lines for a three quarter. Has the gas to burn and an ability to shift angles and present the ball with it to oncoming support makes him very dangerous.
His line bust against Royal's midfield, leaving them frozen– in time, then providing a beautifully angled pass with the swerve of his hips will forever be etched in Wesley's rugby history. One of the highlight reel moments if not the moment of the season proper. All class and sheer individual brilliance.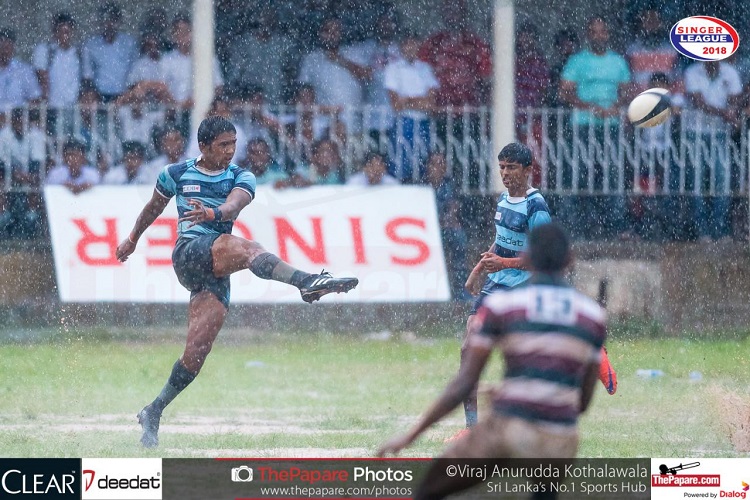 Reliable with an easy going, relaxed kicking technique which will find the uprights, and on target when it counts. Personifies what Wesley rugby is and quite the quiet achiever.
The shining diamond in the goat's ear with what Wesley and their season did. Would have placed higher had his team seeded better and possibly beaten Royal, the benchmark by far for season 2018.  That would have truly set the cat amongst the pigeons but they missed by millimeters.
Most potent moment:
That dam busting run against the unbeaten champions. Left Dilshan and his skipper Feroze as mere spectators with a subtle change of running angle. Throwing another beautiful pass when challenged so his teammate could complete the play of the day. This brought the game to life and threatened a mother of all upsets.
5. Jason Karunarathne (St. Peter's College)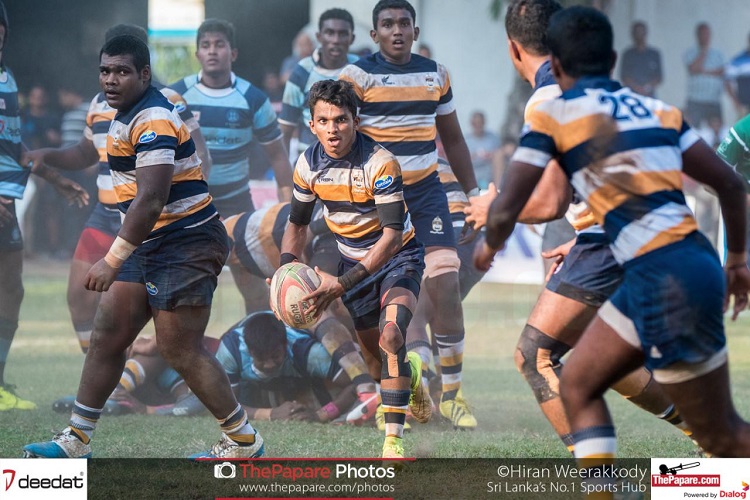 He is "Antman" and very much the superhero. There is a good old saying that "it's not the dog in the fight but the fight in the dog". Well, look no further than fifty-three-kilo gram Jason "Bourne" Karunarathne. He is very much your poodle but has the bite of an American pitbull.
Easily, the most fearless and jolly Rodger style player in the comp. Never short of a word and knows his place and responsibility for his team. Ever the encouraging taskmaster who directs his forward pack. He and Charles were an outstanding brace which propped up the Bambalapitiya team.
Has an electric step and beats defenders for pace. Blessed with a low center of gravity and his light body weight gives him great agility. It's almost as if he has the same amount of downforce when he runs. In theory, he could do so running upside down and yet, score. Usually, under the posts.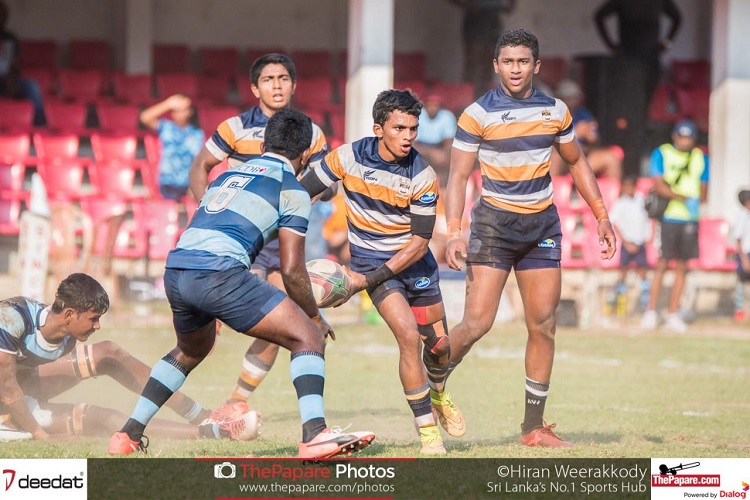 The best halfback in the comp by a Jurassic mile and one of the toughest competitors in the league. Hard to coach that sort of commitment and athletic prowess. Has an excellent kicking game from the base and a wonderful defender when falling back as cover. This is a common denominator in the best No.9s in the game who read the plays and what's coming up.
Size and volume is his handicap but he more than makes up for it with skill and heart. It will be interesting to see his progression in local rugby.
Most potent moment:
A match-winning try against Isipathana and saving his team's bacon. Slipping a pass to release his fullback on the right win, who kicked across to face of the goal posts– after making a break, Jason followed up in an intelligent, off the ball running line. He was "Bourne" on the spot.
Collecting and scooting around to score unchallenged. Much to the euphoria of his school's fans. Orchestrating his troops all day, if ever anyone deserved their moment in the sun, it was he with adding his name to score sheet.
The after-thought and coaches dream:
Would love to see Karunarathne pairing Wimaladasa in the halves, with Dilshan at second five-eighth and Ruberu on his outside as center. Ranaraja and "GC" Gemunu Chethiya on the wings with Zubair at Fullback. Hashan Madumadava as rolling sub at first or second five.
Interestingly, no forward has made the top five game breakers in a clear pattern where the game has evolved and its strengths lie, as far as INDIVIDUAL FLAIR is concerned. It is after all the top five "game breakers" list and not everyone is good enough to make it on it.
Honorable mentions:
Himantha Hirushan (Royal)
Kenneth Wimaladasa (St Peter's)
Hashan Madumadava (Kingswood)
Christian De Lile (S Thomas')
Vishwa Ranaraja (Trinity)