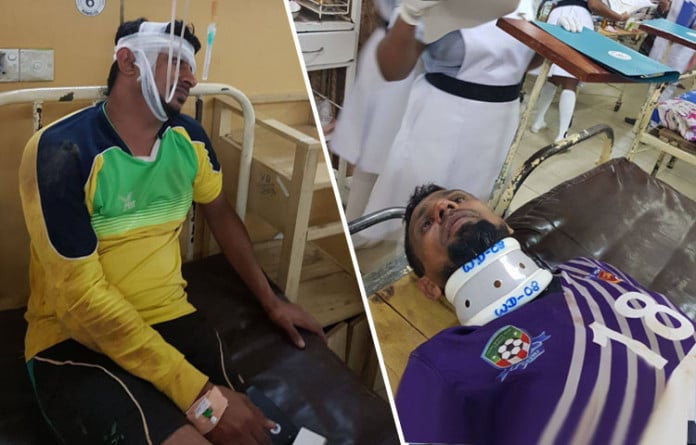 Thihariya Youth players were assaulted by unruly crowd in their match against Comrades SC in the 2017 Premier League Division I Championship match played at the Vincent Dias Stadium, Badulla.
According to reports the incident occurred with around few minutes left to play, when a Thihariya Youth player was shown a red card. As the Thihariya Youth players were questioning the referee, the crowd had come onto the ground and started abusing and hitting the visitors. There are also reports that the Thihariya Youth players had hit the referee after which the fans had invaded the ground.
"From the start, we asked the referee why there was not any security provided by the hosts (Comrades SC). The referee ignored and started play. Our players were hit with stones during the match. Then they scored a goal for which the linesman raised the off-side flag but under pressure from the fans he put it down to allow the goal," Secretary of Thihariya Youth Mohamed Askar told  ThePapare.com.
Read : Counter-attacking Java Lane down Police
"The referee continued play in the 2nd half without any security present at the ground knowing very well that the situation was not good to play football. The game should not have even started. We will be making an official protest to the Football Federation of Sri Lanka (FFSL) regarding this incident," he added.
As per the rules of the FFSL, the home side should provide adequate security for the match and the referee has the sole authority to start or stop play depending on the security or situation of the match.
No official from the Comrades SC or the FFSL were available for an immediate comment.