As the Quarter Final stage of the ThePapare Football Championship 2018 nears completion, we take a closer look at the stand-out players in the knock out stage.
St. Patrick's came out winners in the final quarter-final..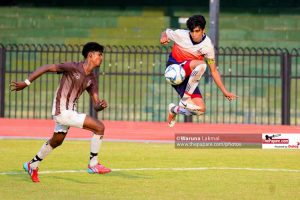 Tharinda Silva (Maris Stella College)
Once again among goals the Maris Stella Skipper is the leading goal scorer of the Championship so far with 8 goals. Leading the line he helped create the first goal then won the penalty for the second and stepped up to score. He has certainly laid one hand on the Golden Boot Award.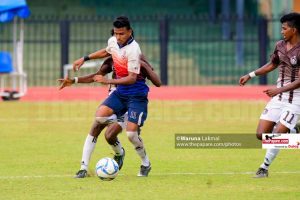 Rajindu Fernando (Maris Stella College)
The midfielder was excellent during their quarter final win over Mahajana College. He scored the opening goal and controlled the mid filed well. Rajindu was in the thick of things in the defensive half as well as giving an overall performance.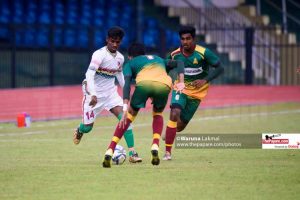 Mohamed Afkar (Hameed Al Husseinie)
Afkar was responsible for a Man of the Match performance in the quarter final against Zahira Gampola. Hescored the opening goal and won the penalty for the second. His wing play was exceptional from start to finish and could well be the Player of the Tournament if Hameed Al Husseinie go all the way.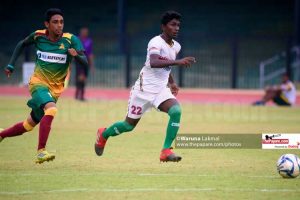 Dinesh Suren (Hameed Al Husseinie)
The center forward was brilliant in his play with and without the ball. He made several important runs which paved way for the others to have space and time. His penetrative runs caused havoc in the Zahira Gampola defense.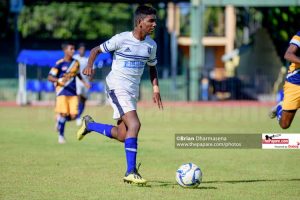 Shenal Sandesh (St. Joseph's College)
The diminutive youngster was the main threat for the Peterites coming in to their quarter final. It proved correct as he gave a torrid time for the Bambalapitiya boys and scored the equalizer being in the right spot and the right time. The Joes will look for him to carry them through to the Finals.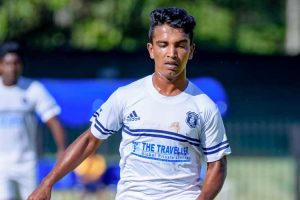 Nimesh Cooray (St. Joseph's College)
The midfielder orchestrated his midfield exceptionally and was the backbone of the Joes attack and defense. His excellent long ball in switching of play created space for his wingers to penetrate and caught the opponents out of position.
Mohamed Afkar inspired Hameed Al Husseinie to a 2-1 win..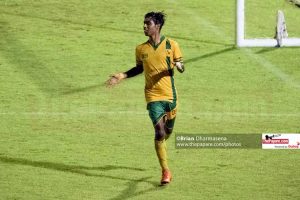 Hamilton Hains (St. Patrick's College)
Excellent finishing by the lad paved the way for a memorable win over hot favorites Zahira College Colombo. His pace with and without the ball made life difficult for the defense and his persistence was the reason for him to get in to the score sheet.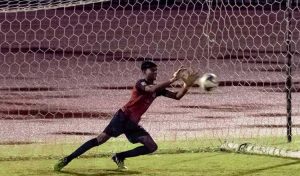 Rajith Kijuman (St. Patrick's College)
The only goalkeeper in the list Kijuman was excellent in keeping his team in the game and later on saving 2 penalties to ensure they win the shootout. A very calm and composing figure at goal could well win the Golden Glove.
>>For more Football News Click Here<<