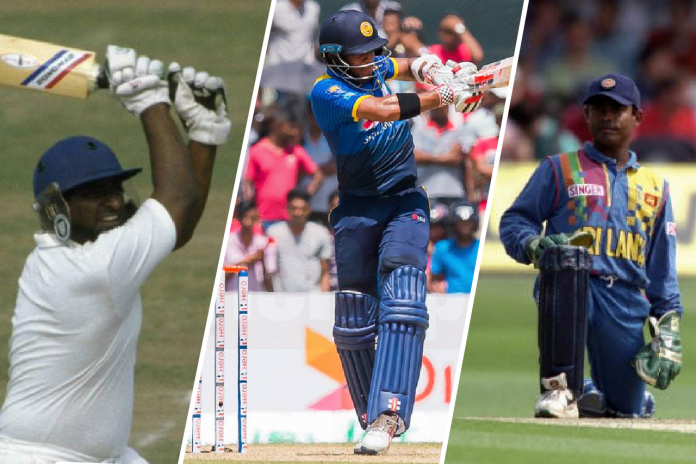 Moratuwa is known for ABC – Arrack, Baila and Cricket. You keep marveling at the cricketing talents that this suburb in the outskirts of the capital keeps producing. The hallmark of most of these Moratuwaite batsmen is that they tend to throw caution to the wind. In the process, they tend to provide you with entertainment in abundance. By nature, Moratuwaites are easy going people, who love having fun and they tend to carry that to the field of cricket as well.
With a population of just over 200,000, Moratuwa consists of 24 main areas; some key centers being – Angulana, Egoda Uyana, Kadalana, Katubedda, Koralawella, Lunawa, Rawathawatta, Soysapura, and Uyana. Two main education institutes in the area have basically produced some of these amazing cricketing talents – St. Sebastian's and Prince of Wales.
We thought of picking an all-time Moratuwa XI, who have gone onto represent the country. Have a look and suggest yours.
Amal Silva
Even the great Aravinda de Silva doesn't have a Test hundred at Lord's, but Amal Silva does. A hard-hitting left-handed batsman, Silva's unbeaten hundred at Lord's was overshadowed by the efforts of Sidath Wettimuny and Duleep Mendis. His crowning moment came a year later, when he posted a match-winning hundred against India in Sri Lanka's maiden Test win at the P. Sara Oval in 1985. With a liking to hook and pull, Silva fell out of selector's favour after just nine Test matches. After retirement, he served as a selector on two occasions. On both instances, Sri Lanka went onto reach the finals of the ICC Cricket World Cup in 2007 and 2011. He still disagrees with some of the selections done during the 2011 final defeat to India. He will be featured in ThePapare's Legends segment shortly.
Romesh Kaluwitharana
'Little Kalu', the man who was a pain for most teams in the mid-90s with his audacious stroke play when fielding restrictions were on also made a hundred on Test debut, against Australia in the SSC Test of 1992. A cheeky wicketkeeper, Kalu has come up with some stunning stumpings with his effort to dismiss Sachin Tendulkar in the 1996 World Cup semi-final in Calcutta being the most memorable one. Kalu after retirement took to coaching and mentored several players of the current team having been in-charge of Sri Lanka 'A'. He also served as a selector.
Lahiru Thirimanne
All Sri Lanka's captains from Anura Tennekoon to Kumar Sangakkara have spoken so highly of Lahiru Thirimanne although he has not been able to fulfill the early promise. Technique and temperament have earned Thiri many plaudits and he needs to back them with runs as well. Handpicked by Aravinda de Silva during his stint as Sri Lanka Under-19  Batting Coach, Thirimanne is a bright brain having done exceptionally well in his academics too. Strangely, he entered Prince of Wales not for his cricket but on education merits having passed the Grade 5 Scholarship.
Kusal Mendis
The most elegant young batsman to watch along with Babar Azam, Kusal Mendis has played some stunning knocks in his short international career so far. Picked to make his debut against the West Indies in 2016 after less than a handful of First Class matches, Mendis went onto post 1000 Test runs in 2018. The early promise is an indication that he will succeed Virat Kohli as world's next best batsman. He is also an outstanding slip fielder.  
Oshada Fernando
Before the current tour of South Africa, Oshada Fernando was little known. He has not been part of the Sri Lanka Under-19 side or Sri Lanka 'A' team. He was picked to the senior side after becoming the first player to post 1000 runs in this domestic season. Comfortable against both pace and spin, Lasith Malinga called him the best find since Kumar Sangakkara retired in 2015.
Duleep Mendis (Captain)
Duleep Mendis was the first cricket hero of Sri Lankans since television was introduced in early 1980s. With his brutal power, he could put the best of bowling attacks to the sword. He made twin hundreds in the Madras Test of 1982 finishing with identical scores of 105 in each innings. He missed twin hundreds at Lord's two years later by a matter of just six runs. He is fondly remembered for forcing England's golden boy Ian Botham to bowl off-spin in that Test match having smashed his bowling to all corners of Cathedral of Cricket. After retirement, Mendis was ever present with cricket affairs having stints as Coach, Chairman of Selectors and CEO.
Prasanna Jayawardene (Wicketkeeper)
Perhaps the best wicket-keeper produced by the country, Prasanna Jayawardene hardly grassed a catch or missed a stumping. In 2012, former great Ian Healy called him the best wicketkeeper in the world. A well accomplished batsman, he was Man of the Series during Sri Lanka's tour of England in 2011. In that series he stitched several crucial partnerships with the lower order.
Dinusha Fernando
Dinusha Fernando was Chaminda Vaas' new ball partner at the start of the new millennium. Dinusha hardly erred with his line and length and was the perfect partner for Vaas as the duo made early inroads and allowed Muttiah Muralitharan to have a field day against the middle order. When England toured the island in 2001, Michael Atherton was Dinusha's bunny getting out to him every time. A series of back injuries saw a premature end to his promising career.
Ajantha Mendis
The mystery man humbled India's Fabulous Four – Tendulkar, Dravid, Ganguly and Laxman in his debut series in 2008. V.V.S. Laxman recently said that when India made a return tour in 2010, they specifically came prepared to counter Mendis and everyone but Ganguly had ruled out playing the on-drive. No Sri Lankan has had the impact Mendis had at the start of his career. But soon teams decoded his mystery and he was ineffective. But as long as it lasted, Mendis gave his countrymen plenty to cheer.
D.S. de Silva
D.S. born into a cricketing family was Sri Lanka's first professional cricketer in the pre Test era. Called up from England to play the inaugural Test match in 1982, D.S. was Sri Lanka's number one pick among the spinners. He has had several coaching stints having gone for the 1999 World Cup as Spin Bowling Coach and was the Head Coach of the Under-19 team when Sri Lanka lost the final to Mohammad Kaif's Indian side in 2000. D.S. also functioned as Chairman of Sri Lanka Cricket from 2009 to 2011.
 Vishwa Fernando
Perhaps Sri Lanka's best last man, Vishwa will feature as the last man of Moratuwa XI as well. His bowling in South Africa has been sensational with him exposing technical glitches in the game of the likes of Hashim Amla and Dean Elgar.  A late bloomer, Vishwa has enough tricks in his bag to run through the sides and moving forward he will be an important cog in the wheel of the Sri Lankan side.
Reserves: Lantra Fernando, Flavian Aponso and Susil Fernando.
Coach: Roger Wijesuriya
The coaching achievements of Roger Wijesuriya are outstanding. Whether it be St. Joseph's, Royal or Sri Lanka Under-19, he has had tremendous success over the years and he will coach the Moratuwa XI.
Manager: Rev. Br. Nimal Gurusinha
The  long standing Master-in-Charge of St. Sebastian's College, Romesh Kaluwitharana recently credited Br. Gurusinha as the greatest influence on his career. Once Br. Gurusinha had gone to Rome for a Papal audience and when he returned found out that little Kalu, who was playing Under-13 at that point, had turned to fast bowling giving up wicket-keeping. Kalu was rebuked and told to go back to wicket keeping and the rest as they say is history.