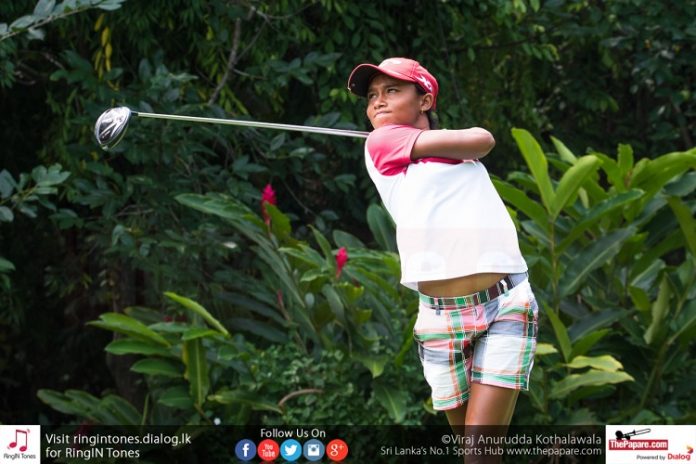 Taniya Minel Balasuriya beat Thuhashini Selvaratnam 8 & 6 in the 36-hole final of the Sri Lanka Ladies' Open Amateur Golf Championship 2017, to capture her first National Title.Taniya Balasuriya
15 year old Taniya Minel Balasuriya, playing with the..
Taniya completed a sensational week, virtually making a clean sweep of the Major Trophies. The Final of the Ladies Amateur Championship was expected to be an enthralling close match, but she didn't allow the pressure of a major final get to her and, playing steady Golf in the Morning 18 Holes, notched up a comfortable 6 up lead. The experienced Thuhashini never gave up, but Taniya played Par golf in the afternoon to add two more holes to her morning lead and complete a famous victory by 8 & 6, to record her first National Title win.
Earlier in the week Taniya annexed the Sri Lanka Ladies' Open Stroke play Golf Championship 2017, sponsored by 'The Abhayaratne family' in memory of the Late Malin Abhayaratne, Past President Sri Lanka Golf Union. She also won the Pin Fernando Trophy for the Best Aggregate Net Score over 2 Rounds, with a Net 135, clear of the Runner-up Anouk Chitty on 143 Net.
Following the footsteps of Tiru Fernando & Thuhashini..
The International Team Event was won by Sri Lanka with a Team Gross of 298 over 2 Rounds.
In the Bronze Category Eliane Sterchi beat Niranjalee Amarasuriya to win the F B De Mel Challenge Cup presented by Ms. Rohini De Mel.
The Nuwara Eliya Cup for the 3rd Round Aggregate Net Score was won by Taniya with a total of 204 from Anouk Chitty Net 215.
The Bronze Cup of Ladies with a Handicap of 20 and above was won by Kumari Herath with a Net aggregate of 312 from Fran De Mel Net 315.
At the conclusion of the Final of the Sri Lanka Ladies Amateur Championship Final, a solemn Prize Giving followed with the President SLGU Mr. Priath Fernando giving away the Sri Lanka Ladies' Amateur Championship 2017 Trophy whilst Mrs Yvonne Abhayaratne presented the Sri Lanka Ladies' Stroke Play Championship Trophy on behalf of the Abhayaratne Family.
Sri Lanka Ladies' Amateur Championship & Ladies Stroke play Open Championship 2017 Overall Results
Sri Lanka Ladies' Amateur Golf Championship 2017 – Sri Lanka Ladies' National Title
Winner: Taniya Minel Balasuriya 8 & 6
Runner up: Thuhashini Selvaratnam

Sri Lanka Ladies' Open Stroke play Championship 2017- Sponsored by "Abhayaratne Family in memory of Late Malin Abhayaratne
Winner: Taniya Minel Balasuriya – Gross 216
Runner up: Anouk Chitty – Gross 233

F B De Mel Challenge Cup –Bronze Division Match Play Event, Presented by Ms. Rohini De Mel
Winner: Eliane Sterchi
Ruuner up: Niranjalee Amarasuriya

Pin Fernando Trophy (Aggregate Nett) 2 Rounds
Winner: Taniya Minel Balasuriya 135 Nett
Runner up: Anouk Chitty 143 Nett

Lilamani Weeratne Trophy (Aggregate Gross)
Winner: Taniya Minel Balasuriya

Firestone & Jepson Cup (1st Round Best Nett)
Winner: Anouk Chitty 72

Leonard Peiris Trophy 1st Round Best Gross)
Winner Taniya Minel Balasuriya 73

International Team Event
Winner- Sri Lanka Team Gross 298 (Taniya Minel & Anouk Chitty)