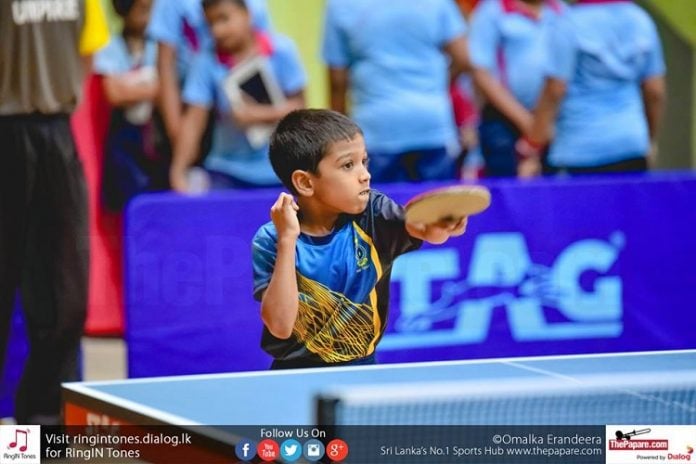 The 71st Table Tennis Junior Nationals concluded this week after three successful days (19th,20th and 21st) at the New Gym Katukale in Kandy.
A total of 8 age groups took part in the Junior Nationals, starting from the Girls' and Boys' under 10 singles categories, all the way to the Under 18's. The Table Tennis Association of Sri Lanka had proudly partnered with ''Stag'' as their official equipment providers.
The most outstanding player of the tournament went to Dinesh Kavishka of Vidyartha College Kandy in the Boys' Category while Hansani Piumila was named the most outstanding player in the girls' category.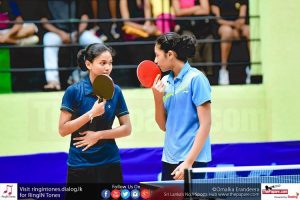 In the U-10 age group where the youngest paddlers took Esmini Sandunya of Kegalu Vidyalaya won the girls' championship while Lasanya Sithumdi of Dharmasoka emerged runner up. In the Boys' category Kakenu Hennayake of Ananda College won the category defeating Saifullah Akram of Al-Ud International.
Bimandee Bandaranayake of Hillwood College won the final against Nadithi Rehansa of Prajapathi College in the girls' category of the U-12 age group. Senura Silva of Ananda College and Akesh Dimantha of Vidyartha went neck and neck in the Boys' final of the with Senura Silva managing to edge out Dimantha.
The much more competitive age groups U-15 and U-18 were held in the afternoon sessions in the latter part of the tournament. Dilmi Kolambage won against Jithara Warnakulasooriya in the Girls' category while Hiruna Warsuwithana won the Boys' category of the U15 age group defeating Chanul Dulsen in the final.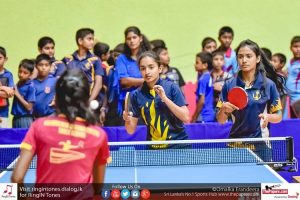 The top category which was the U-18's was won by Hansani Piumila of Vishakha Vidyalaya, defeating Maneesha Shalindi in the final. Dinesh Kawishka defeated Nimesh Ranchagoda two sets to none with score-lines of 8/4 and 7/4.
The Mix doubles were won by Bimandee Bandara (Hillwood College) and Chandeepa Alahakoon (Kingswood) defeating Dilmi Kolombage (Prajapathi) and Sewmith Weerasekara (Lyceum- Nugegoda) in the final.
The doubles were played for only the U-18 age groups where paddlers from much younger age groups participated to play alongside their senior counter-parts. Thanushi Rodrigo and Ochini Dissanayake of Mahamaya won the title after a close battle with Hansani Piumila and Nathasha Sandavinee of Vishaka Vidyalaya.
The Boys' category was won by the Royal pair of paddlers, Nimesh and Thisas Ranchagoda. They managed to defeat Hiruna Wasuwitharana and Lahiru Thanujage of Dharmashoka College.