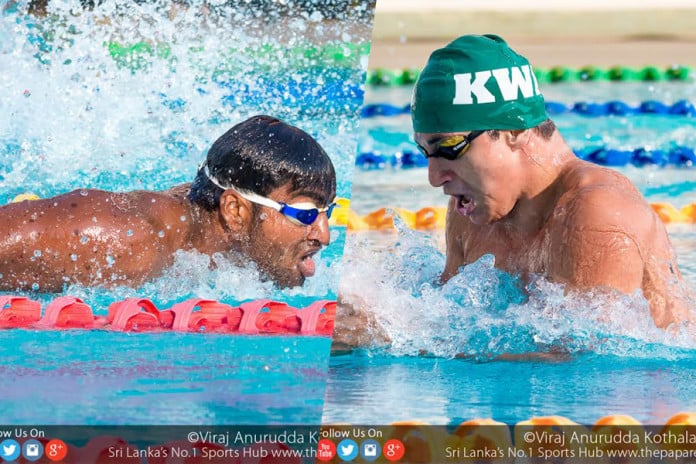 The Sri Lanka swimming Junior and Senior Long Course Nationals that commenced today (3rd of May 2017) at the Sugathadasa Indoor Swimming Pool Complex saw Lyceum International School Wattala taking major honours in the concluded day bagging the most silverware.
The national championship was the long course championship which is usually set to take place in the latter part of the year but the Sri Lanka Aquatic Sports Union (SLASU) in its curriculum to place themselves in line with the international calendar, shifted the championship to May this year.
Lyceum International School Wattala took the center stage taking credit across all four age categories.
The first event saw A Kalyanasundaram winning the Girls' Under 15 400m Freestyle while A Hasan of Lyceum progressed to win the Boys' event. The Lyceumites went on to win the Girls Under 15 50m Backstroke with S. Mahir clocking in with a timing of 39.58.
With the junior girls' and boys' categories predominantly having the Lyceum presence felt, E. Jayathilaka of Lyceum got them the first medal in the senior men's category winning the 50m Breaststroke with a timing of 32.03.
The Senior Nationals winners of 2016 in the senior category, Killer Whale Academy (KWA) had the luck of getting two gold medals at the end of the day as Kavindra Nugawela emerged victorious in the men's 200m Backstroke with a timing of 2:15.16. Dianka Dharmapriya of KWA took the other medal for the side getting the Bronze in the Mens' 50m Breaststroke.
Last year's best swimmer, Kyle Abeysinghe took home one gold and a silver medal-winning the 200m Individual Medley and coming second in the 400m Freestyle in the senior category.
Nalandian swimmer Dilanka Shehan took home one gold winning the 400m Freestyle in the senior category with a timing of 4:13.84 minutes.
At the end of proceeding in the first day, Lyceum International School Wattala have themselves in the lead in both junior titles while the senior categories still look quite competitive with no distinctive frontrunner in the leaderboard.
With three more days of action to go, exciting and competitive swimming action can be expected at Sugathadasa from the best in the country.
Tomorrow will be the second day of the competition.