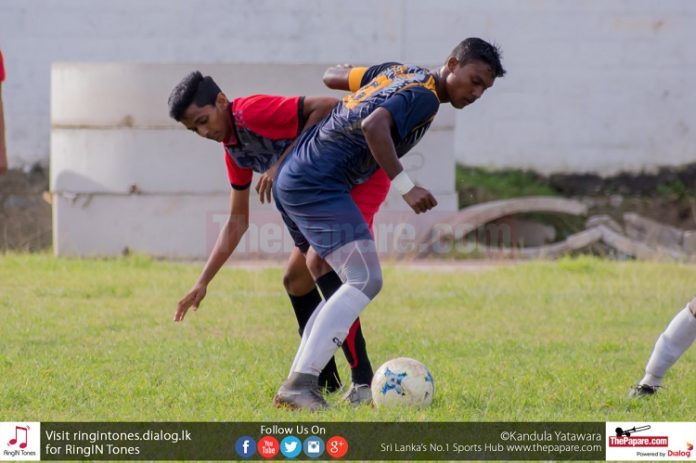 St. Peter's College, Colombo edged out St. Sebastian's College, Katuneriya 2-1 in their U18 Division I Schools' Football Championship 2018 Group B encounter at the St. Peter's College Grounds.
Al Aqsa College, Kinniya stunned the much-fancied St. Peter's….
St. Peter's College came into the match after a stinging 4-3 loss to Al Aqsa College, Kinniya while St. Sebastian's College defeated St. Benedict's College.
Straight from the kick-off the visitors got on the scoresheet. St.Sebastian's F.Vidharshana received a pass from midfield, dribbled his way to the corner and booted a brilliant cross where M.A.S. Fernando headed it in.
The two teams made good moves while the Peterites missed a few attempts at the goal as the Katuneriya defenders were on their toes with a strong defence.
Half Time – St. Peter's College 0 – 1 St. Sebastian's College
Peterites in need of a win came back with a good plan in the second half moving the ball well with their forwards and halves combinations.
Mohamed Ihsan after making a good run from midfield was fouled inside the box and the referee gave away a penalty. Skipper Shabeer Razooniya who took spot kick, shot it straight at the goalkeeper but made no mistake with the rebound to equalize.
 Photo Album : St. Peter's College Vs St. Sebastian's College | U18 Division I (2018)
The home team came up against a stiff challenge from the opponents but in the 71st minute the Sri Lanka National Team poolist Shabeer Razooniya scoring his second goal to give a 2-1 lead.
Razooniya, T.S. Razack, Mohamed Ihsan playing a good game with some sensible moves keeping the opponents in check along with attacking play in the last few minutes.
Full Time – St. Peter's College 2 – 1 St. Sebastian's College
ThePapare.com Player of the Match – Shabeer Razooniya
Goal Scorers
St. Peter's College – Shabeer Razooniya 66' & 71'
St. Sebastian's College – M.A.S. Fernando 1'
>>For more Schools' Football News Click Here<<