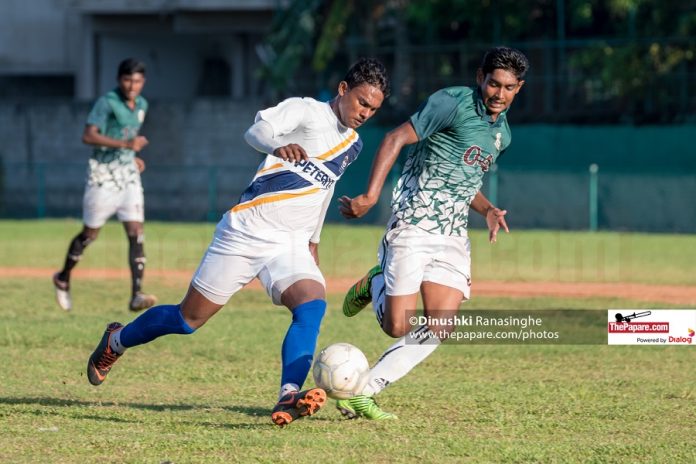 St. Peter's College showed no remorse as they thrashed Baduriya Central College 7-1, in a week 2 Group D fixture of ThePapare Football Championship 2018, at the Janaka Ranawaka Grounds, Moragasmulla.
Both sides were on the back of defeats in week 1 – with St. Peter's losing 2-0 at home in a shock result against Gintota Zahira College while Hameed Al Husseinie College edged out Baduriya Central 2-1 in Kandy.
Ginthota Zahira College shocked favourites St. Peter's College,…
Baduriya Central goalkeeper Abdul Rahuman pulled of an early save from a header but was helpless as the returning National cap Shabeer Razooniya scored with ease following a good dribble.
Soon after Razooniya made his way into the box and unselfishly laid the ball off to Mohamed Ihsan, past an onrushing Rahuman, for an easy tap-in.  
Mid-way into the half, Baduriya got their first chance when a great ball was struck into the Peterite box, but goalkeeper Isravelu Mithurshan rushed off his line and bravely smothered the ball just as the forward was readying his strike.
Razooniya scored his second of the game, proving himself to be the missing piece from the first match, brilliantly dribbled past the defender and from a very tight angle beat Rahuman to make it 3-0.
The goals kept coming for the Peterites when Aqeel Nizar got the ball on the edge of 15-yard box and beat the keeper with a powerful finish.
Ihsan, right at the death of the first half, dribbled into the box and found the back of the net with a low driven shot towards the far post.
Half Time – St. Peter's College 5 – 0 Baduriya Central College
St. Peter's continued their dominance in the second half as they went onto score their sixth of the game when Daniel Macgrath struck a brilliant through ball which found Razooniya who with a good finish, completed a well-deserved hat-trick.
10 minutes after Razooniya completed his hat-trick, Ihsan got a through ball which he dribbled into the box and with a lobbed finish, found the back of the net completing a well-deserved hat-trick as well.
Baduriya who showed some promise in their attacks on a few occasions finally pulled one back, when Mufees Ahamed headed in from a brilliant Mohamed Mazahir free-kick.
Full Time – St. Peter's College 7 – 1 Baduriya Central College
Assistant Coach of Baduriya Central Mohamed Ajwad had this to say;
"Shabeer Razooniya is a brilliant star player and our players are not as good as him. Their school is superior to ours in football. This is our first ever U20 tournament, so we hope our team and players will gain good experience from this and learn and perform better in the future. In the first half we had about 3 easy chances that we missed."
St. Peter's Head Coach Dudley Steinwall added;
"We dominated our first match but our execution was poor. We learnt from that match and put it into this match. We also didn't have our main striker Shabeer Razooniya in the last match due to International duty. It is a huge advantage having a player of his caliber at the school level. The rest of the team also played very well and I believe as a team we have a good future."
ThePapare.com Player of the Match – Shabeer Razooniya (St. Peter's College)
Goal Scorers
St. Peter's College – Shabeer Razooniya 7', 29' & 52', Mohamed Ihsan 11', 45' & 62', Aqeel Nizar 38'

Baduriya Central College – Mufees Ahamed 73'
>>For more Football News Click Here<<