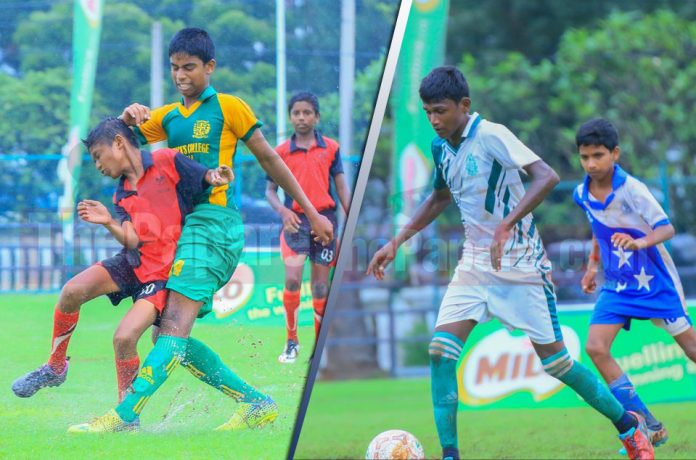 The 5th edition of the Milo Cup saw schools from the districts of Jaffna and Kilinochchi battling out in the U16 and U14 categories played down at Duraiyappa Stadium, Jaffna.
U14 Category
St. Patrick's College defeated St.John's College 2-0 in the first semi-final. St. Patrick's early burst in the opening 10 minutes handed them an easy victory.
The first goal came in the 6th minute from Leo who made sure the possession St. Patrick's sustained in the opening minutes didn't go to waste. Dinio scored the second goal in the 10th minute to hand a double goal cushion which St.Patrick's managed to hold on till the end.
Photo: U14 Semi Finals – 5th Milo Cup 2017
In the 2nd semi-final Manalkaadu Roman Catholic Tamil Mixed School scripted a shock win against St. Henry's College with a 2-1 tally.
The first half saw Mithushan scoring a goal for Manalkaadu RCTMS in the 13th minute. Despite scoring the leveller in the 34th minut,e St. Henry's blotted up the chance in the next minute as Mithushan scored his second to ensure his side won despite all the odds.
Quarter Final Results

Manalkaadu RCTMS 1(4) – 1(2) Central College, Jaffna
Navanthurai RCTMS 0 – 1 St. Henry's College
St. John's College 1 – 0 Valaippadu RCTMS
St. Patrick's College 4 – 0 Kotraavaththai American Mission College
---
U16 Category
St. Patrick's College played down an entertaining match against Navanthurai Roman Catholic Tamil Mixed School beating them 3-0 in the process.
An error from the goalkeeper allowed Dainius to get a goal in the first half. St. Patrick's kept things afloat in the second half as well scoring two goals through Dilukshan and John Raj to book a place in the finals.
Photo: U16 Semi Finals – 5th Milo Cup 2017
In the other semi-final St. Henry's College entered the finals in emphatic fashion beating Kotraavaththai American Mission School 6 goals to nil.
Prashanth started off the account in the 10th minute followed by Kirushanthan in the 12th. The second half saw Prashanth scoring his second goal after Nixon Rivaldo made it 3-0. Jeluxson and Arul Joseph rounded off the demolition setting up a clash with St. Patrick's in the finals.
Quarter Final Results

Kotraavaththai AMC 0(4) – 0(3) Mulangaavil Maha Vidyalaya
St. Henry's College 3 – 0 St. John's College
Manalkaadu RCTMS 2 – 6 St. Patrick's College
Navanthurai RCTMS 1 – 0 Sandilippai Hindu College