The finals of the boys under 15 All Island Basketball Championship took place at the St. Peter's College basketball complex earlier today. Preceding the finals between St. Joseph's College and Royal Institute, the third place playoff was worked off between tournament host St. Peter's College and Gateway College, Colombo.
St. Joseph's College v Royal Institute
This match up was penned down as a David versus Goliath encounter as Royal Institute was acknowledged as the giant killers after beating schools like S. Thomas' in the group stage and St. Peter's in the semi -finals. The game started off with both schools trading off shots at both ends however the Josephians got the better of the Havelock park lads as they slowly drifted into the lead.  Royal Institute's performance was marred with unforced errors such as loose passes and travelling violations which eventually led to a 8 point deficit at lemons.
Half Time – SJC 25 – 17 RI
With the second half well underway you would expect Royal Institute to change their approach towards the physicality of the Josephians, however the Havelock park lads stuck to the same game play hoping that the Josephians will start to falter. As the clock was ticking, so was the Josephian scoreboard and the lead gradually increased over time. St. Joseph's who were playing a game that was away from their regular style of playing were richly rewarded as the lead at the end of the 3rd quarter was over 15 points in their favor. Leading from the front point guard Shehan Fernando kept up the pace with defensive and offensive plays. Royal Institute started showing signs of desperation by applying the full court press, however it was too late as the lead was well over 20 points and with just 2 minutes remaining on the clock. As the final whistle buzzer sounded off there was much celebration from the Josephian camp as they had won the championship after a month of hard work and effort.
Full Time – SJC 55 – 37 RI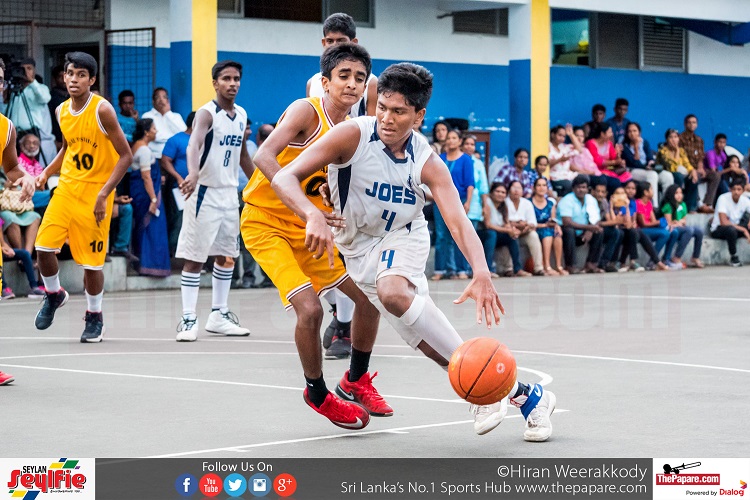 ThePapare.com catching up with the winning coach Roshan Randima had this to say "it was a great win for the boys and we are very happy after all the effort put in from the boys and the supporters". He further added "a special thank you goes out to ThePapare.com for giving basketball and the boys and girls of the sport all the credit and exposure they deserve and basketball will not be the same without ThePapare.com".
Top Scorers
St. Joseph's College – Shehan Fernando 26 Points
Royal Institute – Yazid Makoon 14 Points
Special Awards

Best Defensive Player – Hakeem Ziyard (Royal Institute)
Best Offensive Player – Janeth Fernandopulle (St. Joseph's)
Most Valuable Player – Shehan Fernando (St. Joseph's)
---
Consolation Final
St. Peter's College, Colombo beat Gateway College, Colombo
Half Time – SPC 30 – 20 GCC
Full Time – SPC 66 – 44 GCC
Top Scorers
St. Peter's College – Hammad Hameed 28 Points
Gateway College – Mirtesh Thurairajah 21 Points