With the 2016/17 international cricket season almost at an end, the Emerald Isle's passionate cricket fans will be glued to their televisions to watch the excitement of the Indian Premier League – 10th Edition, which starts today.
Hate it or love it, the fans in Sri Lanka will still follow the Indian Premier League 2017 due to the limited international cricket from the second week of April to end of May. Sri Lanka's home T20I series against Bangladesh will be over on April 6th, a day after the IPL takes off. West Indies and Pakistan, on the other hand, will continue to play well into May but the time difference will hardly make it an interesting series for the Sri Lankans.
With matches happening at 4.00pm and 8.00pm (SL time), the Lankan fans who have satellite TV connections or social media will have at least one eye on this cash-filled annual festival of cricket.
If you are a passionate Sri Lankan cricket fan, you will definitely follow one particular IPL franchise this year  – the Mumbai Indians. I have always loved the Mumbai Indians, owned by the great businessman, Mukhesh Ambani, mostly for personal reasons including the catchy team song but this time around, the eagerness to follow them has grown a tad bit more. It is due to there being three Sri Lankans in the Mumbai Indians fraternity. With these three gentlemen in their ranks, Mumbai Indians have gained a couple of additional millions of Sri Lankan fans this season.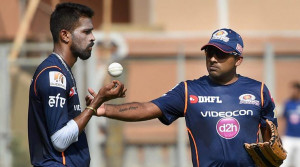 Despite being one of the most elegant batsmen ever produced by Sri Lanka, Mahela Jayawardene is still a newbie to coaching yet one of the most lucrative league teams in the world roped him in for this important season. Jayawardene who made a swashbuckling century at Wankhede Stadium in the ICC World Cup final six years ago, will be coaching a team of superstars led by Rohit Sharma.
Jayawardene has done one good thing for the Lankans at the IPL Auction; the soldier who won it for the nation with the bat down under, Asela Gunarathne was bought by Mumbai Indians at the auction, no doubt with the influence of Jayawardene. The fans in Sri Lanka will be itching to see their new one-man army in action wearing the Mumbai Indians colours.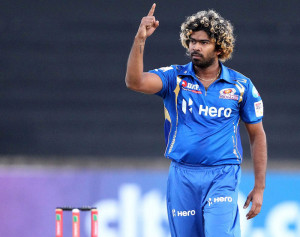 Sri Lanka's most talked about bowler in the past decade and the T20 World Cup winning captain, Lasith Malinga who is up and running, will represent the Mumbai Indians for the 10th consecutive year. He is one of the only three players from the entire league to remain with one team for a decade (the other two being Virat Kohli – Royal Challengers and Harbajan Singh – Mumbai Indians). The Mumbai Indians franchise has taken care of Lasith Malinga quite well during a few of tough times for the Lankan slinger. He did not play a single game last season but they chose to stick with him, paying big bucks and this time around, Malinga will no doubt definitely pay off their faith with interest.
Angelo Mathews, the Sri Lankan national skipper will surely make an appearance for his IPL Franchise, Delhi Daredevils during the season despite his continued absence from cricket since returning home in January halfway through the tour of South Africa after twisting his ankle.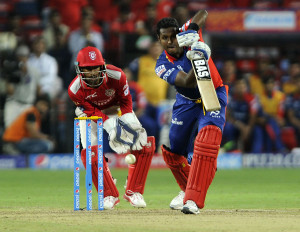 Mathews missed the entire home series against Bangladesh and will have to prove his fitness before the ICC Champions Trophy in England in June and will surely use the IPL stint as a platform to regain competitive match fitness.
With some unfortunate injury news coming from India, some T20 specialists like Kusal Janith Perera, Thisara Perera and Seekkuge Prasanna might still get a late call-up with IPL 2017 reaching its business end.
With SLC still having not finalized or at least publicized any sort of domestic/provincial tournament until the start of Champions Trophy, what will most of the national players do until their next assignment? Why not spend some of the income gained in 2016 by SLC and have a preparatory camp in England next month?  It's up to the administrators to decide after consulting the cricket committee on what preparation Sri Lanka should do ahead of the all-important Champions Trophy.
Sri Lanka, a proud cricketing nation with rich history and tradition introduced their own variation of the IPL, the Sri Lanka Premier League (SLPL) in 2012 but it lasted only one tournament. Nevertheless the Islanders went onto conquer the T20 world in 2014. Out of all Test playing nations, Sri Lanka probably has the worst record of staging domestic T20 tournaments. According to reliable sources, even the SLC Inter-Club T20 Tournament which saw Sri Lanka Army Sports Club lifting the trophy last year has been scrapped this season.
A couple of months ago, the Sri Lanka Head Coach, Graham Ford called for a robust domestic T20 league, "Unfortunately SLPL or the Super League or whatever it was called couldn't continue. That was an opportunity for players to play games on high intensity and learn from guys from overseas. It's that kind of tournament that will benefit our cricket" Ford said.
Whatever said and done, Sri Lanka needs to look at a competitive T20 tournament sooner, rather than later, and that too with some foreign flavour. The Sri Lanka Cricket (SLC) administrators should definitely learn something out of the Indian Premier League and maybe take a leaf or two from the neighbours as they reach their 10-year landmark.