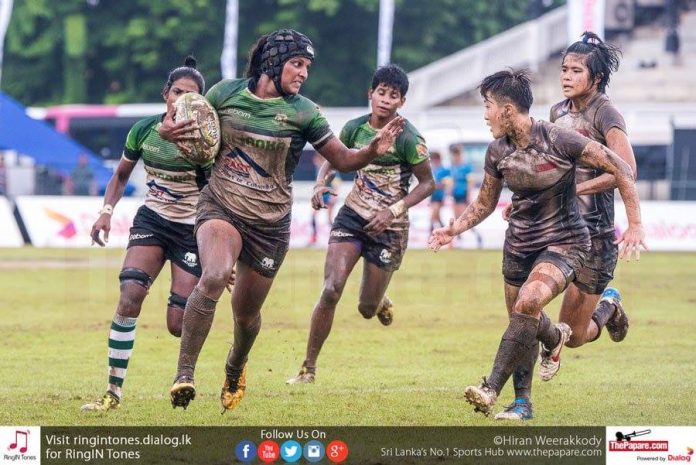 Hong Kong secured a 29 points to nil victory against Sri Lanka in their opening match at the Racecourse Rugby Stadium. The scores read 7-0 at half time in favour of Hong Kong.
Sri Lanka kick started the game hoping to beat their arch rivals Hong Kong and qualify for the World Sevens Series qualifiers, but right from the start Hong Kong were struggling to find the white-wash as the home team defended their hearts out for almost the whole first half. However, it was only until Sau Yan Kwong made a dashing run in the 7th minute after slicing through the centre channels in the Sri Lankan defence line and touched down beside the post. Colleen Tjosvold added the extras giving Hong Kong a 7 point lead in the first half.
The second half got underway in favour of Hong Kong as they started things off from where they left off in the first half. After sucking in defenders and creating that overlap in the far corner, Natasha Olsen found herself scoring Hong Kong's second try after running around the Sri Lankan winger. Colleen failed to add the extras.
It looked as if Hong Kong finally found their rhythm, scoring two tries in quick succession putting Sri Lanka under immense pressure. Stephanie Chang was the third try scorer for Hong Kong after running a perfect supporting angle and stepping away from the defenders to jot the ball down over the whitewash on the far side. Scoring her second try right from the restart was, Sau Yan Kwong who played a penalty quick and danced her way over to the try line. Although Colleen was unsuccessful in converting in the first occasion, she managed to add the extras the second time around extending Hong Kong's lead by 24 points to nil.
As the game neared its end, Hong Kong managed to add another five pointer through Lindsay Varty, who picked the ball from the back of the breakdown and stretched over to score Hong Kong's final try. As Colleens kick went astray the referee blew the final whistle confirming Hong Kong's victory.
The Sri Lankan men will play China in their next match at 3.42p.m. Stay logged with ThePapare.com for live and exclusive coverage.