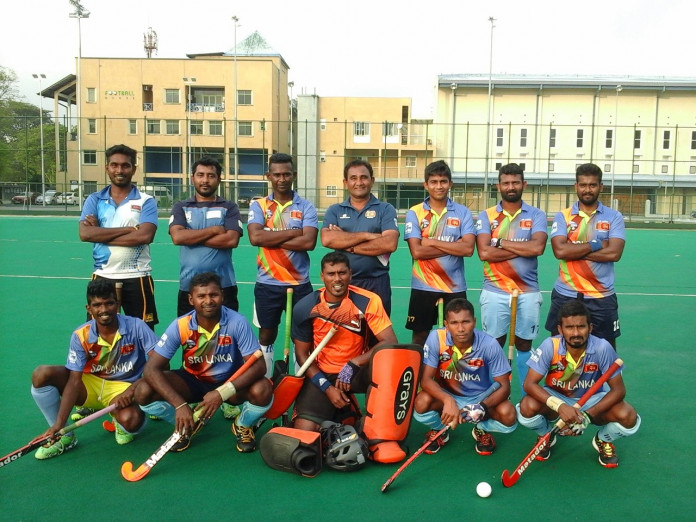 The Sri Lanka Men's national hockey team will depart to Hong Kong ahead of the 5th Men's Asia Hockey Federation Cup that will take place in Hong Kong from the 19th to the 27th of November 2016.
The Sri Lanka Men's Hockey team earned themselves a place in the 2 round of the World Hockey league
The Asian Hockey Federation Cup is championship held as a qualifier for the top tier championship which is the Asia Cup. The winner of the AHF Cup will automatically gain entrance to play amongst the top tier nations in Asia for the main title. This year's tournament will be hosted by Hong Kong.
Sri Lanka will be battling it out for the 5th AHF Cup alongside seven other nations in two respective groups. Heavyweights Singapore, Chinese Taipei and hosts Hong Kong will be Sri Lanka's main competitors. The other countries participating in the contest are Thailand, Uzbekistan, Bangladesh and Macau.     
The Sri Lankan team that departed the country will be captained by former Christ Church College hockey player and retaining captain Nalantha De Silva. De Silva was also the captain in Sri Lanka's earlier stint at the World Hockey League where the team ended up qualifying to the second round of the competition.
The Nalantha De Silva led hockey outfit will be looking to continuing their success this year in the international stage despite the redundant national body. Sri Lanka will field in an experienced outfit. Most of Sri Lanka's team remains unchanged from the World Hockey League tour with the expertise of former captain Thusith Ratnasiri and Sandaruwan Priyalanka available.
Sri Lanka's veteran in the hockey arena, Mohammed Mulafer will be a key architect in Sri Lanka's game having also led the team during his long stint in the national jersey. He was a key architect when it comes to scoring and played an integral role in Sri Lanka's journey in the 2014 Asian Games as well.
Former Sri Lanka national player Anrudda Herath Bandara will be the coach for the upcoming tour and believes that his team is competent enough to qualify for the finals of the cup. A former Christ Church player from Matale, this will be Bandara's third stint as national coach having held the job in 2014 and earlier this year for the World Hockey League.
Sri Lanka's only worry will be the lack of practise and the absence of friendly fixtures with other international countries that would have aided the side to gain more expertise in playing.
Sri Lankan Squad
Nalantha De Silva (C), N. D. B. Dissanayake (VC), Thusith Ratnasiri, H. K. Dharmaratne, Isanka Jayasundera, Sadaruwan Priyalanka, Maduranga Wijesinghe, Lahiru Gihan Weerasinghe, Damith Madusanka Bandara, Tharanga Gunawardena, Lakshan Nanayakkara, Asanka Welagedara, Amila Dayan Ratnasiri, Shamika Gunawardena, Tharindu Hendeniya, Pushpakumara Hendeniya, Anuradha Suresh, Mohammed Mulafer
The team is managed by Thamara Liyanage and Chamika Lanerolle will be the assistant coach.