It's been a roller coaster ride for Sri Lanka in this World Cup. They were hammered by New Zealand to begin with, seemingly confirming all predictions that Sri Lanka would end up at the bottom of the table, even below Afghanistan. Yet, here we are, after three weeks into the tournament, crunching numbers on Sri Lanka's playoff potential.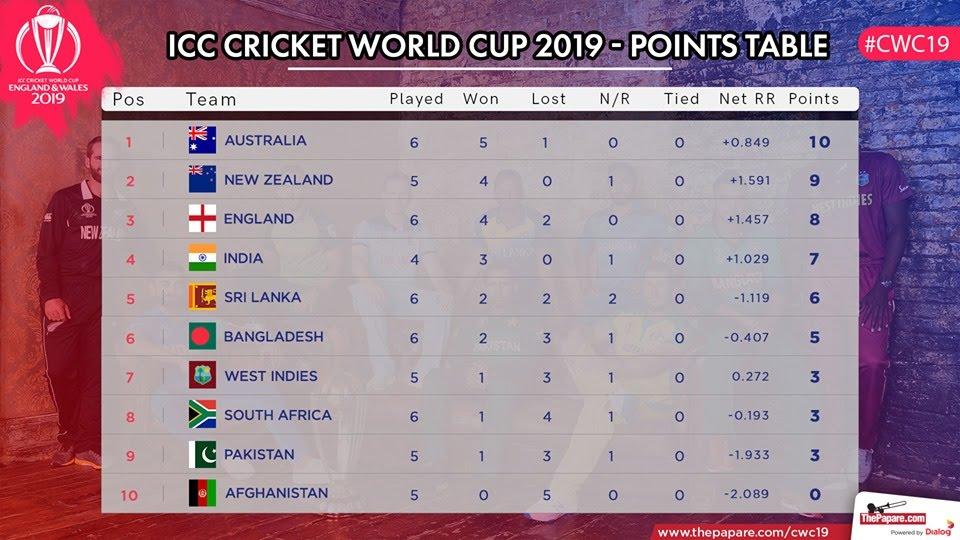 Note – If teams are tied on points, then the number of wins and then net run rate will be used to separate them.
>>ICC Cricket World Cup 2019<<
3 Losses
-No, Sri Lanka will not make the semifinals.
2 Losses & 1 Win
-Highly unlikely.
Sri Lanka will end up with 8 points. For Sri Lanka to qualify, India should lose their remaining 5 games (Sri Lanka, Afghanistan, West Indies, England and Bangladesh) and a lot of other results should go Sri Lanka's way.
2 Wins & 1 Loss
-Yes. It's possible
Smells like team spirit – Headingly 2019
Scenario 01 – England makes way for Sri Lanka
If Sri Lanka ends up with 10 points, and England lose all their next 3 matches, there's a possibility that Sri Lanka will make it to the semifinals. (Given that Bangladesh, Pakistan and West Indies lose at least one game each from the rest of their matches)
England's next opponents – India, Australia, New Zealand. (Whom England haven't defeated in 27 years in World Cup history)
If England wins one of their remaining matches, Sri Lanka will not surpass England on the points table as the hosts will have more wins than Sri Lanka.
So, for the next matches involving England, the Sri Lankan fan base will be rooting for India, Australia or New Zealand.
If all goes well, the semifinalists for this year's World Cup will be New Zealand, India, Australia and Sri Lanka.
Scenario 02 – New Zealand or India make way for Sri Lanka
If New Zealand loses their remaining 4 matches, (West Indies, Pakistan, Australia, England) or India loses 4 out of their remaining 5 (Sri Lanka, Afghanistan, West Indies, England and Bangladesh), Sri Lanka will have a chance. But it is highly unlikely.
3 Wins
Highly likely!
If Sri Lanka win their next 3 matches, they will still not have their fate written. The competition between the bottom 5 will not affect Sri Lanka, as the islanders will have secured 12 points. But they will be hoping for a few results to go their way.
Refer the following table (Note- Sri Lanka beating India is a must)
Country
Next oppositions
Points (Now)
Max. Points potential

New Zealand

WI, Pak,

Aus, Eng

9

17

Australia

Eng, NZ

, SA

10

16

India

Afg, WI,

Eng

, Ban,

SL

7

15

England

Aus, Ind, NZ

8

14

Sri Lanka

SA, WI, Ind

6

12
Sri Lanka's semifinal spot will be decided from the results of the following matches given that there are  no more upsets. (Like Pakistan beating New Zealand who lies in the top 4)
England Vs Australia

England VS New Zealand

England Vs India

India vs New Zealand
Not considering the results of these 4 big matches, the following will be the points of each team in contention for the top 4 spots.
New Zealand – 13

India – 13

Australia -12

Sri Lanka – 12

England – 8
So, the usual Lions supporters will have to cheer for India, Australia and New Zealand in these matchups as they will have more points and more wins than Sri Lanka.
Read: Sri Lanka stun England to produce 'Upset of the Tournament'
If England loses 2 out of 3, Sri Lanka will be through.
If England loses only 1 out of 3, England will be through. (Same points, more wins than Sri Lanka)
If upsets occur (ex-Pak beats NZ), it will be advantageous for Sri Lanka but then the results from the "big 4 matches" should go against the team who was beaten by the team from the bottom 5. (ex- NZ losing to Ind & Eng)
So even if Sri Lanka wins all 3, It is not certain that they will qualify for the semifinals.
*Further washouts have not been accounted for