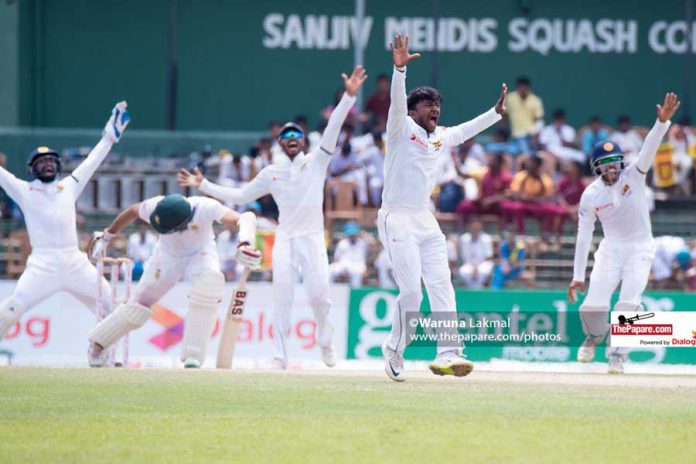 The Sri Lankan spinners set up the game beautifully for the hosts, as South Africa ended day 3 on 139/5, needing a further 351 runs for victory. 
On another glorious morning in Colombo at the SSC, Sri Lanka resumed their 2nd innings on 151/3, 365 runs ahead of the wounded South Africans.
The South Africans were stumbling so bad on day two making the wicket look worse than what it actually was. Sri Lanka looked hardly troubled in their 2nd innings. That was the case on the third morning as well, with overnight batsmen Dimuth Karunaratne and Angelo Mathews going about their business comfortably.
Since Dimuth Karunaratne made his Test debut for Sri Lanka….
Mathews who has been struggling for form during the past couple of years in Test cricket, started to look good as he inched towards a half century with the Sri Lankan lead growing fast. Karunaratne too went about his business smoothly as he closed in on a 2nd century in the series, after having gone past the half century mark in all four innings he batted.
Karunaratne though was eventually found out outside off stump, again. The introduction of Lungi Ngidi saw Karunaratne drawn into a false stroke 15 runs away from a century, to give Quinton de Kock his 150th dismissal in Test cricket.
Roshen Silva, another man short of runs and his place under threat once Chandimal comes back for Sri Lanka's next Test,  walked in at no. 6 and survived a few nervy moments before he eventually settled down to doing what he does best, wearing down the opposition.
Always with a big smile on his face, he hardly hits the…..
Mathews finally got to a much needed half century off his 89th ball as he looked up to the heavens in relief. His knock included six boundaries as Sri Lanka went into lunch on day 3 at 237/4.
Sri Lanka crawled at a slow pace after the break. Silva was firm in defence while Mathews looked to move on before he was dismissed by Maharaj for a well constructed 71. The Sri Lankan camp decided 490 was good enough target as they declared their innings on 275/5 with Silva unbeaten on 32*.
South Africa survived a few close calls early in their pursuit of the daunting target, before Aiden Markram was trapped in front by the old man Rangana Herath for 14.
Theunis de Bruyn joined Dean Elgar as the South Africans looked comfortable in the series for the first time, though Elgar survived a few close calls especially against Dilruwan Perera.
Dilruwan had the last laugh when he finally trapped Elgar in front for 37, as that wicket opened the familiar flood gates of the Proteas during their tour of Sri Lanka.
When Sri Lanka walked back into the dressing rooms on 277/9 after the 1st Day's play in the ….
The South Africans crumbles against the spin again. The most experienced South African batsmen Hashim Amla and Faf du Plessis departed in quick succession as the writing seemed on the wall for the Proteas as they decided to promote Maharaj up the order only to see him getting a golden duck.
The spin trio of Herath, Dilruwan and Dananjaya were all over the Proteas like a rash. De Bruyn though played a lonely fighting hand as he remained unbeaten on 45* along with Temba Bavuma (14*), as the duo made sure no further damage was done.
Tomorrow is the penultimate day of the match and the visitors who ended the day on 139/5, will have to play out of their skin to get anywhere close as it will be an uphill battle facing the Sri Lankan spinners.
Full Scorecard
124/10 & 290/10
(86.4 overs)
Srilanka won by 199 runs
Sri Lanka's 1st Innings
Batting
R
B
Danushka Gunathilake
c K.Rabada b K.Maharaj
57
107
Dimuth Karunaratne
c Q.De Kock b K.Maharaj
53
110
Dananjaya de Silva
lbw by K.Maharaj
60
109
Kusal Mendis
c K.Rabada b K.Maharaj
21
34
Angelo Mathews
c F.Du Plesis b K.Maharaj
10
24
Roshen Silva
b K.Rabada
22
46
Niroshen Dickwella
c F.Du Plesis b K.Maharaj
5
9
Dilruwan Perera
c L.Nigidi b K.Maharaj
17
24
Akila Dananjaya
not out
43
91
Suranga Lakmal
c A.Markram b K.Maharaj
0
4
Rangana Herath
c Dean Elgar b Keshav Maharaj
35
68
Extras
15 (b 4, lb 2, nb 1, w 8)
Total
338/10 (104.1 overs)
Fall of Wickets:
1-116 (D Karunaratne, 34.3 ov), 2-117 (D Gunathilaka, 36.3 ov), 3-153 (K Mendis, 48.3 ov), 4-169 (A Mathews, 54.3 ov), 5-223 (R Silva, 69.6 ov), 6-238 (N Dickwella, 72.4 ov), 7-247 (D de Silva, 74.2 ov), 8-264 (D Perera, 80.1 ov), 9-264 (S Lakmal, 80.5 ov), 10-338 (R.Herath, 104.1 ov)
| Bowling | O | M | R | W | E |
| --- | --- | --- | --- | --- | --- |
| Dale Steyn | 17 | 3 | 60 | 0 | 3.53 |
| Kagiso Rabada | 20 | 3 | 55 | 1 | 2.75 |
| Lungi Ngidi | 14.2 | 1 | 54 | 0 | 3.80 |
| Keshav Maharaj | 41.1 | 10 | 129 | 9 | 3.14 |
| Aiden Markram | 8.4 | 1 | 24 | 0 | 2.86 |
| Dean Elgar | 3 | 1 | 10 | 0 | 3.33 |
South Africa's 1st Innings
Batting
R
B
Aiden Markram
lbw by Rangana Herath
7
20
Dean Elgar
c Dananjaya De Silva b Akila Dhananjaya
0
4
Theunis de Bruyn
c Niroshan Dickwella b Akila Dhananjaya
3
8
Hashim Amla
c Kusal Mendis b Dilruwan Perera
19
58
Faf du Flessis
c Niroshan Dickwella b Dilruwan Perera
48
51
Temba Bavuma
c Kusal Mendis b Dilruwan Perera
11
20
Quinton de Kock
lbw by Akila Dhananjaya
32
31
KA Maharaj
c Dimuth Karunaratne b Akila Dhananjaya
2
4
Kagiso Rabada
c Anjelo Mathews b Dilruwan Perera
1
10
Dale Steyn
lbw by Akila Dhananjaya
0
2
Lungi Ngidi
not out
0
2
Total
124/10 (34.5 overs)
Fall of Wickets:
1-4 (D Elgar, 1.2 ov), 2-8 (T Bruyn, 3.2 ov), 3-15 (A Markram, 8.1 ov), 4-70 (H Amla, 21 ov), 5-85 (Du Plessis, 25 ov), 6-114 (T Bavuma, 30.3 ov), 7-119 (K Maharaj, 31.5 ov), 8-124 (De Kock, 33.2 ov), 9-124 (D Steyn, 33.4 ov), 10-124 (K Rabada, 34.5 ov)
| Bowling | O | M | R | W | E |
| --- | --- | --- | --- | --- | --- |
| Dilruwan Perera | 12.5 | 1 | 40 | 4 | 3.20 |
| Akila Dhananjaya | 13 | 2 | 52 | 5 | 4.00 |
| R. Herath | 9 | 1 | 32 | 1 | 3.56 |
Sri Lanka's 2nd Innings
Batting
R
B
MD Gunathilaka
c Dean Elgar b Keshav Maharaj
61
68
D. Karunaratne
c Quinton de Kock b Lungi Ngidi
85
136
D.De.Silva
lbw by Keshav Maharaj
0
3
BKG Mendis
(runout) Aiden Markram
18
27
A Mathews
c Faf du Flessis b Keshav Maharaj
71
147
R. Silva
not out
32
99
N. Dickwella
not out
7
7
Fall of Wickets:
1-91 (D Gunathilaka, 18.3 ov), 2-102 (De Silva, 20.2 ov), 3-136 (K Mendis, 28.4 ov), 4-199 (D Karunarathne, 48.1 ov), 5-263 (A Mathews, 79.1 ov)
| Bowling | O | M | R | W | E |
| --- | --- | --- | --- | --- | --- |
| KA Maharaj | 40 | 4 | 154 | 3 | 3.85 |
| Kagiso Rabada | 8 | 0 | 42 | 0 | 5.25 |
| Aiden Markram | 7 | 1 | 18 | 0 | 2.57 |
| Theunis de Bruyn | 5 | 0 | 20 | 0 | 4.00 |
| Dale Steyn | 11 | 2 | 30 | 0 | 2.73 |
| Lungi Ngidi | 9 | 5 | 9 | 1 | 1.00 |
| Dean Elgar | 1 | 0 | 2 | 0 | 2.00 |
South Africa's 2nd Innings
Batting
R
B
Dean Elgar
lbw by D.Perera
37
80
Aiden Markram
lbw by R.Herath
14
24
Theunis de Bruyn
b R.Herath
101
232
Hashim Amla
b R.Herath
6
18
Faf du Flessis
c Anjelo Mathews b A.Dhananjaya
7
13
KA Maharaj
lbw by A.Dhananjaya
0
1
Temba Bavuma
c N.Dickwella b R. Herath
63
98
Quinton de Kock
lbw by R.Herath
8
12
Kagiso Rabada
c A.Mathews b D.Perera
18
37
Dale Steyn
c D.Gunathilake b R.Herath
6
6
Lungi Ngidi
not out
4
4
Extras
26 (b 16, lb 5, nb 4, w 1)
Total
290/10 (86.4 overs)
Fall of Wickets:
1-23 (AK Markram, 8.1 ov), 2-80 (D Elgar, 23.3 ov), 3-100 (HM Amla, 30.1 ov), 4-113 (F du Plessis, 35.1 ov), 5-113 (KA Maharaj, 35.2 ov), 6-236 (T Bavuma, 73.1 ov), 7-246 (Q de Kock, 75.5 ov), 8-280 (TB de Bruyn, 84.5 ov), 9-280 (K Rabada, 85.2 ov),10-290 (DW Steyn, 86.5 ov)
| Bowling | O | M | R | W | E |
| --- | --- | --- | --- | --- | --- |
| R. Herath | 32.5 | 5 | 98 | 6 | 3.02 |
| Dilruwan Perera | 30 | 4 | 90 | 2 | 3.00 |
| Akila Dhananjaya | 19 | 2 | 67 | 2 | 3.53 |
| Suranga Lakmal | 2 | 0 | 8 | 0 | 4.00 |
| Dananjaya de Silva | 2 | 0 | 5 | 0 | 2.50 |
| Danushka Gunathilaka | 1 | 0 | 1 | 0 | 1.00 |