A tired Sri Lanka team let a golden opportunity to defeat a higher ranked side slip through their fingers, as they lost their 2nd Netball World Cup Group E encounter to Samoa 55-65 at the M&S Bank Arena in Liverpool.
Photo Album : Sri Lanka vs Samoa | Group E | Netball World Cup 2019
Sri Lanka hit the ground running against World No. 14 Samoa and took a surprising 17-13 lead in the 1st quarter. It was a dream start for the Lankans and something they would have been hoping they could capitalize on – but it wasn't to be as the Samoans got their act together in the 2nd quarter of the match.
Read More – Record-breaking Tharjini stars as Sri Lanka bulldoze Singapore
The Pacific islanders were not going to give up without a fight and came roaring back both offensively and defensively against the No. 18 ranked team. It was a dominant 2nd quarter for the Samoans as they outscored Sri Lanka 19-10 – the turning point of the game.
Half Time: Sri Lanka 27 – 32 Samoa
Despite the difficult 2nd quarter, Sri Lanka were only faced with a deficit of 5 goals going into the half, but unfortunately for them, the fatigue of playing high intensity games for the 5th straight day took its toll. Remember, these ladies hardly face such challenging conditions in the Asian championships, the only other international tournament they participate in.
Photo Album – Sri Lanka vs Singapore | Group E | Netball World Cup 2019
Soon the long lob passes, which had brought so much success in their last game against Singapore, began to fall into the hands of the defenders as Samoa pushed Sri Lanka with some very physical play. A 17-13 quarter loss meant that Sri Lanka were now faced with a 9-goal deficit.
Read More – Dulangi impresses in loss to World No. 1
Sri Lanka fought hard in the final quarter but were thwarted, as they had been all game, by Player of the Match Lenora Misa, who affected 11 interceptions, guarding Tharjini Sivalingam. The Sri Lankans were visibly tired at the end of the game, losing the quarter 15-16.
Full Time: Sri Lanka 55 – 65 Samoa
Tharjini Sivalingam was the one doing most of the scoring for Sri Lanka, making 52/58 of her shots, while Dulangi Wannithilake was handy once against at Goal Attack.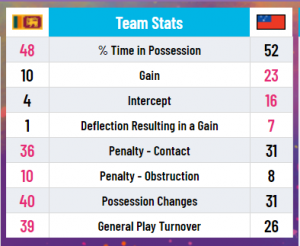 Group E comprises of the teams that finished at the bottom of their respective Round 1 tables and going head to head to decide the 13th-16th positions at the World Cup.
Photo Album – Sri Lanka vs Australia | Group A | Netball World Cup 2019
Sri Lanka's chances of going into the 13th/14th playoff took a blow with this loss, but if they are to defeat Fiji tomorrow, they could still contest for their best finish in a Netball World Cup.
>>For more Netball News Click Here<<