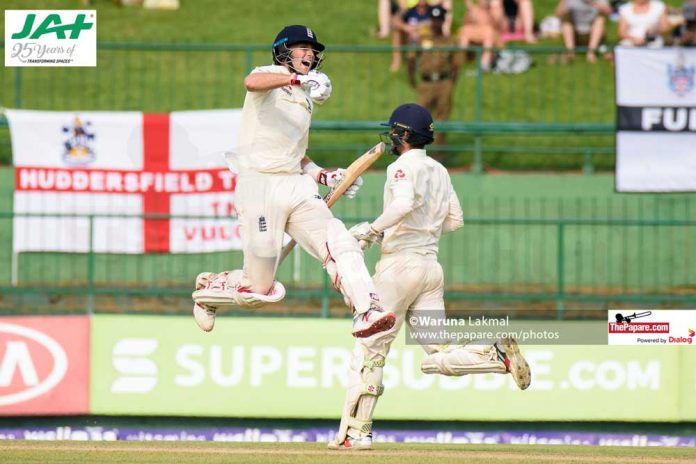 England Test Captain Joe Root scored a magnificent hundred in tough batting conditions today in the 3rd day of the 2nd Test against Sri Lanka at Pallekele to give England a big lead of 278 by the end of the day. As Root shined for the visitors Akila Dananjaya claimed 6 wickets for the hosts announcing his comeback to form.

ThePapare.com | Waruna Lakmal | 16/11/2018 Editing and re-using..
The overnight pair of English batsmen, night-watchman Jack Leach and opener Rory Burns failed to build a helpful opening stand for their 2nd innings as Leach got out LBW trying to sweep a Dilruwan Perera delivery which kept low.
The designated openers Burns and Keaton Jennings then put on a risk-less, threatening partnership worth 73 runs as they pushed England to the lead. England were 31 runs ahead of Sri Lanka when the pair was separated by Akila Dananjaya.
Jennings was the man to fall as he reverse swept awfully resulting in a catch to Dhananjaya de Silva at slip. Joe Root batting at his usual number 4 position added 31 more runs to extend England's lead to 62 together with Burns. Burns reached his maiden Test fifty during the cause.
Malinda Pushpakumara then came in to the act with a wicket, that of Burns for 59 runs. Burns wasted a review after he was given out LBW trying to sweep a straight ball.
Half centuries from Dimuth Karunaratne, Dhananjaya..
Ben Stokes faced just 2 deliveries as he too missed a sweep for a straight delivery, this time the bowler was Dilruwan Perera who claimed his 2nd wicket. Stokes too burned a review moments after Sri Lanka lost their 2nd review.
Heading to lunch England's captain Root and Vice-captain Jos Buttler added 22 runs which included 2 boundaries off Buttler's bat.
The post-lunch session, which began with so much expected from both camps, was a session completely dominated by Joe Root. England scored 128 runs in 29 overs during the middle session while Sri Lanka were only able to pick 2 wickets. The session to forget for the hosts started with Kusal Mendis failing to hang on a very tough chance of Buttler in only the 2nd ball.
The tables have turned in Pallekelle. Sri Lanka is..
Root scoring 72 runs during the middle session handled the under-firing Lankan spinners to perfection and smashed them to all corners of the park. His inning was a perfect attacking knock which just brought England to the driving seat.
Akila Dananjaya who has been quiet throughout the tour hit back to form picking both the wickets to fall during the run-fest in the 2nd session. As most of the English batsmen, both Buttler (34) and Moeen Ali (10) too fell prey to the sweep. Buttler was bowled while Ali was out LBW.
In Ali's case it was a wrong decision by the umpire and unluckily for England and luckily for Sri Lanka, England had wasted both their reviews by then.
The 3rd and last session began with Root reaching his century with a boundary off an edge to Lakmal. It was Akila once again who broke the threatening partnership. The partnership between Root and Ben Foakes was worth 82 runs when Root was out LBW trying to reverse sweep an Akila Dananjaya delivery, another English wicket fallen trying to sweep.
Hero for England in the 1st innings, Sam Curran was bowled in the very first delivery he faced by Akila as Akila claimed his 3rd Test 5-wicket haul. Adding more scalps to his wicket column Akila dismissed Adil Rashid with a perfect googly. Rashid adjudged out LBW was later found unlucky as he had nicked it.
Sri Lanka with one wicket away from coming back to bat conceded 19 runs for the last wicket as Foakes reached his fifty. Just as Foakes reached his fifty with a six off a Dilruwan Perera delivery play was stopped due to bad light. With rain starting pour the day was brought to a premature end.
Full Scorecard
290/10 & 346/10
(80.4 overs)
336/10 & 243/10
(74 overs)
England 's 1st Innings
Batting
R
B
Rory Burns
c D De Silva b A Dananjaya
43
81
Keaton Jennings
c N Dickwella b S Lakmal
1
8
Ben Stokes
lbw by D Perera
19
27
Joe Root
b M Pushpakumara
14
23
Jos Butler
c D Karunarathne b M Pushpakumara
63
67
Moeen Ali
lbw by M Pushpakumara
10
23
Ben Foakes
c D De Silva b D Perera
19
23
Sam Curran
c D Karunarathne b D Perera
64
119
Adil Rashid
lbw by D Perera
31
52
Jack Leach
b A Dananjaya
7
13
James Anderson
not out
7
12
Total
290/10 (75.4 overs)
Fall of Wickets:
1-7 (K Jennings, 4.3 ov), 2-44 (B Stokes, 13.2 ov), 3-65 (J Root, 18.6 ov), 4-89 (R Burns, 25.5 ov), 5-134 (M Ali, 34.2 ov), 6-165 (B Foakes, 41.3 ov), 7-171 (J Butler, 46.1 ov), 8-216 (A Rashid, 61.2 ov), 9-225 (J Leach, 64.4 ov), 10-285 (S Curran, 75.4 ov)
| Bowling | O | M | R | W | E |
| --- | --- | --- | --- | --- | --- |
| Suranga Lakmal | 12 | 1 | 44 | 1 | 3.67 |
| Dilruwan Perera | 24.4 | 5 | 61 | 4 | 2.50 |
| Malinda Pushpakumara | 23 | 4 | 89 | 3 | 3.87 |
| Dhananjaya de Silva | 2 | 0 | 4 | 0 | 2.00 |
| Akila Dananjaya | 14 | 1 | 80 | 2 | 5.71 |
Sri Lanka's 1st Innings
Batting
R
B
Dimuth Karunarathne
(runout) B Stokes
63
125
Kaushal Silva
b J Leach
6
15
Malinda Pushpakumara
c R Burns b M Ali
4
22
Dhananjaya de Silva
c B Foakes b A Rashid
59
98
Kusal Mendis
c B Stokes b J Leach
1
3
Angelo Mathews
c B Foakes b A Rashid
20
42
Roshen Silva
c M Ali b A Rashid
85
174
Niroshan Dickwella
lbw by J Root
25
33
Dilruwan Perera
lbw by J Leach
15
37
Akila Dananjaya
lbw by M Ali
31
39
Suranga Lakmal
not out
15
30
Fall of Wickets:
1-22 (K Silva, 7.4 ov), 2-31 (M Pushpakumara, 14.4 ov), 3-127 (D Karunarathne, 38.6 ov), 4-136 (K Mendis, 41.1 ov), 5-146 (De Silva, 46.2 ov), 6-165 (A Mathews, 54.3 ov), 7-211 (N Dickwella, 66.4 ov), 8-252 (D Perera, 79.4 ov), 9-308 (A Dananjaya, 93.2 ov), 10-336 (R Silva, 102.6 ov)
| Bowling | O | M | R | W | E |
| --- | --- | --- | --- | --- | --- |
| James Anderson | 14 | 2 | 40 | 0 | 2.86 |
| Sam Curran | 4 | 0 | 19 | 0 | 4.75 |
| Jack Leach | 29 | 5 | 70 | 3 | 2.41 |
| Moeen Ali | 25 | 1 | 85 | 2 | 3.40 |
| Adil Rashid | 22 | 2 | 75 | 3 | 3.41 |
| Joe Root | 8 | 0 | 26 | 1 | 3.25 |
| Ben Stokes | 1 | 0 | 9 | 0 | 9.00 |
England 's 2nd Innings
Batting
R
B
Jack Leach
lbw by D Perera
1
11
Rory Burns
lbw by M Pushpakumara
59
66
Keaton Jennings
c D De Silva b A Dananjaya
26
54
Joe Root
lbw by A Dananjaya
124
146
Ben Stokes
lbw by D Perera
0
2
Jos Butler
b A Dananjaya
34
45
Moeen Ali
lbw by A Dananjaya
10
14
Ben Foakes
not out
65
119
Sam Curran
b A Dananjaya
0
1
Adil Rashid
lbw by A Dananjaya
2
13
James Anderson
b D Perera
12
13
Total
346/10 (80.4 overs)
Fall of Wickets:
1-4 (J Leach, 2.3 ov), 2-77 (K Jennings, 19.1 ov), 3-108 (R Burns, 25.5 ov), 4-109 (B Stokes, 26.3 ov), 5-183 (J Butler, 40.6 ov), 6-219 (M Ali, 46.3 ov), 7-301 (J Root, 69.2 ov), 8-301 (S Curran, 69.3 ov), 9-305 (A Rashid, 71.6 ov), 10-346 (J Anderson, 80.4 ov)
| Bowling | O | M | R | W | E |
| --- | --- | --- | --- | --- | --- |
| Dilruwan Perera | 20.4 | 2 | 96 | 3 | 4.71 |
| Malinda Pushpakumara | 27 | 1 | 101 | 1 | 3.74 |
| Akila Dananjaya | 25 | 0 | 115 | 6 | 4.60 |
| Dhananjaya de Silva | 4 | 0 | 7 | 0 | 1.75 |
| Suranga Lakmal | 4 | 0 | 14 | 0 | 3.50 |
Sri Lanka's 2nd Innings
Batting
R
B
Dimuth Karunarathne
c B Foakes b A Rashid
57
96
Kaushal Silva
st. B Foakes b J Leach
4
6
Dhananjaya de Silva
c K Jennings b J Leach
1
10
Kusal Mendis
lbw by J Leach
1
7
Angelo Mathews
lbw by M Ali
88
137
Roshen Silva
c J Root b M Ali
37
95
Niroshan Dickwella
c B Stokes b M Ali
35
43
Dilruwan Perera
lbw by J Leach
2
11
Akila Dananjaya
not out
8
28
Suranga Lakmal
b M Ali
0
2
Malinda Pushpakumara
c & b J Leach
1
9
Fall of Wickets:
1-14 (K Silva, 3.3 ov), 2-16 (De Silva, 5.3 ov), 3-26 (K Mendis, 7.5 ov), 4-103 (D Karunarathne, 27.6 ov), 5-176 (R Silva, 54.3 ov), 6-221 (A Mathews, 62.3 ov), 7-226 (D Perera, 65.2 ov), 8-240 (N Dickwella, 70.1 ov), 9-240 (S Lakmal, 70.3 ov), 10-243 (M Pushpakumara, 73.6 ov)
| Bowling | O | M | R | W | E |
| --- | --- | --- | --- | --- | --- |
| James Anderson | 5 | 2 | 12 | 0 | 2.40 |
| Jack Leach | 28 | 2 | 83 | 5 | 2.96 |
| Moeen Ali | 19 | 2 | 72 | 4 | 3.79 |
| Adil Rashid | 17 | 1 | 52 | 1 | 3.06 |
| Joe Root | 5 | 0 | 15 | 0 | 3.00 |