Sri Lanka Rugby (SLR) will be entrusting the responsibilities of the national under 19 team to Rajeev Perera and current Isipathana coach Lasintha de Costa ahead of the Asia Rugby Under 19 Championship that is set to kick off in December.
The Asia Rugby Under 19 Championship is set to be played as two-legged affair with the Sri Lanka Under…
This year's Asia Rugby Under 19 Championship will be in a new format with only Hong Kong and Sri Lanka in the top division with Chinese Taipei not participating in the top division. The two teams will play each other in the championship; home and away.
Read Also: Asia Rugby Under 19 Championship – who will make it to the squad?
Sri Lanka will host the Hong Kong team for the first game on 10th of December while the return fixture will be on the 16th in Hong Kong.
Perera, who has been in the national coaching contingent for a considerable stint will be looking to take Sri Lanka through to victory in this upcoming fixture. A one time captain for Havelock Sports Club, Perera was a part of the 2012 league winning team before taking up coaching.
At several occasions, Perera has acted as manager to the national side while he was the assistant coach for the national under 20 sevens team that won the Asia Rugby U20 Sevens Series in 2016 under Kevin Dixon. He was also part of the national sevens team in a similar capacity in the recently concluded Asia Sevens Series.
It will be a new challenge for Lasintha De Costa in his first assignment as coach of a national outfit. The former Isipathana College represent has donned the national jersey on many occasions in both fifteens and sevens. Costa was phenomenal as a flyhalf during his playing days and has driven the national side to many memorable victories
Taking up the duties of head coach at Isipathana College this season, he has successfully led the side to a second place finish in the school's rugby league and in the Milo knockouts trophy.
Isipathana College has been in the forefront in the Sri Lanka schools' rugby arena producing…
Both Rajeev Perera and Lasintha de Costa are level two accredited coaches who are currently in their level three program.
High-Performance Director Inthi Marikar will overlook the program while the national body is in the process of shortlisting a training squad for the upcoming championship.
The duo are in a bid to take Sri Lanka to the Junior World Rugby Championship which is the Junior World Cup for the tier I countries.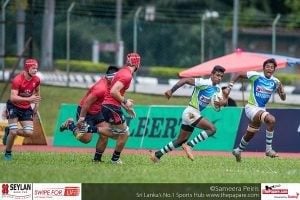 Sri Lanka's campaign last year was not the best with only a single win in the tournament finishing 3rd ahead of Malaysia. The Junior Tuskers have got themselves a new lease of life this time around and with the home advantage on their side, the prospects of making it to the main competition is a possibility.