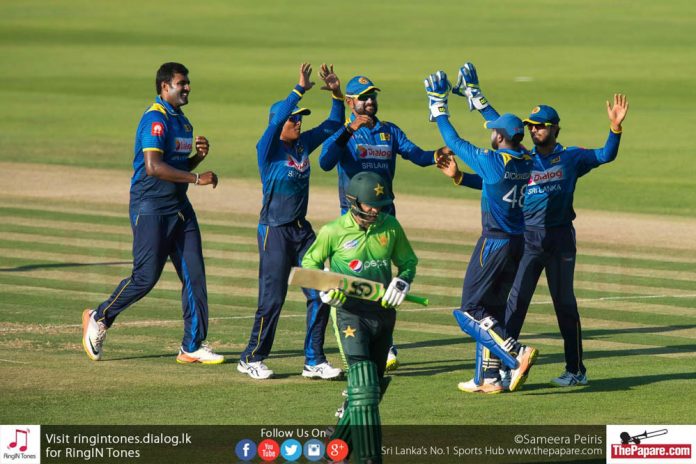 The Pakistan Cricket Board announced the fixtures of the limited overs tour between Pakistan and Sri Lanka which will be commence on 27th September in Pakistan. 
According to the media release issued by the PCB, Sri Lanka will tour Pakistan for 3 ODIs and 3 T20Is in Karachi & Lahore while the Test matches, which will be included in the ICC World Test Championship, has been postponed to December.
Read More: Sri Lanka to play ODIs in Pakistan
Originally, Pakistan was scheduled to host Sri Lanka for two World Test Championship matches in October before Sri Lanka returned for three ODIs and three T20Is in late December. But both the governing bodies has decided to swap the fixtures and accommodate the limited overs leg first in the September and October window.
The Sri Lanka cricket team will arrive in Karachi on 25 September where it will play three ODIs on the 27th, 29th September and 2nd October. Lahore will host three T20Is on the 5th, 7th and 9th October after which the visitors will fly home on 10th October.
A high profile team of Sri Lanka Cricket officials have returned home from a pilot tour of Pakistan and they….
PCB Chairman Mr. Ehsan Mani said: "The PCB is pleased with the outcome of its discussions with Sri Lanka Cricket, which has supported Pakistan in its efforts and endeavors for the complete revival of international cricket. The tour for limited overs matches will also provide Sri Lanka with an even better understanding of the ground situation before discussing schedule of the Tests.
"We are very grateful to Sri Lanka Cricket President Mr Shammi Silva, his board and players for responding positively to our request to play matches in Pakistan. The PCB looks forward to welcoming the Sri Lanka cricket team and assure them that they will be as well looked after as any other international sides of the past." He added.
This series will end a long wait for Pakistan and their supporters to witness a full-blooded international cricket series right in front of their eyes. Pakistan has hosted Zimbabwe, Sri Lanka, West Indies and World XI after the 2009 Lahore terrorist attack on Sri Lanka players.
Read Also: Sri Lanka to visit Pakistan to assess security
SLC President Mr. Shammi Silva said: "The PCB and SLC have a long history of cricket relationship and friendship, and this decision only strengthens that bonding. The SLC is committed to playing its role in the promotion of cricket and looks forward to visiting Karachi and Lahore for three ODIs and three T20Is.
He further replied "The safety and security of its players is the responsibility of the SLC, which it takes very seriously. If there had been any doubts, the SLC would not have gone ahead with this arrangement," 
Fixtures
1st ODI – 27 September at Karachi

2nd ODI – 29 September at Karachi

3rd ODI – 2 October at Karachi

1st T20I – 5 October at Lahore

2nd T20I – 7 October at Lahore

3rd T20I – 9 October at Lahore