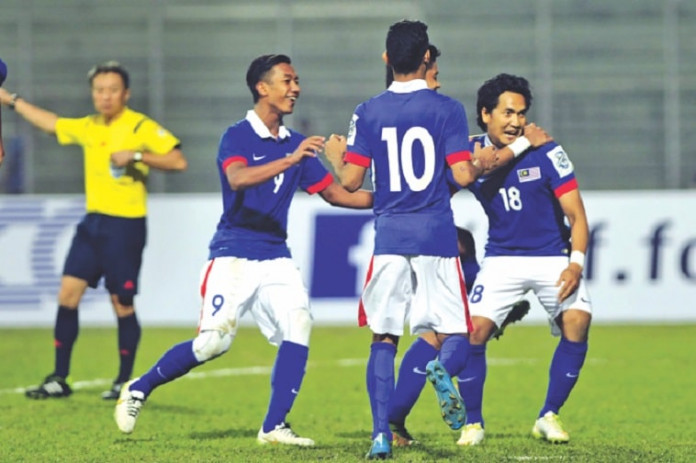 Two goals either side of halftime gave Malaysia their second win of the Bangabandhu Gold Cup and with it booked a semifinal spot.
A stoppage time spot-kick by Syahrul Azwari in the first half was doubled through rebound strike by Mohammad Ridzuan on the hour-mark as Malaysia dominated proceedings with majority of possession.
"We want to continue our winning performance. If we beat Sri Lanka tomorrow (today) we will come up as top of the group. The most important thing is to maintain the winning performance." Malaysia head coach Mohamed Razip Ismail said.
In the press conference prior to the match Sri Lanka Coach Nikola Kavazovic didn't have any high hopes as this was a side still in its early stages of rebuilding.
"This is the first time in my career we didn't analyse our opponents because I came here without any competitive aim. We can't compete against Malaysia and Bangladesh at this moment," Kavazovic said.
"I don't expect that we will win. We are on the course of 30 percent of possibility. So, if we beat them tomorrow (today) it would be some miracle. Even if we beat Bangladesh it would not be natural."
Sri Lanka, starting in 3-1-4-2 formation, allowed little space for the Malaysians to manoeuvre the ball in the attacking third. The one instance when they did got through in the 21st minute was brought to an end by a cynical tackle, which was overlooked by the referee. 15 minutes later, a point-blank header was blocked by the Sri Lanka goalkeeper Sujan Perera who had a brilliant game, while Sajith Kumara who played in an unfamiliar defensive midfield position excelled throughout.
Kavazovic's miracle ambition almost started off well as Sri Lanka had a good beginning to their game and a Nalaka Roshan free-kick rattled the crossbar when the scores were 0 all. Kavindu Ishan also had two chances but was unable to convert them.
Roshan's free-kick over the wall to the top far corner unfortunately rattled off the bar as the Malaysian goalkeeper was left ball watching.
The deadlock was broken in first half stoppage time when Subash Madushan needlessly handled the ball inside the penalty box. Syahrul Azwari stepped up and sent Sujan the wrong way to give a 1-0 lead going into halftime.
Malaysia started the second half where they left off and frustrated Sri Lanka with their ball possession. On the hour mark Ridzuan doubled the lead from six yards out after a corner kick was headed across the goal into his path.
Sujan Perera had to be at his best as he denied two certain goals in one on one situation to keeper the score at 2-0. In the 83rd minute Adam Nor Azlin who received the Man of the Match award struck a 30 yard screamer which bounced off the underside of the cross and away from the goal.
"We oriented on hard defence and counterattack, leaving them ball position. In first 20 minutes Ishan had 2 chances to score, and Roshan hit the bar from free kick. They scored in 2nd minute of additional time in first half from penalty spot. We conceeded the 2nd goal after corner, and they knew how to protect net till the end." Kavazovic shared his thoughts about the performance exclusively with ThePapare.com
1st Half
2nd Half