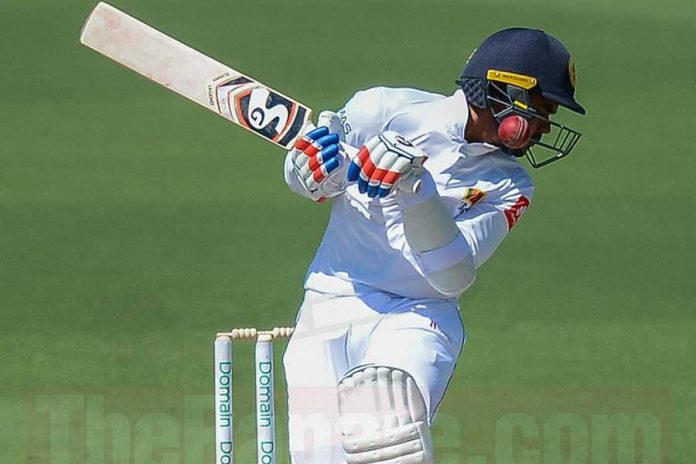 Sri Lanka's newly appointed Test captain Dimuth Karunaratne has stressed the need to overcome the short ball challenge if his team were to return from South Africa with their heads held high.
No one blamed the Sri Lankans for their disappointing performance at the Gabba in the first Test despite the game ending inside three days handing the tourists an innings and 40 run defeat. Gabba is the toughest wicket in Australia. The hosts have been unbeaten here for 31 years and no Asian team has won a Test match there.
Dimuth Karunaratne, Sri Lanka's opening batsman…
But Manuka Oval was a flat wicket. You won't get a better batting wicket than that and the batsmen cut a pathetic figure managing just one half-century in both innings put together. The tourists had started off well with openers Lahiru Thirimanne and Dimuth Karunaratne adding 82 runs for the first wicket. Then came that short ball from Pat Cummins that hit Dimuth Karunaratne on the neck and the Sri Lankans folded away afterwards.
To watch the team's best batsman being floored by a delivery that was clocked at 147 kmph must have sent shock waves through the rest of the batsmen. From thereon, the Sri Lankans got into a defensive mindset, allowing the bowlers dominate. The Aussies had got just the opening they wanted. Usually when they get such an opportunity they make sure to seize on it.
Captain Tim Paine was mean, reminding Dimuth Karunaratne what is in store for him. When the opening batsman resumed his innings the following day, having spent a few hours in the hospital after being hit, Paine reminded his bowlers to test the batsman's resolve.
'Same field guys,' Paine said as Karunaratne walked into bat before adding, 'watch out for it. It's 155.' The number that Paine came up was the pace his bowlers were generating. Mitchell Starc was clocked at 157 kmph at one point.
In Australia the Sri Lankans had to only put up with Starc and Cummins. In South Africa they will be given a double dose. On face value, Dale Steyn, Kagiso Rabada and Vernon Philander should be South Africa's pick for the opening Test. But they have got a problem as the Afrikaans speaking fast bowler Duanne Olivier had picked up 24 wickets in the just concluded series against Pakistan. He was by far the best South African bowler.
Don't be surprised if the Proteas opt for an all seam attack leaving Keshav Maharaj to carry the drinks.
Sri Lanka vice-captain Dimuth Karunaratne admitted that …
South Africa's four-pronged attack is not as deadly as the West Indian quartet of Michael Holding, Malcolm Marshall, Joel Garner and Colin Croft, but they can run through sides with as much ease.
Defense obviously is the key but being overcautious could seal the batsmen's fate as it happened in Canberra. For example, the manner in which they played Nathan Lyon was puzzling. Obviously Starc and Cummins wouldn't bowl more than five overs each in a spell in the scorching heat of Canberra. Yet, when Nathan Lyon came in, the Sri Lankans didn't attempt to keep the scoreboard moving. They were too defensive against the off-spinner. Kusal Mendis, the in-form batsman earned the wrath of local fans when he threw away his wicket as the part-time spin of Marnus Labuschagne accounted for his wicket in the second innings.
Even against pace, the batsmen need to have a plan as to what deliveries they are going to target and what options they are going to take against the short ball. Are they going to pull out or play the pull shot? Going to the middle in two minds is going to get the batters in trouble. The drive in places like South Africa is a high risk shot. As they say in South Africa, the only drive you are going to get is from the hotel to the grounds and vice versa.
In South Africa, more than the flamboyant batsmen, the ones who have solid defences have prevailed.
Only three Sri Lankans have scored Test hundreds in South Africa – Tilan Samaraweera (two hundreds), Hashan Tillakaratne and Kumar Sangakkara. Apart from Sanga, the other two are not known for their extravagance. Both Samaraweera and Tillakaratne took numerous blows on their body on their wat to achieving those landmarks.
But even they didn't rely on defence alone. They targeted bowlers. There were some shots that both had the discipline not to play. Their starts were scratchy but once they got set and with the bowlers showing signs of fatigue, they cashed in. Tillakaratne was the first Sri Lankan to score a Test hundred in South Africa while Samaraweera scored back to back hundreds in Durban and Cape Town. His Durban hundred set up a famous win as Sri Lanka beat South Africa for the first time in their backyard.
*Disclaimer: The views and opinions expressed in this article are those of the author's and do not necessarily reflect the official policy or position of ThePapare.com