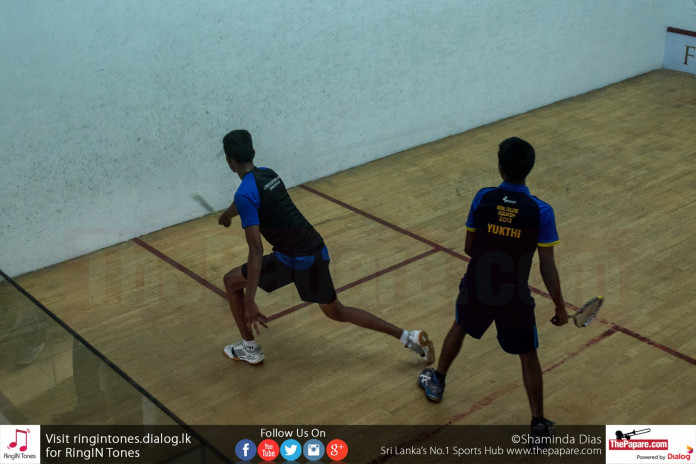 Royal College Colombo dominated the court as they emerged victorious at the annual Royal Thomian Squash encounter battled out today at the Sinhalese Sports Club Squash courts.
The Roy-Tho rivalry kicked off today on the wooden courts of the SSC where the boys from Reid Avenue breezed through to record a convincing win over their counterparts from the school by the sea.
Royal College won the overall title of this newly commenced rivalry of 3 years running winning the under 19 A team event. For Royal it was Ruweesha Jayawardane, Rashendra Rajaratne and Druvinka Perera who won some woodwork for the school.
In the first match between Rashendra Rajratne and Thenuka Indrakumara the first game was won quite easily by Rajaratne beating his Thomian opponent 11 – 05. However in the second game, Indrakumara shot back and it was a very interesting and closely competed game ending 12 – 10 in favor of the boys in Black and Blue. From there on it was smooth sailing for Rashendra who won the 2 sets comfortably, 11-06 and 11-05 much to the joy of the Royal supporters not so for a neutral spectator.
The game between Druvinka Perera and Indeewara Wijeypura too saw a comfortable victory for the Royalists. Perera beating Wijeypura in straight games, 11-05, 11-03 and 11-04. Royal College had definitely done something right, Perera looked like a bully in the court masterfully making strokes to his opponents' weaknesses.
The final game between Ruweesha Jayawardane and Abishek Rambukpotha too saw the lads from Colombo clean sweep the Thomians. The game ended in favor of the Blue and Gold at the end with the match score reading 11-05, 11-05, and 11-05.
This is the second time Royal College has won the encounter, the first being the very first encounter while the Thomians clinched the shield in a thrilling encounter last year.