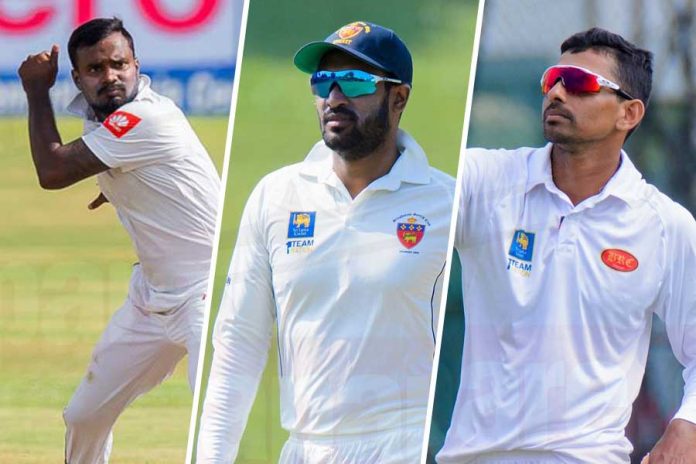 The last set of matches in the Sri Lanka Cricket (SLC) Premier League Tier A Tournament for the year 2017 concluded during the weekend with some of the Sri Lanka discards ending the year with impressive performances.
Day two of the fourth week of matches in the Sri Lanka Cricket..
The most noteworthy performance by far was Suraj Randiv's career best 152* for BRC against the much-fancied Tamil Union boys. Randiv, more known for his right off breaks at the international level, combined with youngster Shashin Dilranga (84) to come up with one of the best recovery acts of the tournament so far, as the duo added 189 runs for the 7th wicket after BRC were all at sea at 42/6 in pursuit of 315 for a first innings win. Jeevan Mendis hit a second innings century for Tamil Union as the game eventually ended in a draw with first innings points for BRC.
The ever so stylish Chamara Kapugedara looked in fine touch for SSC during his century against CCC, while Sri Lanka Test opener Dimuth Karunaratne and youngster Minod Bhanuka hit centuries during the same innings as SSC came away with first innings points over CCC.
All-rounder Maduka Liyanapathiranage's unbeaten 115* helped Ports Authority to a strong first innings total, before Chanaka Komasaru's 12 wicket match bag secured an innings and 139 run victory over Badureliya Cricket Club.
Five matches of the Sri Lanka Cricket (SLC) Premier League..
Stalwarts Chamara Silva and Sajeewa Weerakoon were the stars in a thrilling draw between Moors SC and Bloomfield. Silva hit a magnificent second innings century while Sajeewa Weerakoon picked up a six-wicket haul.
The top score of the weekend came from former St. Sebastian's College batsman Oshada Fernando, who missed out on a double century by 4 runs in Chilaw Marians' humongous total of 545 all out against Army SC. Shehan Jayasuriya also hit an explosive century in the match while the ever so consistent Malinda Pushpakumara picked up nine wickets in the match as the Marians secured an innings and 197 run win.
The tier B saw a dramatic tie between Kalutara Town Club and Negombo Cricket Club which has thrown the tournament wide open while the other three matches ended with no results.
Pakistani national Kashif Naved has been the star performer in the tier B with over 500 runs in just three games and hit a brilliant 192 against Navy SC but his innings was overshadowed by Dushan Hemantha, who hit a career best 193 to secure first innings points for Navy SC.
Samith Dushantha's century helped Police to a first innings win over Air Force SC while dark horses of the tournament Kurunegala stunned Lankan CC.
| | | | | | | | | | |
| --- | --- | --- | --- | --- | --- | --- | --- | --- | --- |
| Group A | | | | | | | | | |
| Teams | M | WO | LO | FW | FL | FT | MT | NR | POINTS |
| Singhalese Sports Club | 4 | 1 | – | 3 | – | – | – | – | 53.410 |
| Ragama Cricket Club | 3 | – | – | 2 | 1 | – | – | – | 27.050 |
| Colombo Cricket Club | 3 | 1 | – | – | 2 | – | – | – | 25.850 |
| Colts Cricket Club | 3 | 1 | 1 | – | 1 | – | – | – | 24.150 |
| Moors Sports Club | 3 | – | 1 | 1 | 1 | – | – | – | 21.280 |
| Saracens Sports Club | 3 | – | 1 | 1 | 1 | – | – | – | 20.985 |
| Bloomfield C & AC | 3 | – | 1 | 1 | 1 | – | – | – | 19.700 |
| | | | | | | | | | |
| Group B | | | | | | | | | |
| Teams | M | WO | LO | FW | FL | FT | MT | NR | POINTS |
| Chilaw Marians CC | 3 | 2 | – | – | – | – | 1 | – | 46.740 |
| Burger Recreation Club | 4 | 1 | 1 | 1 | – | – | 1 | – | 43.895 |
| Nondescripts Cricket Club | 3 | 2 | 1 | – | – | – | – | – | 38.040 |
| Sri Lanka Port Authority SC | 3 | 1 | 1 | 1 | – | – | – | – | 34.795 |
| Tamil Union C & AC | 4 | – | 1 | 2 | 1 | – | – | – | 32.650 |
| Army Sports Club | 3 | – | 1 | – | 2 | – | – | – | 10.430 |
| Badureliya Cricket Club | 2 | – | 1 | – | 1 | – | – | – | 6.665 |
| | | | |
| --- | --- | --- | --- |
| | Batting | | |
|   | Player | 100s | Club |
| 1 | Maduka Liyanapathiranage | 115 | SLPA |
| 2 | Chamara Silva | 134 | Moors |
| 3 | Shehan Jayasooriya | 118 | Chilaw |
| 4 | Oshada Fernando | 196 | Chilaw |
| 5 | Dimuth Karunaratne | 141 | SSC |
| 6 | Chamara Kapugedara | 114 | SSC |
| 7 | Minod Banuka | 100* | SSC |
| 8 | Jeewan Mendis | 100* | Tamils |
| 9 | Tharanga Paranavithana | 123 | Tamils |
| 10 | Suraj Randiv | 152* | BRC |
| | | | |
| | Bowling | | |
| 1 | Alankara Asanka | 7/79 | Badureliya |
| 2 | Chanaka Komasaru | 6/34 & 6/39 | SLPA |
| 3 | Sajeewa Weerakoon | 6/52 | Moors |
Tier B
| | | | | | | | | | |
| --- | --- | --- | --- | --- | --- | --- | --- | --- | --- |
| Teams | M | WO | LO | FW | FL | FT | MT | NR | POINTS |
| Navy Sports Cub | 3 | 1 | – | 1 | 1 | – | – | – |     32.885 |
| Panadura SC | 3 | – | – | 2 | 1 | – | – | – |     28.955 |
| Police SC | 3 | – | – | 2 | 1 | – | – | – |     28.870 |
| Negombo CC | 3 | – | – | 1 | 1 | – | 1 | – |     27.745 |
| Air Force Sports Club | 3 | 1 | 1 | – | 1 | – | – | – |     26.260 |
| Lankan CC | 3 | 1 | – | – | 2 | – | – | – |     25.305 |
| Kurunegala YCC | 2 | – | 1 | 1 | – | – | – | – |     16.110 |
| Galle CC | 2 | – | 1 | 1 | – | – | – | – |     15.445 |
| Kalutara TC | 2 | – | – | – | 1 | – | 1 | – |     14.485 |
| | | | |
| --- | --- | --- | --- |
| | Batting | | |
| | Player | 100s | Club |
| 1 | Kashif Naveed | 192 | Panadura |
| 2 | Supun Leelaratne | 141 | Navy |
| 3 | Dushan Hemantha | 193 | Navy |
| 4 | Samitha Dushantha | 121 | Police |
| | | | |
| | Bowling | | |
| | Player | 5wkts | Club |
| 1 | Matheesha Perera | 5/55 | KTC |
| 2 | Umega Chathuranga | 7/79 & 5/112 | Negombo |
| 3 | N Vimukthi | 5/84 | Police |
| 4 | Shohan Rangika | 5/46 | Air Force |