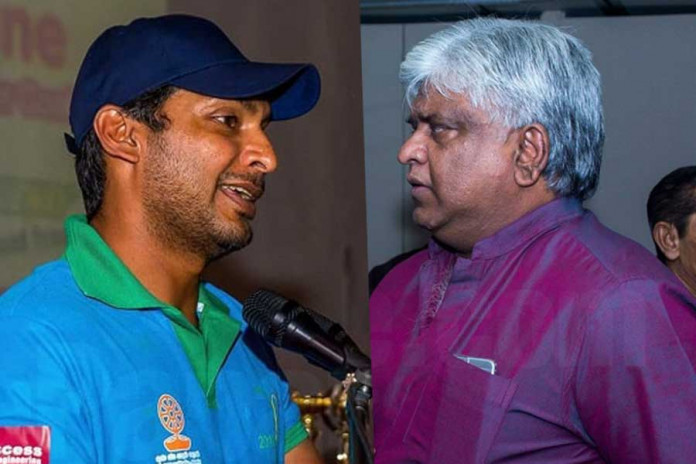 Social media has been abuzz of late with various allegations being made as to why Sri Lanka lost the recently concluded ODI series against Zimbabwe. Everyone from former World Cup winning skipper Arjuna Ranatunga to Kumar Sangakkara to fans have expressed their thoughts on the decline of Sri Lanka's most loved sport. With regard to this, many have spoken out about the role of a particular player manager and lack of quality players who could lead the team forward.
In the meantime, a back and forth between Arjuna Ranatunga and Kumar Sangakkara has emerged with the pair pointing fingers at each other over various issues that have taken place in the past.
Arjuna's criticism of recent retirees
Ranatunga alleged that the former Sri Lanka captains Kumar Sangakka and Mahela Jayawardene held onto their batting positions in the side for a long period, preventing the youngsters from being groomed to occupy the most critical batting positions in the line-up. He went on to say that this was not the case when he first broke into the national set-up nor when he was reaching the twilight of his career.
"I played as the number four batsman for most of my career but towards the latter part of my career, I moved down to number six and seven. That was in order to let other younger players have a chance to establish themselves in a batting position. But in the recent past, Sangakkara played at number three most of the time while Mahela Jayawardene batted at number four. They didn't allow younger players to be groomed into those positions," he said.
Sangakkara responded to these allegations in a Skype call made to the media. "I have batted from the opening position to No. 9 in the Sri Lanka ODI team. In the 2007 World Cup, I batted at No. 4. Then after 2011, when Dinesh Chnadimal was doing very well at No. 3, I dropped down to No. 4."
He went on to say, "At the time I was even told by a coach that if the ball was swinging, I should bat up at 3 but if the conditions were favourable to batsmen, we should allow a youngster to move up that position."
"I am not someone who forced my way into the No 3 position. I had the belief that I could score runs whether I batted at No. 3 or 4 and I have done so too" articulated the former Sri Lankan No 3 batsman.
Sangakkara also brought up Sri Lanka's tour of Pakistan in 2009, which could have ended in tragedy. He was critical of the board for giving the green light for the 2009 February-March which was confirmed amid security concerns. During the second Test of the tour, masked terrorists attacked the team bus carrying Sri Lanka's cricketers to the Gaddafi stadium in Lahore, injuring five cricketers, including Mahela Jayawardene, the captain, and Kumar Sangakkara, his deputy, who received minor injuries. Ajantha Mendis, Thilan Samaraweera and Tharanga Paravitarana were also injured in the attack which killed six security men and two civilians.
"They didn't care about our safety during the 2009 tour of Pakistan. They had no guarantee as to what would happen but they decided to send us on this seemingly suicidal journey anyway. They didn't listen to our security concerns before this tour. It eventually ended with some of our guys being shot and some of them badly injured. I still have bruises on my body from those injuries including shrapnel from the shooting. I believe this is the ideal time to investigate if this tour was given the green light considering player safety. I will always have the respect for matters regarding cricket, but I have no time to spend on the other accusations." Sangakkara said. Was the former skipper referring to Ranatunga under whose tenure the said tour was organized?
Ranatunga responded to this by calling for investigation on the matters pointed out by Sangakkara, but flung an allegation of his own insisting an investigation done on the 2011 Cricket World Cup final in Mumbai where Sri Lanka, led by Sangakkara, went down to India. He made this comments to a set of journalists at the Ports Authority this morning while also pointing out that the man in charge during the period mentioned by Sangakkara, was S. Liyanagamage, who was the Secretary at the time.
"If Sangakkara wants an investigation, it should be done. Liyanagamage was the man in charge during that time. I was the Chairman of the Asian Cricket Council a few months before that and we had a successful Asian Cup campaign in Pakistan in July 2008. I was sacked towards the end of the year 2008 by the Sports Minister back then, Gamini Lokuge. I was not in charge when the 2009 Pakistan tour went ahead and I don't mind having an investigation on that. But don't forget that this same lot of players toured Pakistan for the Asia Cup a few months before the shooting happened while I was in charge. I sent people for security checks while I was in charge. Have they ever complained about bombings around India? They just complain if it's a national tour but if it's the IPL, they go ahead anyway." He said.
He added that "Investigations should be done on the World Cup final where Sri Lanka lost to India. The ministers who are talking now need to make sure their actions speak louder than their words.  The time has come now for these players to confess on what happened and investigations to be done. I was also in India at the time and I was heartbroken after the loss while I also had doubts about it. I will open up about all this very soon with proof. Therefore if you are investigating, this is what you need to investigate about."