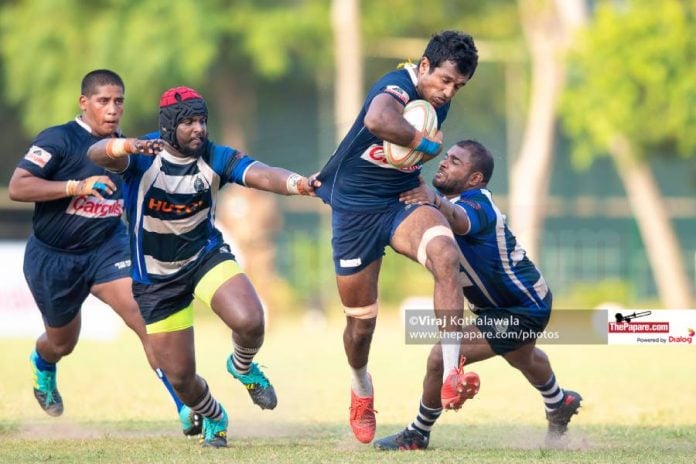 Police SC managed to secure a convincing victory against a wounded Navy SC team in their first week encounter of the DRL Super Round, Plate Championship. After leading by just 19 points to 18 at half time, Police went on to win the game with a bonus point as the scores read 34 – 30 at full time at Police Park.  
With Navy's Skipper, Thilina Weerasinghe sitting out in the 1st half, Chathura Senevirathna kicked things off to a flying start. After winning the ball from the kick-off, the Sailors went onto score the first try in the far corner 2 minutes into the game. Richie Dharmapala snuck through a yawning gap to go over the whitewash as Senevirathna's conversion went astray. Responding to that in a flash, Emosi Vunivosa sparked the Cops' first try after offloading a brilliant ball to Iroshan Silva who sprinted to touchdown under the posts – Janith Chandimal added the extras, putting his side in the lead for the first time.
Both teams showed a sense of urgency, which saw some exciting set pieces come into play. Nirosh Perera managed to get into the score sheets after bumping off two oncoming defenders and dived over the goal line whilst Senevirathna successfully added the extra two and also followed it by slotted in two more 3 pointers. Although it looked like Navy was gaining control, the home team managed to turn the tables at the brink of half time. A combination of Sachith Silva and Janith Chandimal added 12 points to their total, after they scored one try a piece and a conversion.
Half-time: PSC led 19 (3T 2C) – 18 NSC (2T 1C 2P)
Second-half action got under way with some Fijian magic as Emosi Vunivosa continued being the playmaker for Police, with his outstanding runs. He extended the Cops' lead after intercepting the ball and running 70 meters to score under the post.  The 'Podi' Silva added the extras as Navy were suddenly on the back-foot with Buddhima Piyarathna and Raveen De Silva being yellow carded. Capitalizing on their advantage, the home team scored through Vunivosa once again after he sliced through the gap from the back of a ruck.
However, in an attempt to bridge the gap, Navy struck back with two late tries by Shephan Gregory and Gihan Perera. But, it was a little too late as Referee Kawahara blew the final whistle confirming a Police victory!
Full time Score: PSC won 34 (5T 3C 1P) won 30 NSC (4T 2C 2P)
Player of the Match: Emosi Vunivosa (PSC)
Score Breakdown PSC

Tries: Emosi Vunivosa 2, Janith Chandimal, Iroshan Silva, Sachith Silva
Conversions: Sachith Silva 2, Janith Chandimal 1
Penalties: Janith Chandimal 1
Bookings: Vageesha Weerasinghe

Score Breakdown NSC

Tries: Richie Dharmapala, Nirosh Perera, Gihan Perera, Stephan Gregory,
Conversions: Chathura Senevirathna 2
Penalties: Chathura Senevirathna 2
Bookings: Buddhima Piyarathna, Raveen De Silva