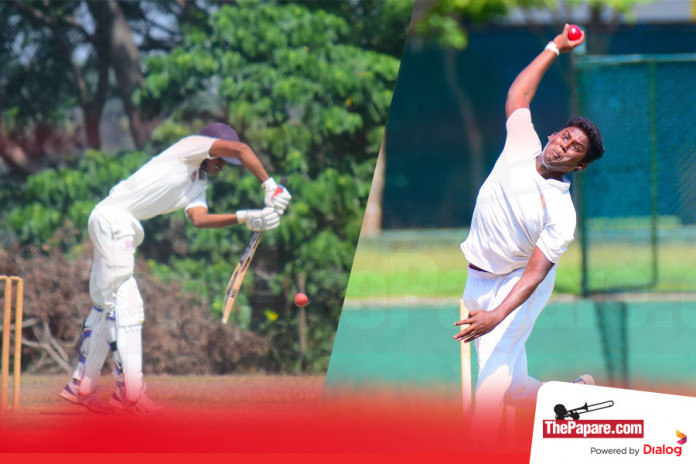 St.Sebastian's college Moratuwa recorded an emphatic outright victory over Dharmapala college Pannipitiya in a group A encounter worked off at Moratuwa today.
After a swift wrap up of the Dharmapala first innings for a below par 131, St.Sebastian's posted a imposing 274 all out. Dulaj Shanilka and Malintha Peiris stroked classy half tons to set the tone for the hosts. In pursuit of salvaging the game in their second innings Dharmapala had little joy with the bat once again as they were brushed aside by a rampant Sebastianite bowling line up. Ashera Warnakoolasuriya and Vinuja Ranasinghe were chief destroyers as they bagged three scalps a piece.
Dharmapala College first innings 131 all out in 47 overs – Gimhan Gunasinghe 30, Tashik Perera 3/10, Tharusha Fernando 3/29

St. Sebastians College first innings 274 all out in 66 overs – Dulaj Shanilka 64, Malintha Peiris 57, Tashik Perera 34, Dilshan de Silva 2/53, Chamindu Sumnasinghe 2/32

Dharmapala College second innings 137 all out in 59.2 overs – Asher Warnakoolasuriya 3/19, Vinuja Ranasinghe 3/25
Day 2 Stumps – St.Sebastians College won by an innings and 6 runs.
---
Moratuwa Vidyalaya v Zahira College
Zahira College Colombo hung on to salvage their game against Moratuwa Vidyala by the skin of their teeth in a thriller as Moratuwa had to be content with first innings honors in a group C encounter.
Earlier Zahira college were brought down for a mere 136 all out as Rashan Fernando bagged a crafty 5 for. In response Moratuwa were lead by a swashbuckling 178 by Nishan Madushka carrying his team to a commanding 335/8 declared. Zahira college having put into bat in their second innings were dismal losing wickets in regular intervals. However, they somehow managed to hang on till the close of play to salvage the game despite handing much deserved first innings points to Moratuwa Vidyalaya.
Zahira College first innings 136 all out in 47.5 overs – Mohommed Shacky 32, Mohomeed Rameez 29, Sajith Sameera 27, Rashan Fernando 5/28, Niraj Kavishka 3/35

Zahira College second innings 76/8 in 44 overs – Sajith Sameera 29, Rashan Fernando 6/37

Moratu Vidyalaya first innings 335/8d in 104.4 overs – Nishan Madushka 178, Shehada Zoysa 74, Mohommed Rifath 2/28, Mohmed Mahdi 3/107
Day 2 Stumps – Match Drawn – Moratuwa Vidyalaya wins first innings.
---
DS Senanayake College v Nalanda College
DS Senanayake college bounced back strong after a poor batting performance in the first innings against Nalanda college to bag first innings honors in their traditional encounter played at the Nalanda college grounds.
The Senanaites changed the tide as Muditha Lakshan spun his team into the driving seat with a crafty 7 for as the Nalandians were brushed aside for 116. DS Senanayake college went onto capitalize on their advantage in their second lease of the wicket as they put on an impressive 238/9 declared setting up a daunting task for the Nalandians. The hosts however managed to spare their blushes as they hung on to tie handing first innings points to the DS Senanayake lads.
D S Senanayake College first innings 163 all out in 44.2 overs – Vihan Gunasekara 25, Torin Pitigala 25, Muditha Lakshan 22, Methsith Jayamanna 21*, Kalana Perera 3/47, Madushan Hasaranga 2/31, Lakshitha Rasanjana 2/28, Umesksha Dilshan 2/19

Nalanda College first innings 116 all out in 28 overs – Avishka Perera 26, Lakshitha Rasanjana 27, Muditha Lakshan 7/30, Thathsara Bandara 2/39

D S Senanayake College second innings 238/9d in 57.4 overs – Muditha Lakshan 77, Dasun Dimasha 57, Torin Pitigala 37, Methsith Jayamanna 21, Kalana Perera 2/32, Malinga Amarasinghe 2/45, Umesksha Dilshan 2/51

Nalanda College second innings 138/6 in 45 overs – Kasun Sandaruwan 29, Suhanga Wijewardane 21, Muditha Lakshan 2/49, Vihan Gunasekara 4/39
Day 2 Stumps – Match Drawn – DS Senanayake won first innings points