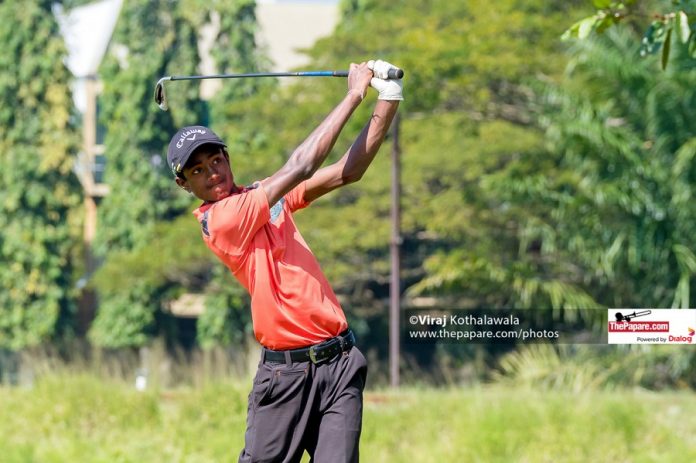 Nirekh Tejwani returned another 78 (7 over par) to lead the Silver division by two strokes from Yannik Kumara who carded a 77, the best score in the second round in the Silver division to reduce Nirekh's overnight lead at the Prima Sunrise Bread Junior Open Golf Championship 2018. Dhanushan kept himself in touch with an 81 to be a further 3 strokes away in 3rd place.
Photos : Sri Lanka Junior Open Golf Championship 2018 | Day 2
Vinod Weerasinghe extended his lead to six strokes from Haroon Aslam of VGCR who is further ahead of Dhuwarshan and the rest of the field, in the Gold Division for Boys in the Prima Sunrise Bread Junior Open Golf Championship 2018.
Kayla Perera fired a brilliant 2 under par 70 in the second round after an uncharacteristic opening round of 80. However, Taniya Minel returned another one over par 72 to maintain a six stroke lead over Kayla going in to the final round. Kayla showed tremendous ability and tenacity to shoot the best score of the day, two under par off the 72 Par RCGC Ladies Score Card, ensuring that the final round of the Prima Sunrise Bread Junior Open Golf Championship 2018, Girls Gold & Silver division promises a rousing finish.
D S Senanayake College, Under 11 Cricketer and 2018 Bronze Division winner Shanel Binushka carded an excellent seven over par from 14 holes in the second round to extend his lead to six strokes from Reshan Algama, who is placed second two strokes ahead of Kvahn Tejwani in a closely contested Bronze division. The solitary girl in the Bronze division field, Kaya Daluwatte stayed in touch of the leading trio of Boys, one stroke behind third placed Kvahn, in a creditable 4th place, well clear of the rest of the field.
The Copper division for 9-year olds & under, played over 'nine holes' per round, is also closely contested with Dharaniyan of NEGC extending his lead to just two strokes from Varun Fernando, followed a further two strokes away in joint 3rd by T. Deshan and Thejas Rathis Kanth.
The overall standard of Golf among the juniors of all categories and different age groups has been encouraging, with the exceptional performance of Kayla Perera shooting a 2 under par round and all leaders of the varied divisions scoring admirable rounds in the challenging, hot and dry conditions at the picturesque Royal Colombo Golf Club.
The Prize giving will follow the final round at the RCGC and the development and progress of Junior Golf in Sri Lanka is assured with the sponsorship is extended by PRIMA SUNRISE BREAD for the 11th consecutive year and organized by the Junior Golf Sub Committee of the Sri Lanka Golf Union.
GOLD DIVISION BOYS:
148 – Vinod Weerasinghe (RCGC) 73, 75

154 – Haroon Aslam (VGCR) 77, 77

164 – S. Dhuwarshan (NEGC) 80, 84
GIRLS GOLD & SILVER DIVISION
144 – Taniya Minel Balasuriya 72, 72

150 – Kayla Perera 80, 70

167 – Sherin Mithara Balasuriya 84, 83

BOYS SILVER DIVISION

156 – Nirekh Tejwani 78, 78

158 – Yannikl Kumara 81, 77

161 – K. Dhanushan 81, 80

164 – Levon Niyarepola 83, 81
BRONZE DIVISION BOYS & GIRLS -14 HOLES
136 – N W G Shanel Binushka 74, 62

142 – Reshan Algama 75, 67

144 – Kvahn Tejwani 75, 69

145 – Kaya Daluwatte 75, 70
COPPER DIVISION BOYS & GIRLS – 09 HOLES
84 – C. Dharaniyan (NEGC) 43, 41

86 – Varun Fernando 44, 42

88 – T. Deshan (45. 43) Thejas Rathis Kanth (46, 42)