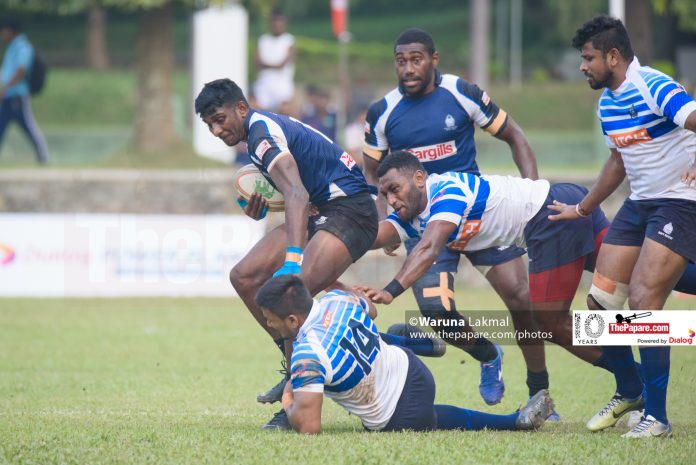 Police put together a superlative performance in the second half to beat Navy SC 26 points to 18 in their 3rd week matchup in the Dialog Rugby League 2019/20 in  Welisara. 
The hosts drew first blood through a try where Raveen De Silva jumped over from the ruck after Chathura Senevirathne made the initial break and carried the ball deep inside the 10m. Navy looked confident even though they are coming from a defeat up in Kandy. (Navy SC 5 – Police SC 0)
A few minutes later, Chathura bisected the uprights to add three more points through a penalty which gave Navy an 8-point lead in the first quarter. However, the Sailors lost momentum as Police gained ascendency. Navy succumbed to the pressure as they conceded two yellow cards in the second quarter. (Navy SC 8 – Police SC 0)
Radeesha Senevirathne and Supun Pieris were punished and it cost their team dearly. After a couple of phases inside the 22m, the Police forwards finally managed to break the defense to push Rasith Silva over the line. Janith Chandimal added the extras. (Navy SC 8 – Police SC 7)
Half time: Police SC 7 (1T, 1C) – Navy SC 8 (1T, 1P) 
Navy started the second half with a successful penalty by Senevirathne. But from then on it was all about the back line of the Cops with Emosi Vunivosa, Sachith and Iroshan Silva and Sujan Kodithuwakku on song. They got ahead for the first time through their second try by Lahiru Pavithra. Similar to the first try, the forwards pushed on and Pavithra made the final push to go over. Chandimal added the extras. (Police SC 14 – Navy SC 11)
Everything was going south for Navy in the second half. They were once again down to 14 when their overseas player Seru Cavulati was sent to the sin bin in the 60th minute. A man down, Navy were falling apart and Police pounced on the opportunity. The third try came after Vunivosa's break was halted by a good cover tackle which knocked the ball backwards and fortunately Sachith Silva was there to pick it up and run all way for the try. (Police SC 19 – Navy SC 11) 
Police utilized their backs well in the second half which made the difference in the game. In the 69th minute, Sujan Kodithuwakku touched down on the other side for the bonus point try for the Cops. In the build up, it was once again Vunivosa who made the initial break to get through the defense line. Chandimal added the extras. (Police SC 26 – Navy SC 11) 
The Sailors managed to draw back the deficit in the very last minute with Shevon Gregory scoring their 2nd try, but it was only a consolation for the hosts. The high riding cops are well and truly making their presence felt in the league this year while the Sailors are finding it tough to be consistent. 
Full time: Police SC 26 (4T, 3C) – Navy SC 18 (2T, 2P, 1C)
Dialog 'ViU' Player of the Match: Emosi Vunivosa 
Point scorers for Police SC: Rasith Silva 1T, Lahiru Pavithra 1T, Sachith Silva 1T, Sujan Kodithuwakku 1T, Janith Chandimal 3C

Point scorers for Navy SC: Raveen De Silva 1T, Shevon Gregory 1T, Chathura Senevirathne 1P, Isuru Kongahawatta 1C 

Yellow cards for Navy SC : Radeesha Senevirathne, Supun Pieris, Seru Cavulati