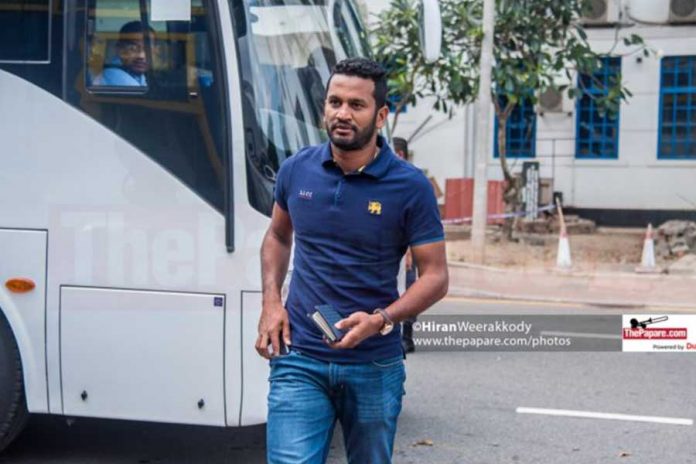 The Sri Lankan contingent returned to the Island today, 8th June 2019, following their first-round exit at the ICC Cricket World Cup 2019.
Shortly after landing in the Island, skipper Dimuth Karunaratne, head coach Chandika Hathurusinghe and Team Manager cum Chief Selector Asantha de Mel met the media at the SLC head office in Maitland Place.
ICC Men's Cricket World Cup 2019 semi-finals decided after final group games
It was a forgettable World Cup campaign for Sri Lanka as they won only 3 games and could not find themselves a spot in the knockouts for the first time in 20 years. 
"I don't think it was a successful tour. But, I think winning 3 out of 7, it is like almost 50%. But we can't be satisfied with that." De Mel said. 
Speaking of the performances at the World Cup he went on to say, "The bowlers did a good job throughout the tournament. Although there weren't a lot of wickets, they did a good job. Our fielding was good as a whole. I think if I am not wrong we were second on the list for least drop-catches until the West Indies game."
He also extended his appreciation to the skipper Karunaratne. "He's done a tremendous job. He has performed well leading from the front. He has also managed to gel the team well and the team spirit was good. I'm quite comfortable with his captaincy"
A major issue at the World Cup was the failure of the Sri Lankan middle-order for which De Mel said "I think the reason for our middle order to fail is that they didn't play positive cricket. It's a psychological thing." 
Karunaratne hopes the team can give Malinga a better send-off when he retires from ODIs for good
Of course, the most frequently asked question in social media was also thrown at the selector, the future of Kusal Mendis?
"Kusal Mendis is just 24 years of age and he has 5 Test centuries. He is a talented batsman and he has got the skills. He mostly got out in unfortunate manners. The question is, are we going to drop a good player so simply or groom them and bring them forward? We should be a little patient and give them an opportunity. We need to give them the confidence." replied de Mel.
Head coach Hathurusinghe was also put under the scanner with regards to his payment package and was asked whether he has done justice to it. He simply replied with "I think I have done my best."
Photos: Post #CWC19 Press Conference
He also said he has no intention to leave his position until his contract with SLC is over in November 2020.
"We expected to do better than this at the World Cup. All of us have to take up the blame for it." Hathurusinghe said about Sri Lanka's performance at the World Cup. 
Karunaratne also spoke about the performance of his team. "I wouldn't say we did well at the World Cup. But, we managed to pull out some good wins." 
"Angelo and Malinga supported me a lot in the middle. I always spoke to the team and got their input as their experience is vital. I was leading the team for the first time and straight away in a World Cup, it's never easy. Everyone helped me with it" Karunaratne said, regarding the support he got from the team.
Bangladesh tour of Sri Lanka: Fixtures released!
Sri Lanka now will have to prepare themselves for a home series against Bangladesh at the end of the month. When asked whether there will be wholesale changes in the squad like what happened before the World Cup, the selector rejected the thought. 
"For the Bangladesh tour, the middle-order is settling in and there might be one or two additions." He said.
Sri Lanka will host Bangladesh for 3 ODIs on 26th, 28th and 31st of July at R. Premadasa International Cricket Stadium.