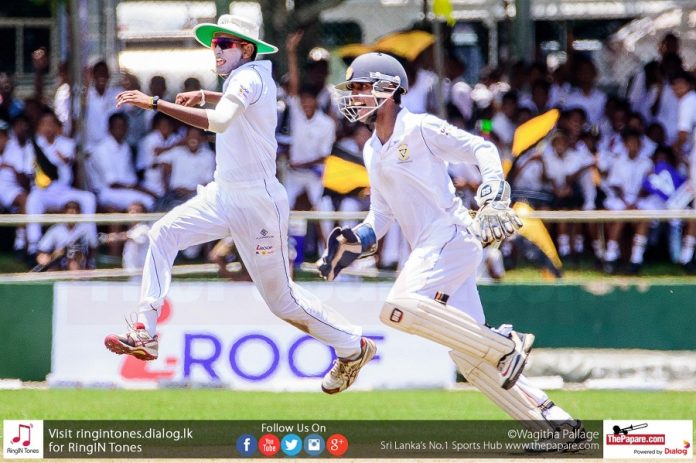 Mahinda College was 70/3 in their first innings after bundling out their arch rivals Richmond College for 170 runs on day one of the 113th 'Lover's Quarrel' at Galle International Cricket Stadium on Friday.  
Skipper of Mahinda College, Kavinda Reshan won the toss and asked Richmond College to take the first lease of the wicket. Richmond College could not get off to a good start as their star player and Sri Lanka U19 captain Kamindu Mendis was dismissed for just 4 runs. Richmondites continued to lose wickets and once stage they were 60 runs for 4 wickets. Skipper Dhananjaya Lakshan tried to rescue the innings but he was also dismissed for 31 runs.
Duvin Kalanasuriya and Dilum Sudeera showed some resistance with the bat building a 56 runs partnership for the 5th wicket. After the departure of Duvin Kalanasuriya for 42 runs, wickets were continued to fall and Richmondites were restricted for 170 runs in their first innings.
Left arm fast bowler Pasan Pethangoda who was the standout bowler for Mahinda College this season excelled again with the ball picking up 5 wickets for 46 runs. Left arm spinner Navod Paranavithana supported him well at the other end picking up 3 wickets for 20 runs.
In reply, Mahinda College got off to a good start thanks to the openers Navod Paranavithana and Hansika Welihinda who put on a 40 run partnership for the first wicket. However, they lost 3 quick wickets for 30 runs as Mahinda College finished day one on 70 runs for 3 wickets. Inform batsman Navod Paranavithana was dismissed for 27 runs while Hansika Welihinda remained unbeaten on 20 runs for Mahinda College. Richmondite all-rounder Dilum Sudeera picked up 2 wickets for 20 runs with his left arm spin. Match will continue tomorrow for day two.
Match Drawn
Richmond College's 1st Innings
Batting
R
B
Kamindu Mendis
c Vinura Dulsara b Prameeth Thevarapperuma
4
13
Dhananjaya Lakshan
c Prameeth Thevarapperuma b Kavindu Ediriweera
31
69
Adithya Siriwardena
b Navod Paranavithana
10
27
Thaveesha Abishek
st. by Vinura Dulsara b Pasan Pethangoda
9
53
Duveen Kalanasuriya
c Subanu Rajapaksha b Navod Paranavithana
42
72
Dilum Sudeera
lbw by Pasan Pethangoda
25
81
Avindu Theekshana
c Prameeth Thevarapperuma b Pasan Pethangoda
22
32
Sandun Mendis
c Navod Paranavithana b Pasan Pethangoda
4
7
Vimud Sapnaka
b Navod Paranavithana
1
6
Vishmitha Wijesiri
c Kavindu Ediriweera b Pasan Pethangoda
8
14
Amshi de Silva
not out
2
6
| Bowling | O | M | R | W | E |
| --- | --- | --- | --- | --- | --- |
| Nipun Malinga | 8 | 0 | 14 | 0 | 1.75 |
| Pasan Pethangoda | 12.4 | 1 | 46 | 5 | 3.71 |
| Prameeth Thevarapper | 5 | 1 | 12 | 1 | 2.40 |
| Navod Paranavithana | 15 | 7 | 20 | 3 | 1.33 |
| Subanu Rajapaksha | 8 | 2 | 22 | 0 | 2.75 |
| Kavindu Ediriweera | 12 | 0 | 39 | 1 | 3.25 |
| Kevin Kotthigoda | 2 | 0 | 9 | 0 | 4.50 |
Total
170/10 (62.3 overs)
Fall of Wickets:
1-07, 2-27, 3-58, 4-60, 5-116, 6-134, 7-146, 8-160, 9-160, 10-170
Mahinda College's 1st Innings
Batting
R
B
Navod Paranavithana
b Sandun Mendis
27
58
Hansika Welihinda
lbw by Dilum Sudeera
26
79
Vinura Dulsara
c Avindu Theekshana b Dilum Sudeera
9
53
Kevin Kotthigoda
c Sandun Mendis b Dilum Sudeera
6
3
Kavindu Ediriweera
lbw by Sandun Mendis
4
23
Nipun Malinga
st. by Sammu Vimud Sapnaka b Sandun Mendis
13
17
Ashen Kandambi
c Dhananjaya Lakshan b Dilum Sudeera
1
14
Reshan Kavinda
st. by Sammu Vimud Sapnaka b Sandun Mendis
11
22
Pasan Pethangoda
c Sammu Vimud Sapnaka b Dilum Sudeera
9
38
Prameeth Thevarapper
c & b Sandun Mendis
2
10
Subanu Rajapaksha
not out
2
6
| Bowling | O | M | R | W | E |
| --- | --- | --- | --- | --- | --- |
| Dhananjaya Lakshan | 5 | 1 | 21 | 0 | 4.20 |
| Amshi de Silva | 5 | 0 | 15 | 0 | 3.00 |
| Sandun Mendis | 19 | 6 | 38 | 5 | 2.00 |
| Dilum Sudeera | 20.4 | 9 | 29 | 5 | 1.42 |
| Avindu Theekshana | 4 | 1 | 9 | 0 | 2.25 |
Total
118/10 (53.4 overs)
Fall of Wickets:
1-40, 2-57, 3-63, 4-80, 5-80, 6-90, 7-99, 8-106, 9-114, 10-118