With only a couple of days to go for the announcement of the Sri Lanka ODI squad for the ICC Champions Trophy 2017 in England and Wales, more than 20 million Sri Lanka Cricket fans will be eagerly awaiting a specific name in that list, the inimitable Lasith Malinga.
Separamadu Lasith Malinga: Slinger, fast bowler, millionaire, mercenary, riff-raff. This is how most of Sri Lanka know him…
He is never shy to say what he feels right to media, he grins when he's carted over for a six, he takes wickets whenever the captain requires him to do so, he's been the poster boy for local hair dressers and possess the best in-swinging 'yorker' in the business. He is Sri Lanka's hero.
He last played an ODI way back in November 2015 and returned to international cricket earlier this year against Australia in a three-match T20I series. The maestro declined a national contract citing that he is not up to fitness levels yet. Yes, he certainly has lost his mojo over the years due to a chain of injuries and despite having a few off days at the ongoing Indian Premier League (IPL), Lasith Malinga, undoubtedly remains the best 'Death' bowler in limited-overs cricket all over the world.
The biggest concern for the national selection committee led by Sanath Jayasuriya will be Malinga's fitness to play a full ODI game. Is he fit enough to stay in the field for 50 overs and bowl 10 overs?
Lasith Malinga's ODI Record
| | | | | | | |
| --- | --- | --- | --- | --- | --- | --- |
| Matches | Runs | Wickets | Best Bowling | Average | Economy | 5-Fors |
| 191 | 8082 | 291 | 6/38 | 27.77 | 5.26 | 7 |
Head Coach, Graham Ford during the Australia tour stressed out the importance of Malinga in the team, "Malinga is a very proud man. He has done a lot of great things for the country in terms of cricket. He has had unfortunately a long lay-off. When you miss the game for that long, you get hungry and you want to get out there and play and do the things you used to do. We just hope everything goes well in terms of his body. He just makes such a difference at controlling the end overs." Ford said.
Sadly for this world's icon his best days were robbed by a spate of injuries but as a spearhead he makes a world of difference for Sri Lanka as they take on South Africa, Pakistan and India in their group stage in a couple of weeks in England and Wales. In Malinga's absence, Sri Lanka lack a genuine match-winner with the ball and looks quite commonplace especially in the shorter formats of the game. He instills fear in the opposition simply by reputation and his presence in the Sri Lanka ODIs will make them think twice and plan thrice about the Lankan attack.
 Lasith Malinga's ICC Champions Trophy Record
| | | | | | | |
| --- | --- | --- | --- | --- | --- | --- |
| Matches | Runs | Wickets | Best Bowling | Average | Economy | 5-Fors |
| 13 | 587 | 22 | 4/34 | 26.68 | 5.14 | 0 |
Malinga's record at ICC Champions Trophy is not sparkling but the economy rate stands out in the current context of the game. In the last ICC Champions Trophy in 2013, Malinga delivered a stunning spell against New Zealand in a low-scoring affair where the Kiwis scrambled to a one-wicket win. The Slinger took 4 important wickets with the help of his trademark yorkers and slower balls and almost helped Sri Lanka defend 138.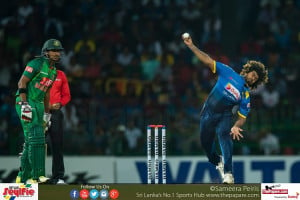 Captain or no captain, Malinga has a lot to say on field settings when he's in the field. Even though he fields mostly at short third man or short fine-leg during the peak time, Malinga will run up to any bowler and advise him on what exactly should be done, including the field he should set because Malinga reads the game effectively and better than anyone else.
If you ever get the chance to pick the brains of Malinga, you would certainly find the 'Bowlingpedia' in his head. Malinga's knowledge of the game is second to none and is a master of tactics. Remember how Malinga together with Kulasekara decimated the strong Indian middle order in 2014 ICC World T20 final? They bowled wide and full, nullifying Dhoni and Yuvraj from playing their usual shots. Malinga knows how to perform in the big stage. Most importantly, he knows how to win games for whatever team he plays and mind you, he loves winning games for his motherland.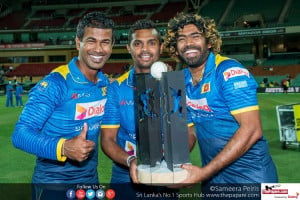 Malinga rose to fame in 2007 ICC World Cup when he picked four wickets in four balls against South Africa and ended with 18 wickets in 8 games which eventually received full praise from the West Indian great, Sir Viv Richards who quipped, "Lasith Malinga is the best thing that happened to Sri Lankan Cricket after Aravinda De Silva."
If you are a Sri Lankan cricket fan there is no better sight than a screaming-in-to- bowl Malinga with his blond goldi-locks flying and his arm slashing across his chest in preparation to 'sling'.
Even though Malinga has lost his pace from his decade-old heroics in the Caribbean Islands, he still has the knack of picking up wickets when the opposition least expect him to do so with his variations. Malinga has several balls in his repertoire, the toe crusher, the deceiving slower ball, the snooting bouncer, the regulation good length delivery, the wide yorker and etc. His knees are weak and his midriff looks unfit but his heart is strong as ever. He is a leader, a thinker, a fighter and a patriot. Taking all variables to account, Malinga should be in the 15-man squad for the ICC Champions Trophy 2017.
Give your views -Should Lasith Malinga be included in the ICC Champions Trophy squad? Comment your opinion below.