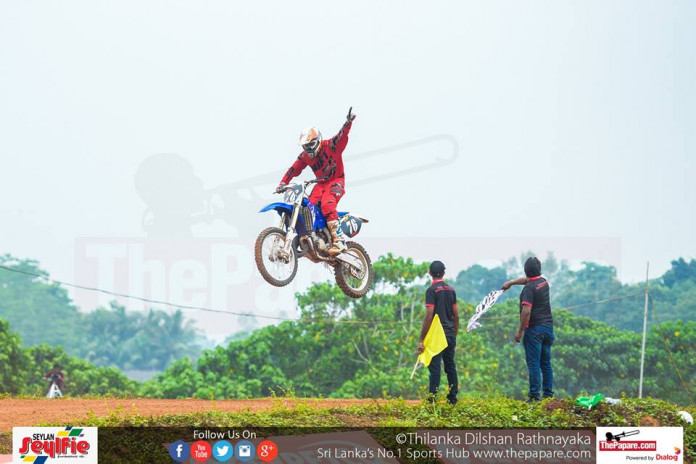 Midday update
First Motocross event of 2017 "Galle Moto Cross 2017" commenced today at the Akmeemana race track. Organized by the Galle Motorsport club for the 2nd time it's making a return to the Island's motor racing calendar after a lapse of two years having held the inaugural edition in 2015.
Sri Lanka Army rider Lahiru Jeewantha has been the star of the show so far in the concluded events having clinched pole position in – Group M – Standard/Modified Street Trail Motorcycles – Over 100cc up to 125cc 2T , Group MX – Over 100cc up to 125cc 2T Armed Forces Event and the Group MX – Over 100cc up to 125cc 2T Open event .
Jeewantha displayed real grit and providing all gathered a great race. He did not have a good start in all three races having to chase Airmen Jayampathis Dissanayake in the first and fellow soldier Mithun Sigera in the next two races. However he was clinical in the chase and managed to overtake and maintain the lead in the final laps of the race.
In the Group M Standard/Modified Street Trail Motorcycles – including 125cc up to 250cc 4T (Race 01) Madhura Peiris won the first place with Sampath Attapattu , Sandaru Shanilka in second and third place respectively.
An interesting day for all motor cycling enthusiast of the country is in store as a host of events are lined up to be completed with the first look at the reigning national motor cross champion Ishan Dassanayake scheduled when his returns to competition after the accident at Walawe Supercross 2016
Stay logged with us on ThePapare.com as we will bring you updates of the action of Galle motor cross 2017 straight from the venue.