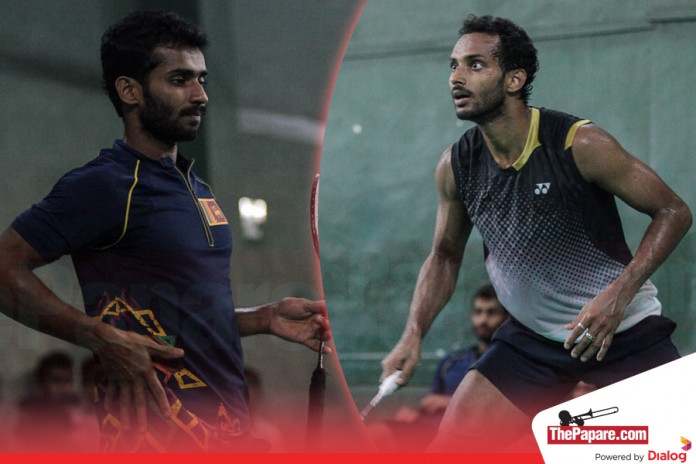 Sri Lanka's champion shuttler and Olympian Niluka Karunaratne and his younger sibling Dinuka Karunaratne are en-route to the Czech Republic in line with the Prague Open that is set to take place from the 29th of September to the 1st of October.
The Karunaratne duo who are currently in Europe after the Belgian Open are set to make their way to Prague for the championship that is accredited by the Badminton World Federation. Niluka Karunaratne will go into the competition as the 8th seeded player and will be participating in the Singles and later will partner up with Dinuka to play the doubles.
Niluka Karunaratne will face Slovakian national Milan Ludik in the first round and will have to initially play a qualifier to enter the Men's Doubles main draw. The Karunaratne duo will be facing Martynenko Mykola and Don Sergey of Hungary in the qualifier for the doubles. It will be a tough challenge in the doubles competition with Martynenko Mykola being rated as the top seed in Doubles draw.
Meanwhile, Dinuka Karunaratne will also be trying his luck in the Men's Singles and is expected to face Finnish national Eetu Heino in the first round.
Progress in this championship will guarantee Niluka progress in the BWF Men's Singles World Rankings. Niluka who went into the Olympics with a ranking of 93 and in the past two months, he has climbed 18 places up and currently claims ownership to the 75th spot.
Fixtures for Prague Open
Men's Singles: Niluka Karunaratne vs Milan Ludik – Thursday 29th September
Men's Singles: Dinuka Karunaratne vs Eetu Heino – Thursday 29th September
Men's Doubles Qualification: Dinuka Karunaratne & Niluka Karunaratne (Sri) vs Martynenko Mykola & Don Sergey (Hungary) – Wednesday 28th September